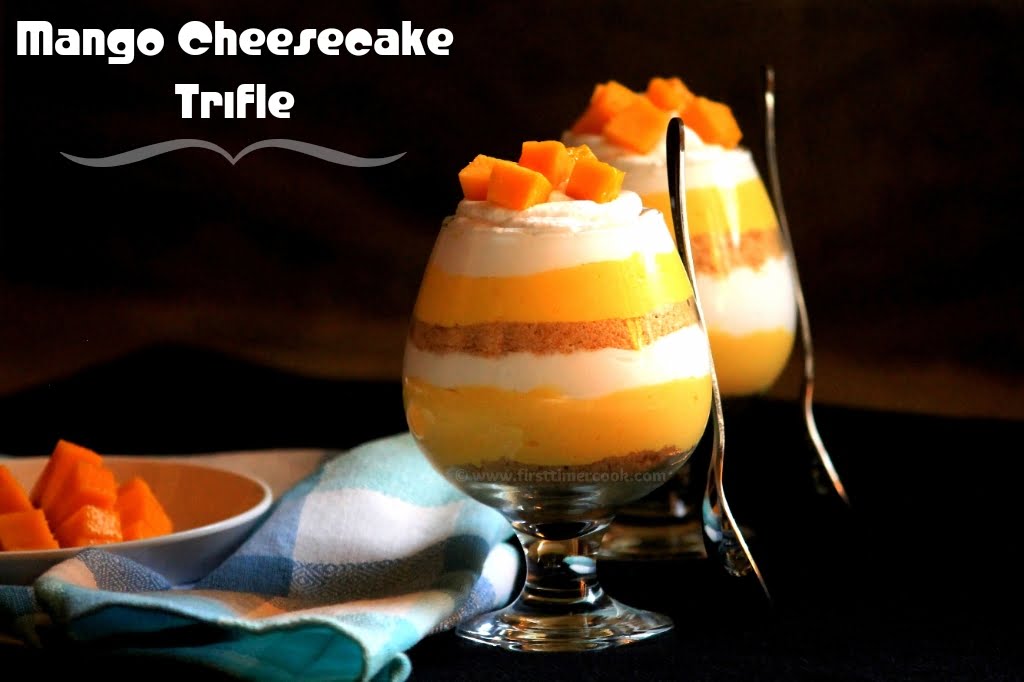 Mango, the king of fruits is also the national fruit of India. This fruit is available in plenty during summers. Summer is the season when any Indian like me anxiously wait for the King of Fruit. I don't think there will be anyone that doesn't like mango, rather everyone crave for it and wish that it should be available in all seasons. Now a days, mangoes are being preserved in many forms for later seasons too. The 147th theme of Foodie Monday Blog Hop team is decided to as 'Mango' where mango can be used in either raw or ripe form. So I have come up with a sweet layered dessert named as 'Mango Cheesecake Trifle'.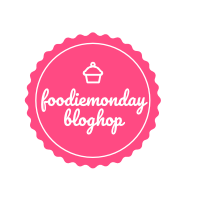 Well, Mango is a tropical fruit that comes in as many as 1,000 varieties approximately. Indians have a sweet tooth and a craving for mango. Mango forms a part of daily diet in the peak season. It could be in form of fruit salad, mango lassi, milk shakes etc. From sweet to spicy, there is a mango to please any palate and to suit every mood. Some other mango recipes which I have already shared before in my blog are :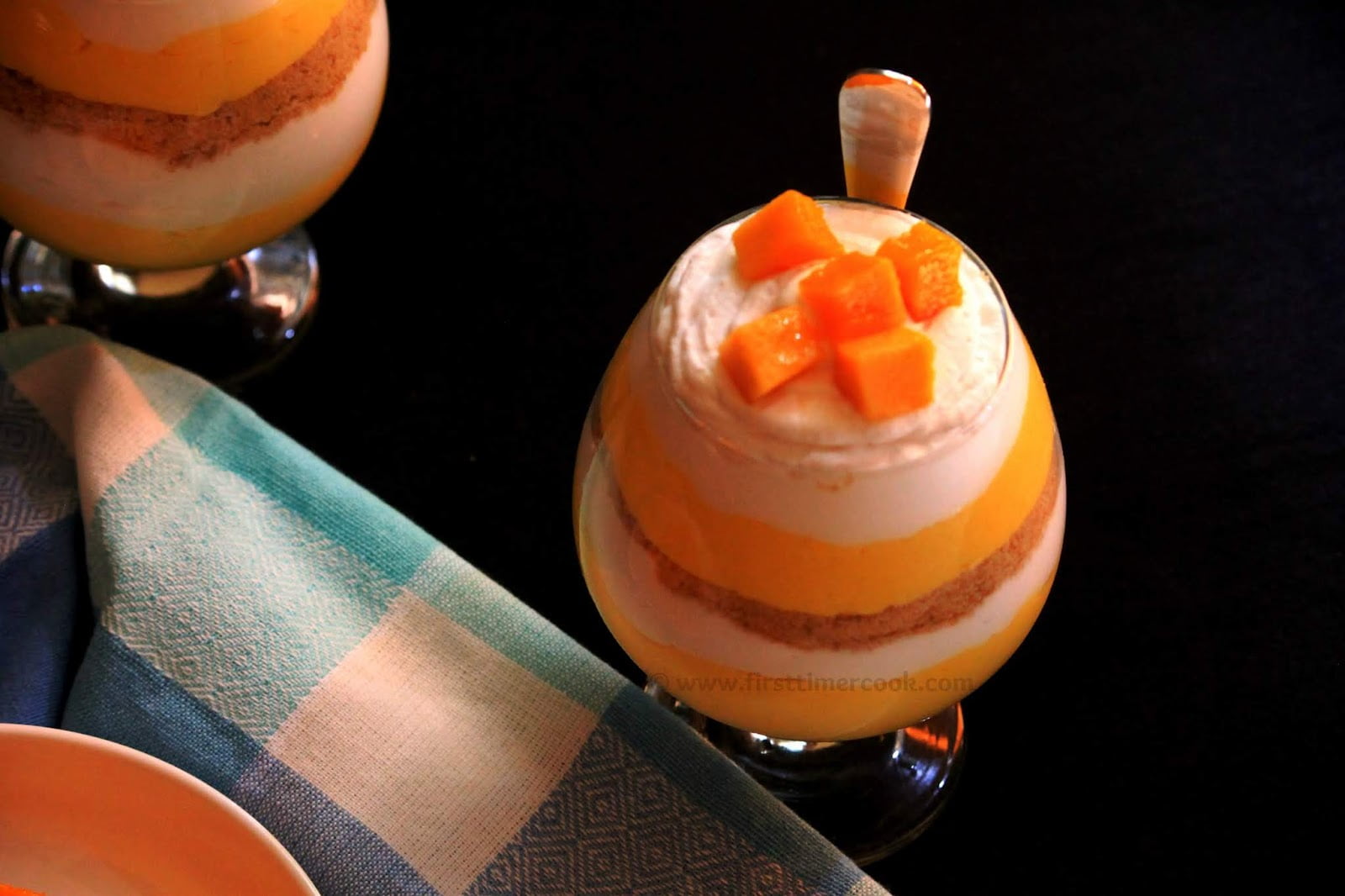 Typically cheesecakes are baked before serving. Cheesecake is usually made from cream cheese, eggs to add a richness and a smooth consistency. But in this mango cheesecake I have not used any egg, it is completely an egg less cheesecake. Also here is no setting agents like agar-agar, gelatin etc. The process is so simple and quick. Although I have used fresh mangoes in this cheesecake, but you may go with ready-made mango puree. But honestly, the fresh mangoes gives a delicious taste and texture. In a serving glass first just layer some biscuit crumbs at the bottom, then pipe a swirl of cheesecake on top of biscuit crumbs, then a swirl of whipped cream on top of cheesecake. Go on repetition of the layers depending upon the height of serving glass. Finally put some small chunks of mangoes before serving on top. This trifle tastes great when served chilled. Particularly the pureed fresh mango gives this trifle a light and soft texture and subtle tropical fruit flavor.
So do try this deliciously amazing Mango Cheesecake Trifle. If you tried my recipe and enjoyed fully, then please share some pictures of your creation with me. Also kindly give your valuable feedback either in the comment box below or tag me as #firsttimercook on Instagram. You may also follow me on Facebook, Pinterest, Twitter, Google+, Instagram and can subscribe for free to get new recipes directly into your inbox 😊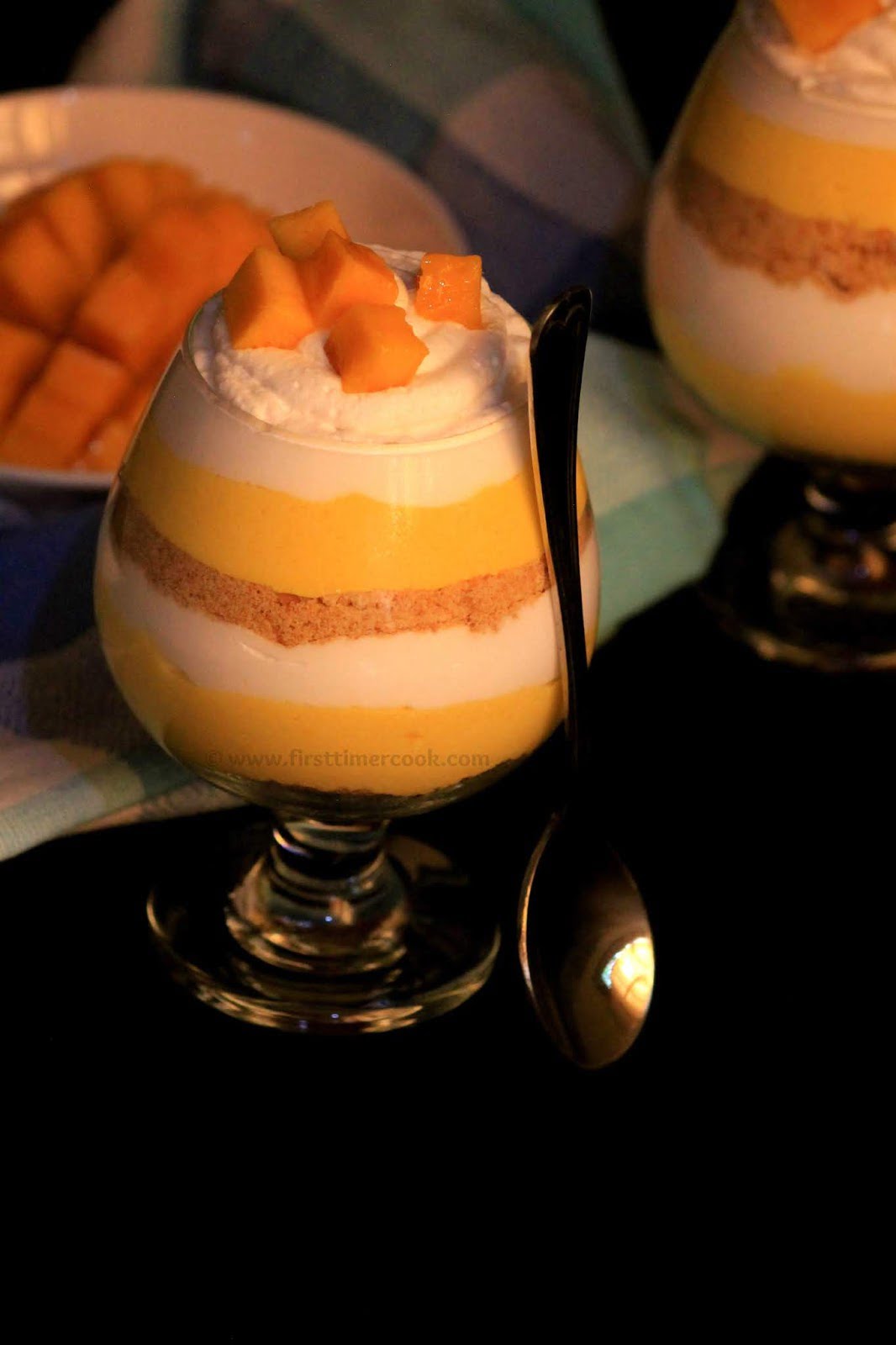 Preparation Time : 15 mins | Cooking Time : 20 mins
Ingredients :
| | |
| --- | --- |
| Ingredients | Measurements |
| Digestive biscuit (crumb) | 2 ½ cup |
| Butter (melted) | 2 tbsp |
| Mango (ripe) (medium) | 2 no |
| Mango (small chunk) | 1/3 cup |
| Cream cheese | 1 cup |
| Heavy whipping cream | ½ cup |
| Powdered sugar | ½ cup |
​
Method :
Put the digestive biscuits into a zip lock bag, crush with a rolling pin and then stir through the melted butter evenly.
Alternatively, use a food processor to pulse the biscuits to a breadcrumb structure, pour in the melted butter and combine well.
Spoon 2 tablespoon of mixture into the serving glass (preferable trifle glass) and press lightly with a spoon.
Place in refrigerator to set the crust.
Puree the mango flesh in a food processor until a smooth consistency.
Take the whipping cream in a large bowl.
Whisk the cream using electric whisk for about 7-8 minutes in the highest speed or until soft peaks arise.
Don't overdo the beating as the cream might turn into butter.
Keep in refrigerator till needed.
In another bowl whisk cream cheese, powdered sugar till smooth and creamy.
Add in the mango puree and mix till well combined with the cream cheese.
Take out the whipped cream from refrigerator.
Fold half of the whipped cream with the mango cream cheese mixture slowly till well incorporated.
Then fill one piping bag fitted with star nozzle with the cheese cake mixture, another piping bag fitted with star nozzle with rest whipped cream.
Take out the serving glass from refrigerator, pipe a swirl of cheesecake on top of biscuit crumbs, then a swirl of whipped cream on top of cheesecake.
Put some small mango chunks on top of whipped cream.
Again make a layer of biscuit crumbs on top of mango chunks, then cheesecake and finally whipped cream.
Chill overnight or at least for 4-5 hours.
While serving, top the serving glass with some freshly cut small mango chunks and serve !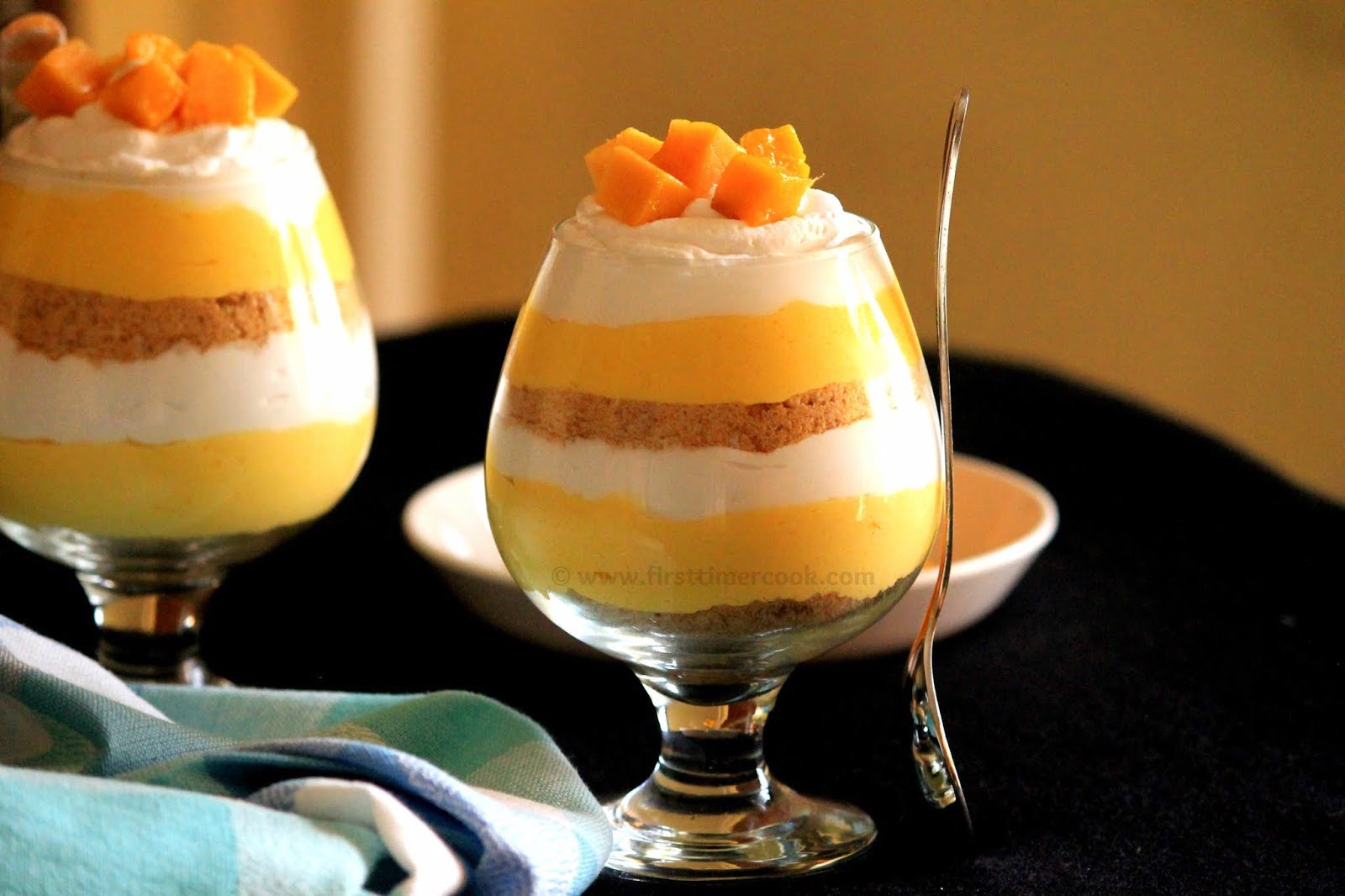 Notes :
Mango essence can be used while whisking cream cheese.
Butter can be avoided, I just added with the crumbs to form a more traditional crust.
Always use the cream cheese at room temperature.
PIN for later :