an easy and quick twist to the Indian traditional breakfast, upma by using the super-food Quinoa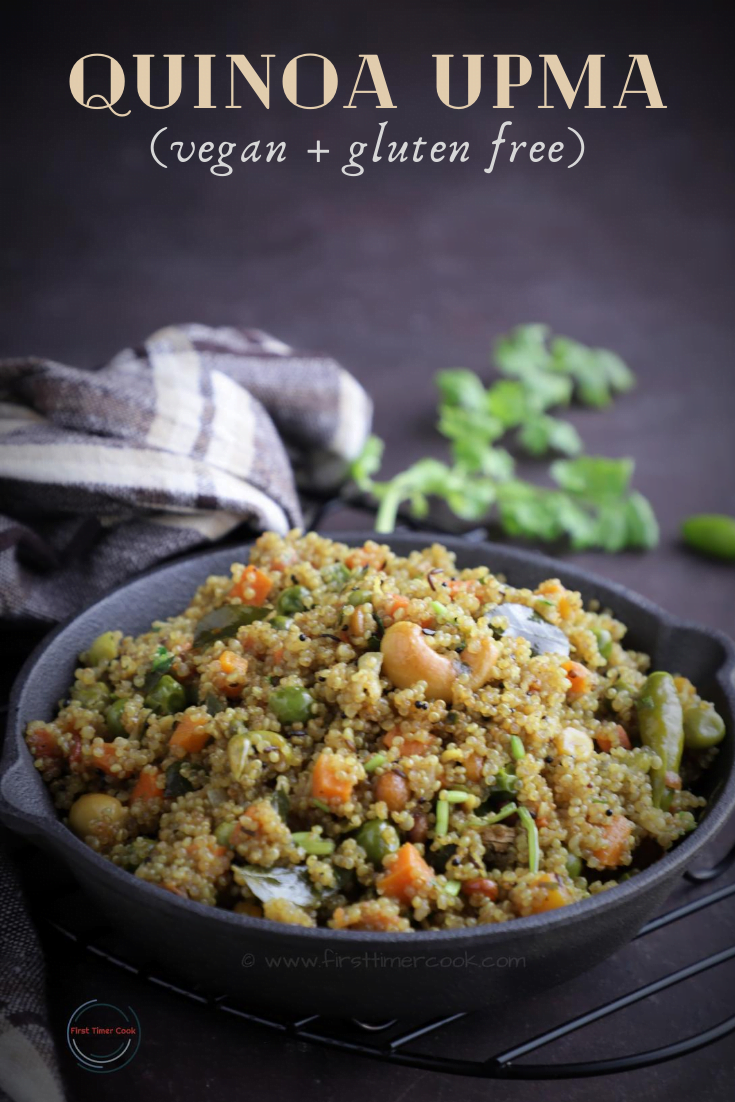 The super-food, Quinoa :
Quinoa (pronounced keenwah or kinuwa) is one of the world's most popular health foods. This is a whole grain that is rapidly growing in popularity due to its many health benefits. Quinoa is completely gluten-free, high in protein and one of the few plant foods that contains sufficient amounts of all nine essential amino acids. Isn't that much interesting ! The sweet and nutty flavor, delicate texture have made quinoa a popular substitute for starchier pasta and rice.
The most common quinoa colors found across the world are white, red and black. Quinoa seeds are coated with saponins, which are the chemicals designed to protect plants from diseases caused by fungi, bacteria and viruses (according to the Environmental Protection Agency). Saponins have a bitter taste. So quinoa should be rinsed thoroughly in cold water before proceeding to cook. However, some brands these days are selling already rinsed kind of quinoa which makes the above step easier.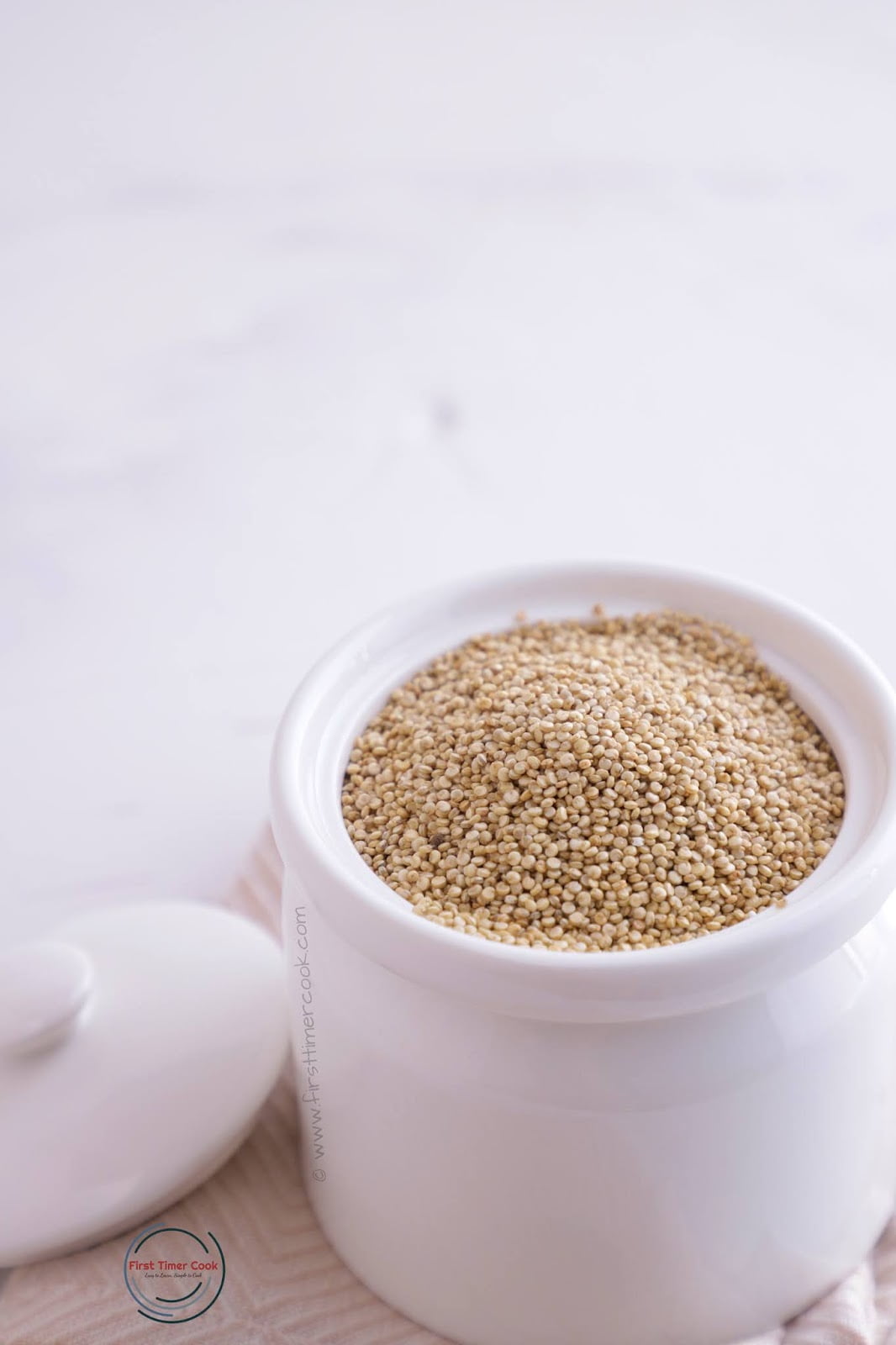 Quinoa cooks faster than most whole grains, taking hardly 15-18 minutes. And also do you know, unlike some grains those tend to dry out when cooled, quinoa maintains a pleasant chewy texture when served warm or at room temperature. Quinoa can be incorporated into our diet in a variety of ways like from being prepared as a breakfast porridge to being an addition to salads or prepared like a pilaf and lots more. With its subtle flavor and fluffy texture, this whole grain is super easy to spice up with different flavors or other ingredients.
Well why I am discussing about the super grain, Quinoa here because today's post is related to that as Quinoa Upma, hence this upma is completely gluten free.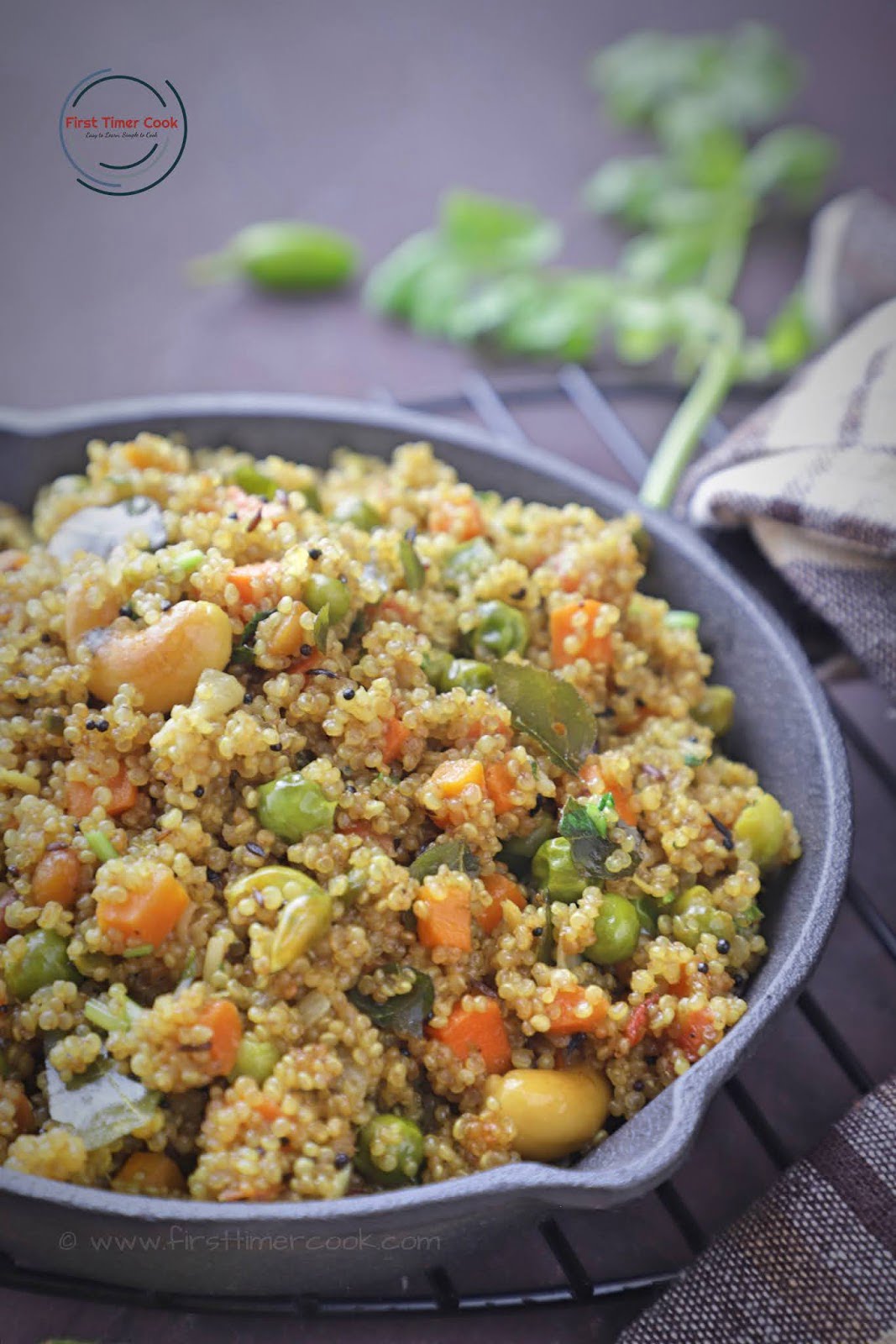 Gluten free Upma that too using Quinoa !
Yes, Our humble Indian breakfast dish Upma is here with a twist.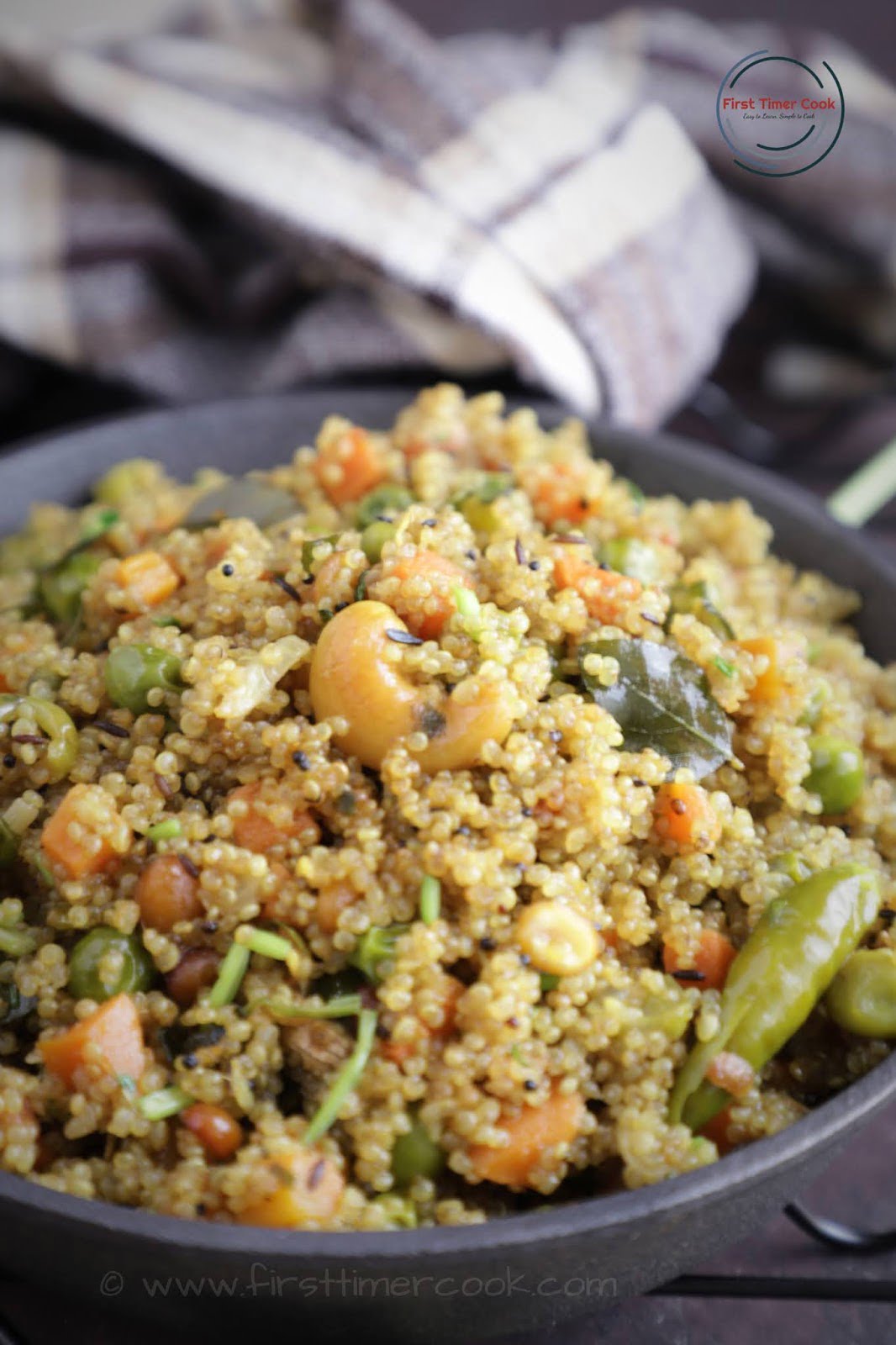 The event related to this post :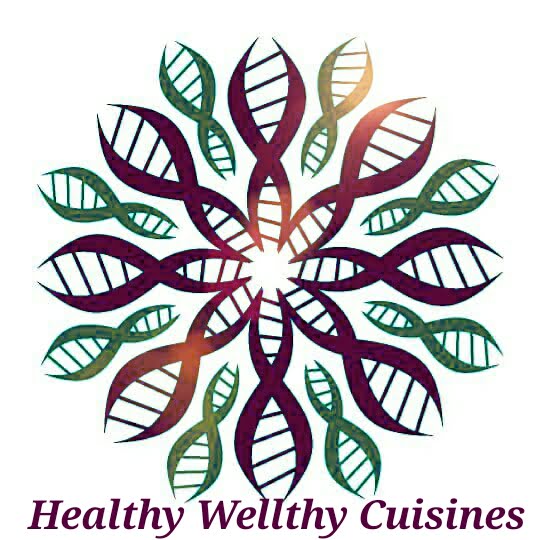 Well this time our fortnight foodie group named as Healthy Wellthy Cuisines is decided to select 91th theme : 'Breakfast Series' and is suggested by Preethi di. She is a wonderful person and a versatile food blogger. Do check out her space for many simple yet delicious recipes. Her Brown rice and Ragi Vermicelli Upma is one of my bookmarked recipe from her blog. Well coming back to theme she suggested to make some dishes which we usually opt for breakfast, So I have come up with this Quinoa Upma & contributed for the theme. Here are some similar recipes shared by our Healthy Wealthy Group members Poha Idli By Jayashree, Vegan sandwich Dhokla by Vanitha Bhat, Milk Bread by Sujata Roy, Paneer Pyaaz Paratha by Shalu Jain, Gujarati Rice Khichu by Poonam, Lentil & Spring Onion Pancake by Preethi Prasad.
And, yes !!!
If you like the recipe shared here and give a try at your place then do share in INSTAGRAM by tagging #firsttimercook. I would be so happy to see and surely share in my INSTA stories 😊😊
Now let's go through how to make "Quinoa Upma" at home 👇
: Recipe Card :

Quinoa Upma (VEGAN & Gluten free)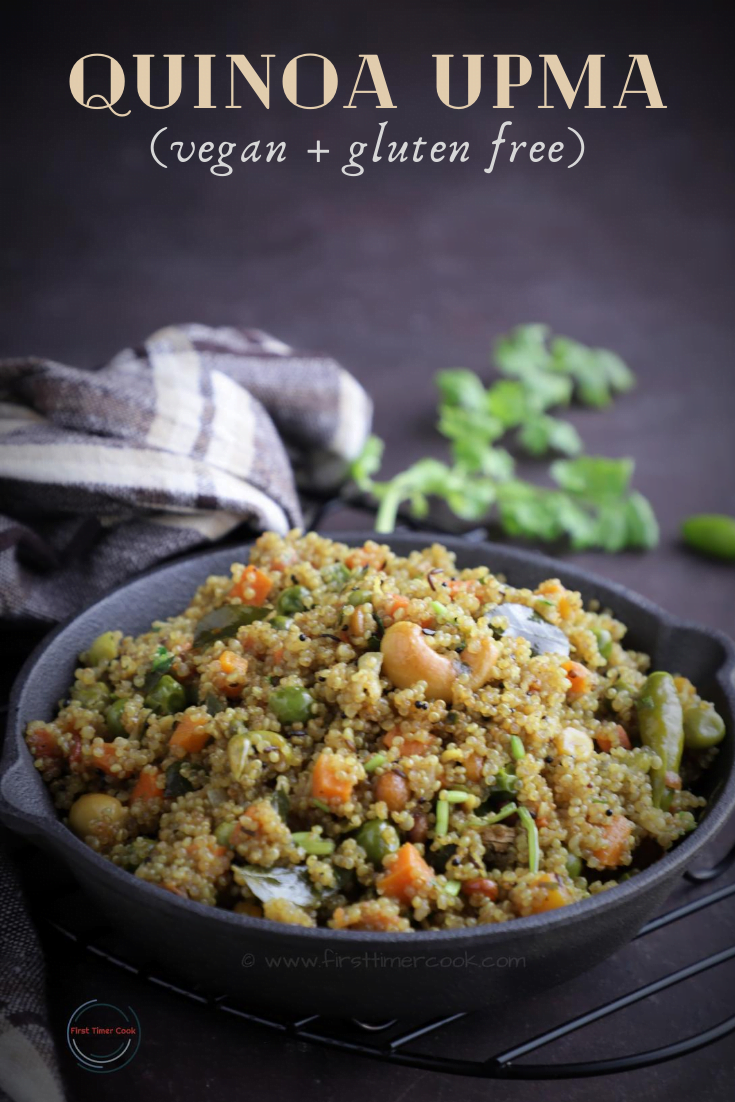 Prep time: 15 MCook time: 20 MTotal time: 35 M
an easy and quick twist to the Indian traditional breakfast, upma by using the super-food Quinoa
Ingredients:
Quinoa 1/2 cup
Carrot (finely chopped) 1/4 cup
Green pea 1/4 cup
Bell pepper (finely chopped) 1/4 cup
Tomato (finely chopped) 1/4 cup
Green chili 1 no.
Onion (medium) (finely chopped) 1 no.
Ginger (grated) 1/2 inch
Cumin seed 1/2 tsp
Mustard seed 1/2 tsp
Chana dal 1/2 tsp
Cashew nuts 4-5 no.
Turmeric powder 1/4 tsp
Curry leaf 1 sprig
Oil 1 tbsp
Salt as needed
Water as needed
Coriander leaf (finely chopped) 1-2 tbsp
Instructions:
Take all the quinoa in a fine strainer and wash properly under running water several times.
Keep the strainer aside over a bowl to drain water completely from the quinoa.
Now heat oil in a pan / kadhai.
Add mustard seeds, cumin seeds and allow to splutter.
Then add chana dal, cashews and saute till golden in color.
Put grated ginger, curry leaves, green chilies and chopped onions.
Stir and saute till onion becomes translucent.
Then add chopped bell pepper and saute a bit.
Next add chopped carrots, green peas and again saute for 1-2 minutes.
Add turmeric powder, salt and mix everything well.
Allow to cook for 2-3 minutes or till the veggies are half done, stirring on between.
Now add chopped tomatoes and all the drained quinoa.
Mix and fry for 1 minute over low-medium heat.
Next pour 1 cup water and allow to boil over high heat.
Then lower the heat, cover the pan.
Allow to cook till all the water gets absorbed.
Turn off heat and finally add chopped coriander leaves and give a gentle fluff using a fork.
Serve the quinoa upma warm as it is ( I like this way) or drizzle some lemon juice on top or along with any favorite pickle / chutney !
Notes:
For cooking quinoa perfectly (fluffy texture), the ratio of water to quinoa has to be 2:1. For a soft texture, add 1 & 1/4 cup water for 1/2 cup of quinoa.
Select the vegetables here according to own preference.
Adjust the spiciness, I have not added chili powder here. One can add this too.
Along with cashews, some peanuts can be added in the tempering part.
https://firsttimercook.com/2020/07/quinoa-upma-vegan-gluten-free.html
vegetarian, healthy breakfast, quick recipe, Quinoa Upma, Diary free, Peas, Carrot, Cashew, Chana dal, Healthy breakfast, One pot meal
Breakfast, Vegan, Gluten free, Quinoa, South Indian Upma,
South Indian
Did you make this recipe?
Tag@firsttimercookon instagram and hashtag it#firsttimercook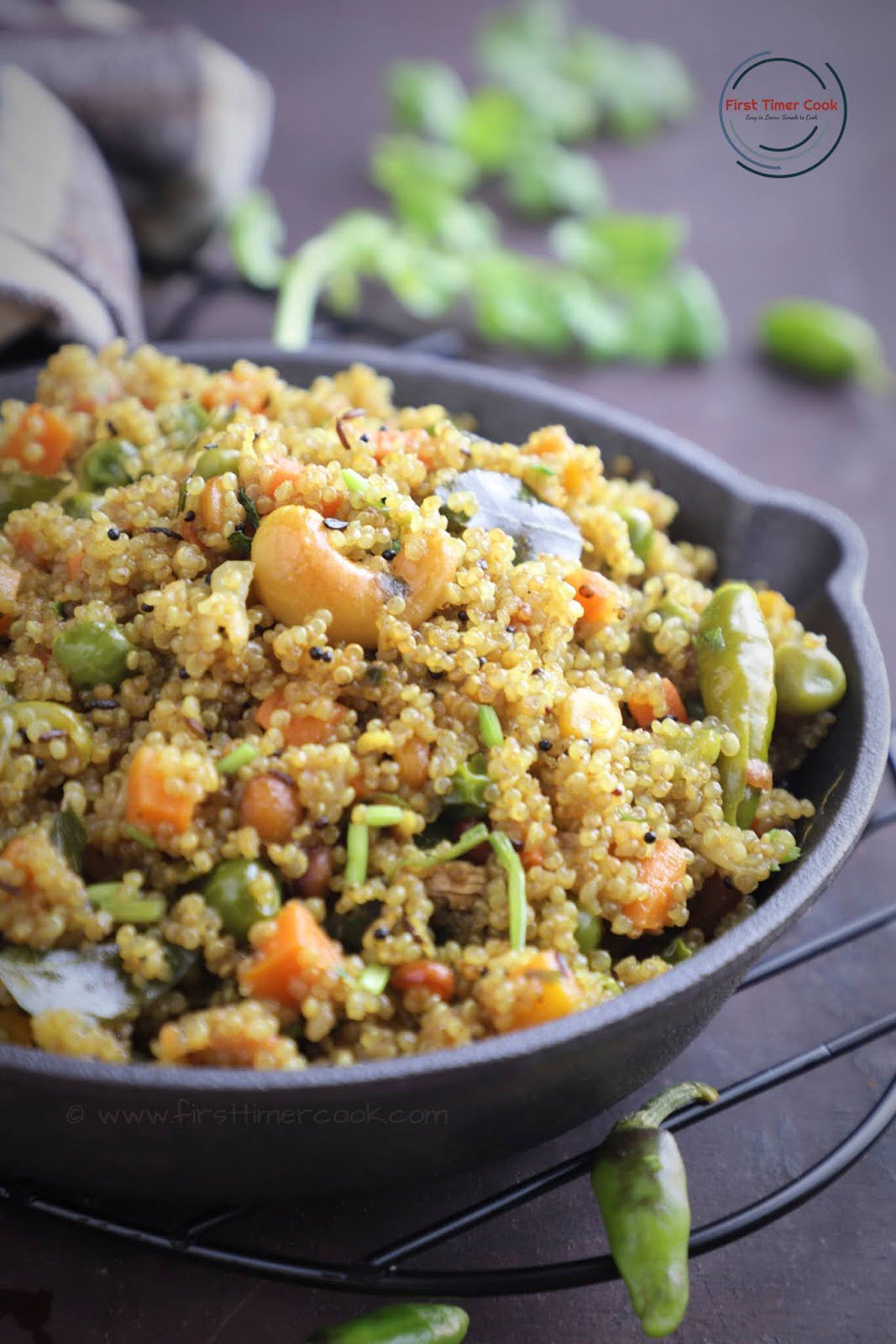 You may also follow me on Facebook, Pinterest, Twitter, Google+, Instagram and can subscribe for free to get new recipes directly into your inbox 😊
PIN for later :