Chocolate dipped heart shape cinnamon cookies – an easy-to-make and a special Valentine's Day treat for loved ones !!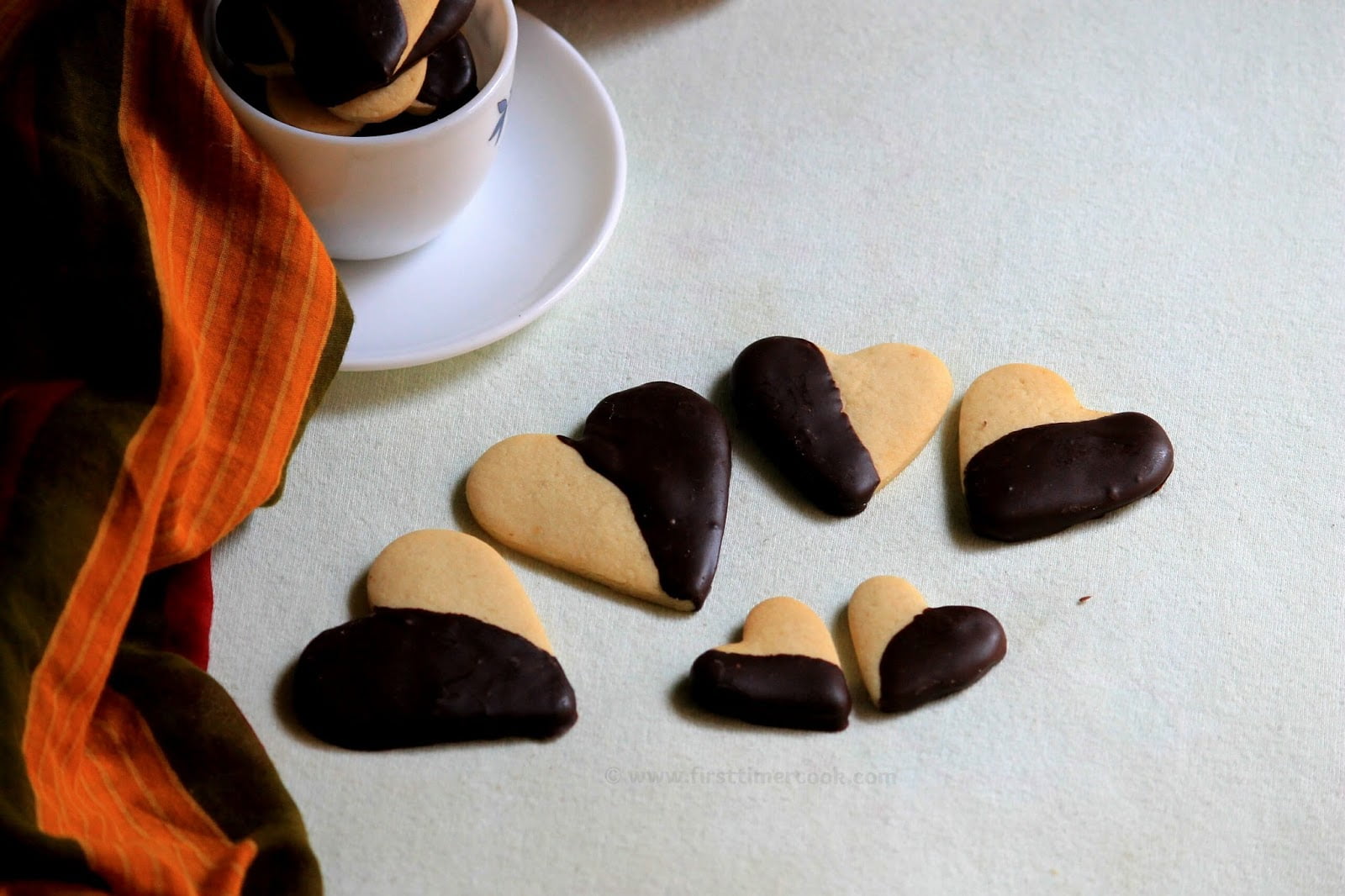 Nothing beats the homemade cookies for Valentine's Day to share with friends and family. These heart shape cinnamon cookies are so simple but delicious. The aroma of cinnamon in the cookie, hmmm !!! can't be described. It's just awesome.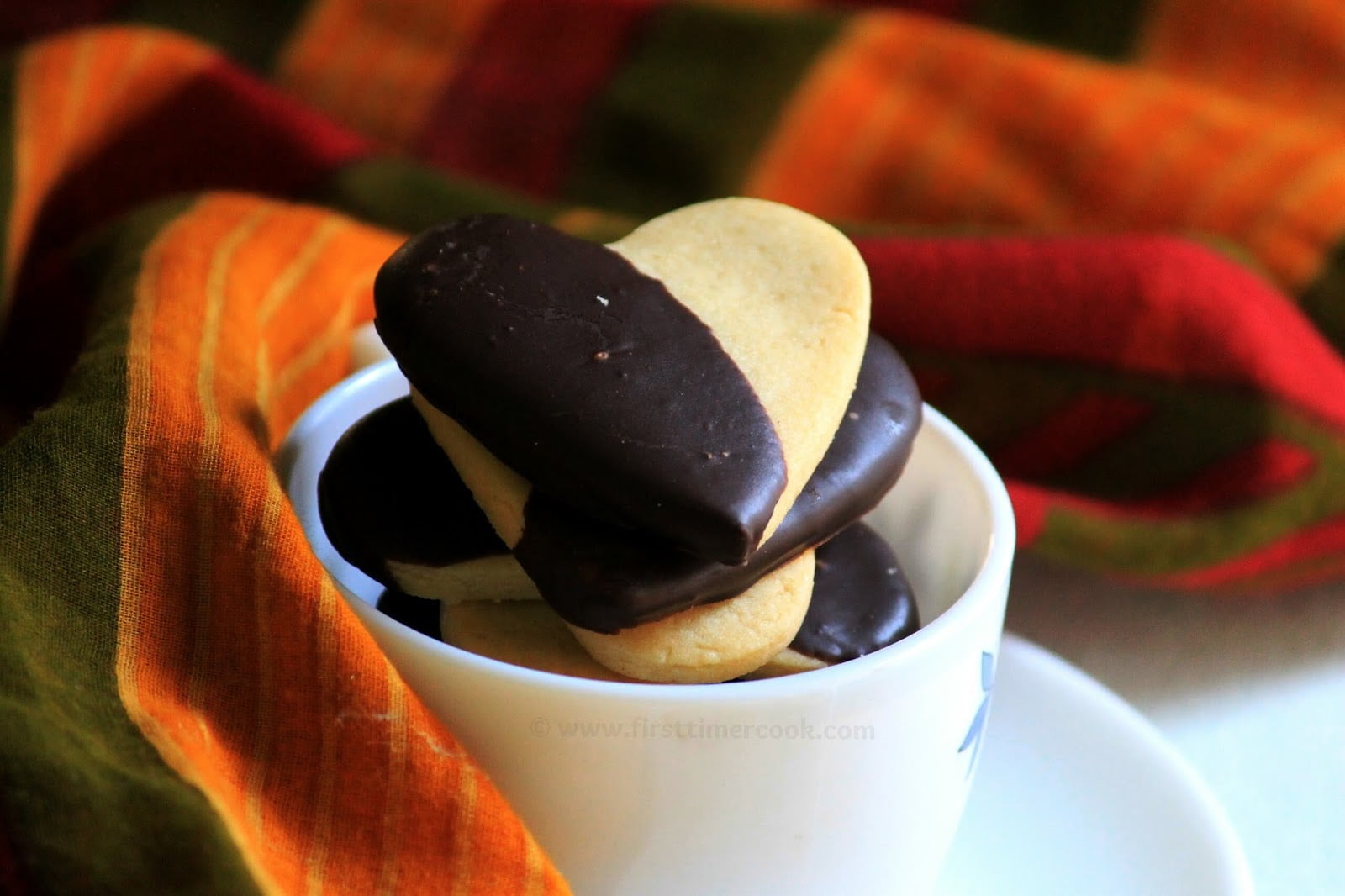 The spiciness of cinnamon and the sweetness of chocolate are perfectly balanced here. If desire, then just decrease the amount of cinnamon as mentioned below in ingredients.These cookies are made with 100% wheat flour (atta) and flavored with cinnamon. Much better than store bought cookies (which are very sugary and most of them have all purpose flour content), these are. For the coming valentine day, I just prepared these cinnamon flavored eggless cookies in heart shape and then slightly dipped the edges into melted chocolate.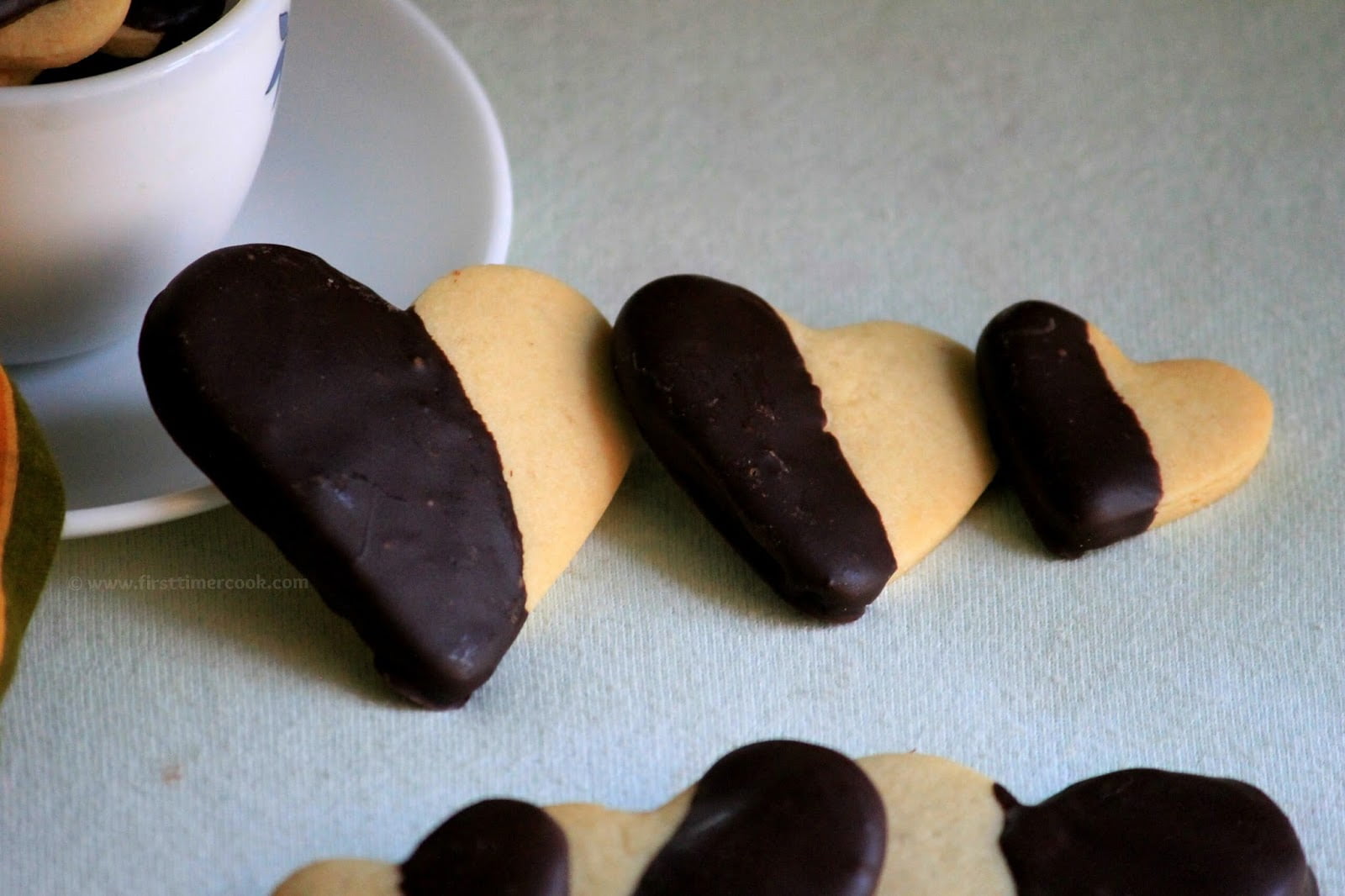 Since these are lightly sweetened, so for tea time these cookies are best compliment (just skip dipping in chocolate), also a great snack for kids. So just go ahead and make these crunchy and crispy, easy to make eggless heart shape cinnamon cookies dipped in chocolate to show your Valentine how much you love them.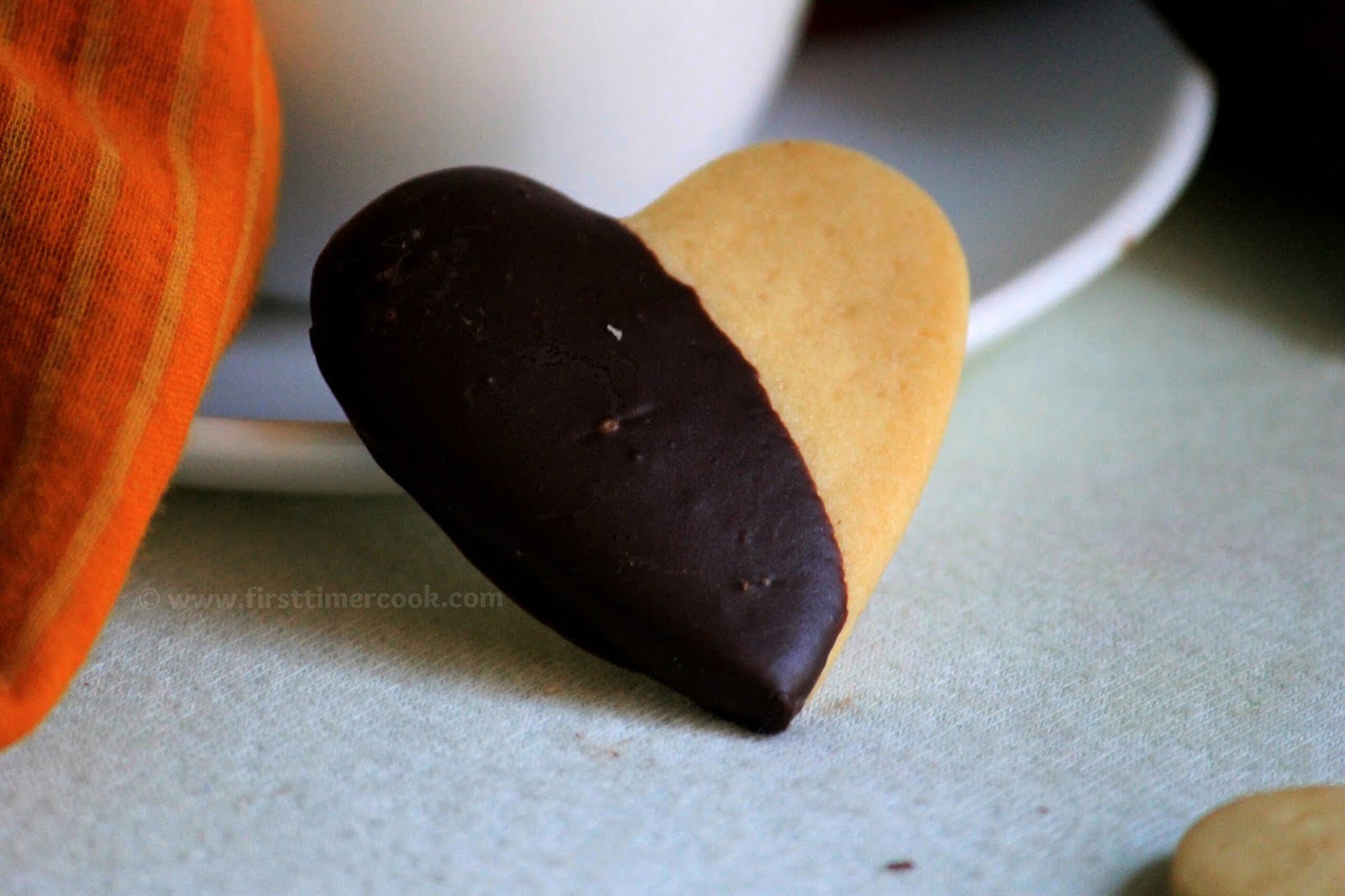 Preparation Time : 25 mins | Cooking Time : 30 mins
Ingredients :
Ingredients

Measurements

Whole wheat flour

2 & ½ cup

Butter

1 cup

Sugar

½ cup

Vanilla essence

2 tsp

Cinnamon powder

1 tsp

Milk

3 tbsp

Dark chocolate chunks /

Dark chocolate chips

1 cup
​
Method :
Shift wheat flour and cinnamon powder in a bowl. Keep aside.
Take butter (at room temperature) and sugar in a large bowl. Whisk until creamy and fluffy using hand / electric whisk.
Next add milk and vanilla essence. Whisk again until everything incorporate well.
Now add dry ingredients to the fluffy mixture and mix well to get a sticky dough.
Wrap the dough with a cling film and freeze for 10-15 minutes.
Meanwhile preheat the oven at 180 deg C.
After 10-15 minutes, take out the dough from refrigerator.
Roll the dough into a 1/4 inch disc using a rolling pin.
Using a heart shape cookie cutter, cut out heart shapes.
Place the heart shape cut-outs on a baking tray lined with baking sheet and bake them for 25-30 minutes.
Remove from oven, place all the heart shape cookies on a wire rack to cool down completely.
Meanwhile melt dark chocolate chunks by using double boiler or just microwave for 1 – 1.5 minutes. Stir in between until smooth.
Pick one heart cookie, dip one edge into the melted chocolate, allow excess chocolate to drip off the cookie and then place on a plate lined with baking paper.
Repeat the same process for rest of the cookies and finally put the plate in the refrigerator for about 10-15 minutes or until the chocolate has hardened.
Store in refrigerator putting in an air-tight container with baking / wax paper in between !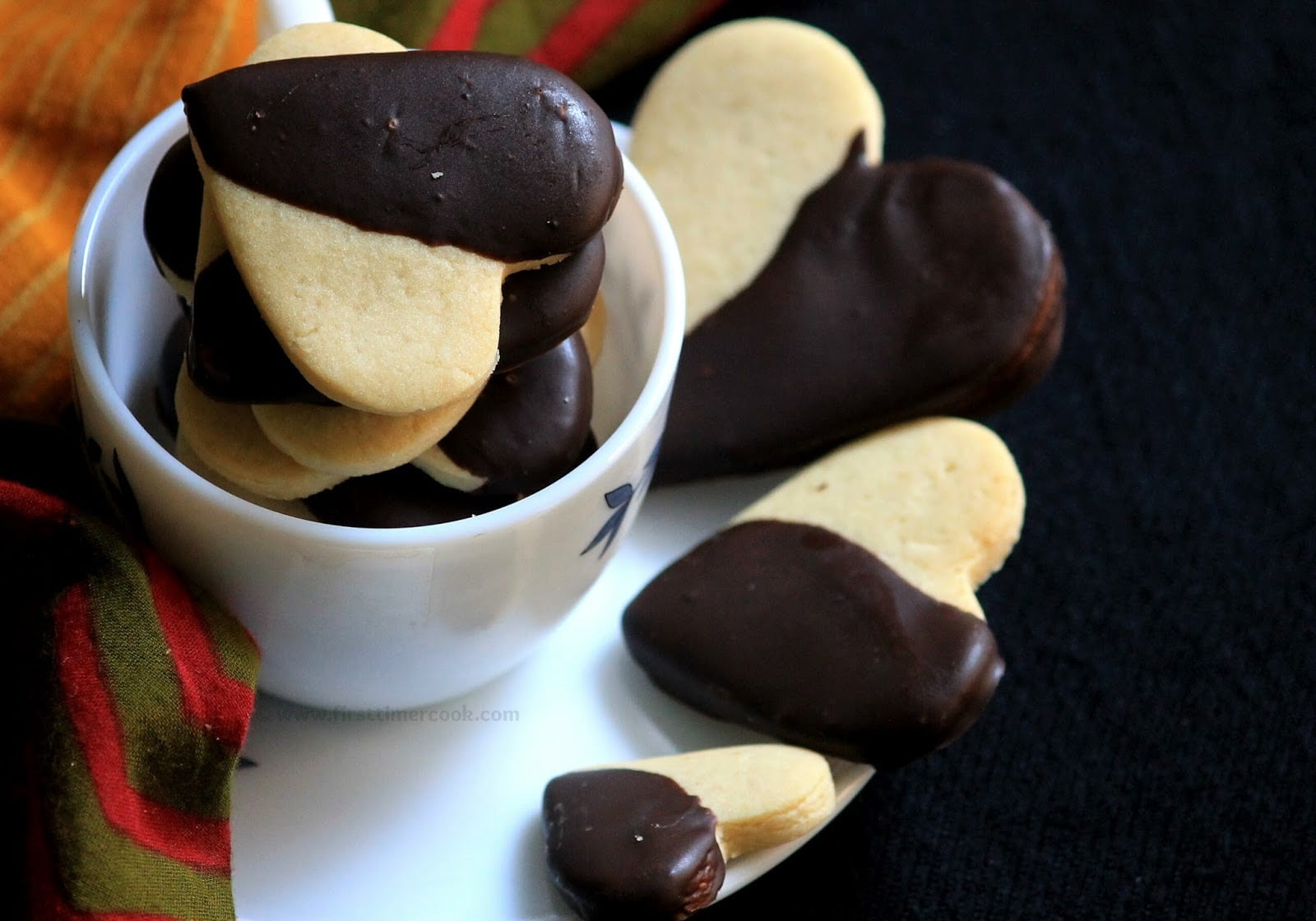 Notes :
Always store these cookies in refrigerator, otherwise the chocolate'll start to melt. Whenever needed, just take out and serve and then again store in refrigerator.
Strongness of cinnamon content can be reduced to 3/4 – 1/2 tsp, if desire.