In India, every household have planted many types of plants which may be banana, mango, drumstick, pumpkin, papaya etc in their backyard. Among all, banana tree is such an useful tree as most of its parts are used for cooking. Banana stem is the tender core of the tree. After taking the yield (banana) of the banana tree, the tree are used to be cut down. Then the tender core of the tree is taken out which is the stem part.
Banana stem has loads of health benefits.
It helps in treatments of gallstones.
It is a good source of vitamin B6 and potassium.
It helps in improving the function of kidneys.
Manja means banana stem and rai means mustard paste in odia language. Manja Rai is a curry made from banana stem and mustard paste. Manja rai is a typical odia dish. So below is the step by step method of preparation of this delicious manja rai or banana stem curry in mustard paste.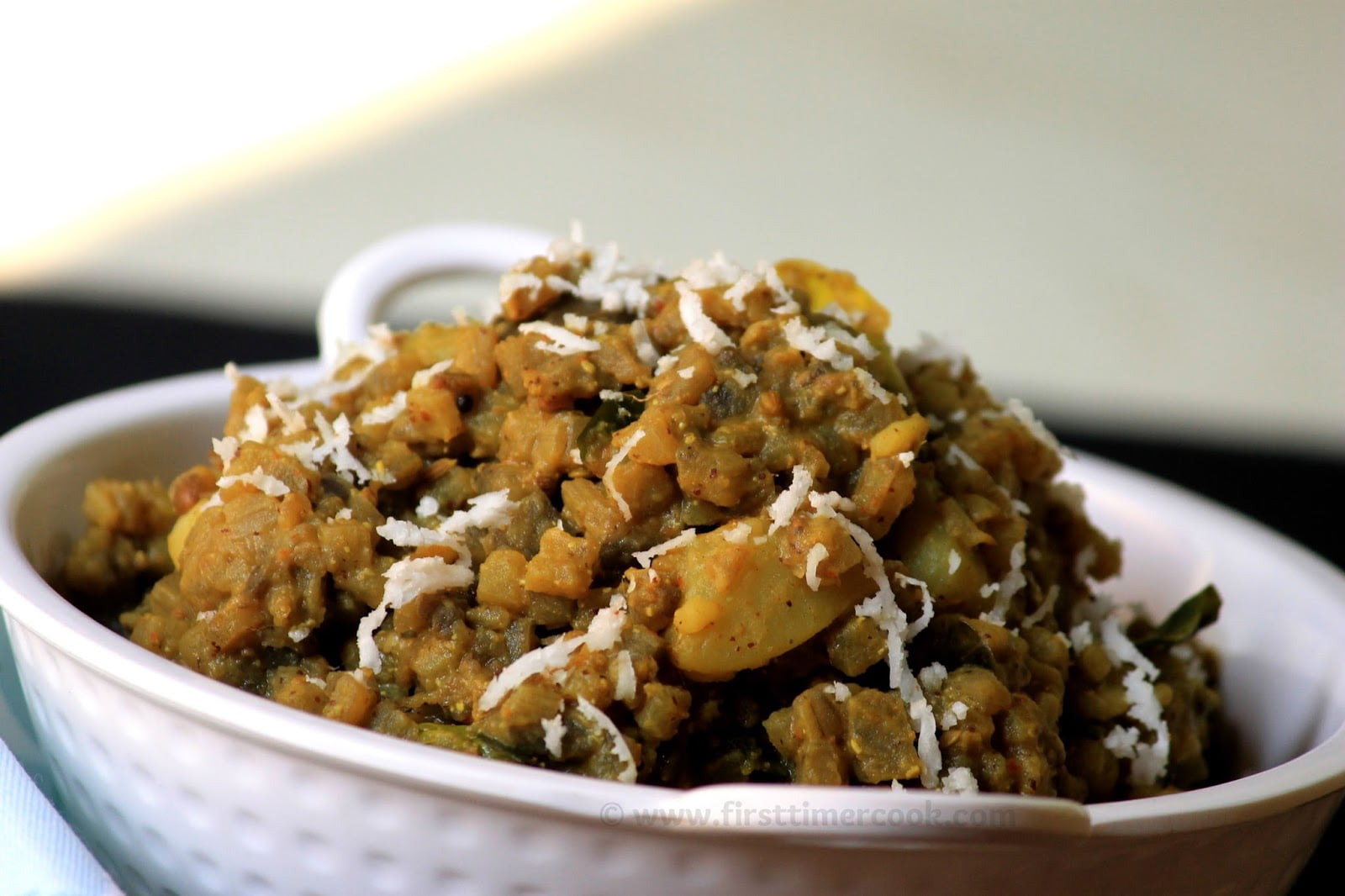 Preparation Time : 35 mins | Cooking Time : 20 mins
Ingredients :
Ingredients

Measurements

Banana stem (manja)

6-8 inch

Potato (medium)

1 no.

Colocasia (medium)

1 no.

Eggplant (medium)

1 no.

Cumin seed

2 tbsp

Mustard seed

2 tbsp

Garlic

2 clove

Green chili

2 no.

Panch phoron

1 tsp

Curry leave

1 sprig

Red chili

2 no.

Badi (sun-dried lentil (black gram)
dumpling)

3-4 no.

Turmeric powder

½ tsp + 1 tbsp

Coconut (grated)

2 tbsp

Mustard oil

3 tbsp

Salt

As needed

Water

As needed

​Method :
Wash the banana stem (manja) cleanly. Then cut the stem into 1/2 inch circles.

While cutting, some thin threads'll come out in between 1/2 inch circle and the main stem.

Take out those threads by gently moving one finger circularly in between each circle and the main stem.

Chop each 1/2 inch circle into small cubes.

In a mixing bowl, put all chopped cubes along with 1 tbsp turmeric powder and 1 tbsp salt. Mix well and keep aside for 25

-30 minutes.

Meanwhile make a fine paste of cumin seeds, mustard seeds, red chilies, garlic cloves and a little amount of water.
Peel colocasia (arbi) and potato.
Cut eggplant, colocasia and potato into 1 inch cubes.
Next by the help of hands, squeeze out excess water from the chopped banana stem pieces.
Now heat oil in a kadhai / deep pan.
Add green chilies, curry leaves, panch phoron and allow to crackle.
Then add potato cubes, eggplant cubes, colocasia (arbi) cubes and chopped banana stem pieces. Fry for 2-3 minutes.
Add turmeric powder, salt and mix well.
Then add masala paste and stir gently.
Cover and cook on low-medium heat for 12-15 minutes.
Turn off heat and add fried badi and grated coconut and mix.
Relish this manja rai (banana stem curry) with a steaming hot bowl of plain rice.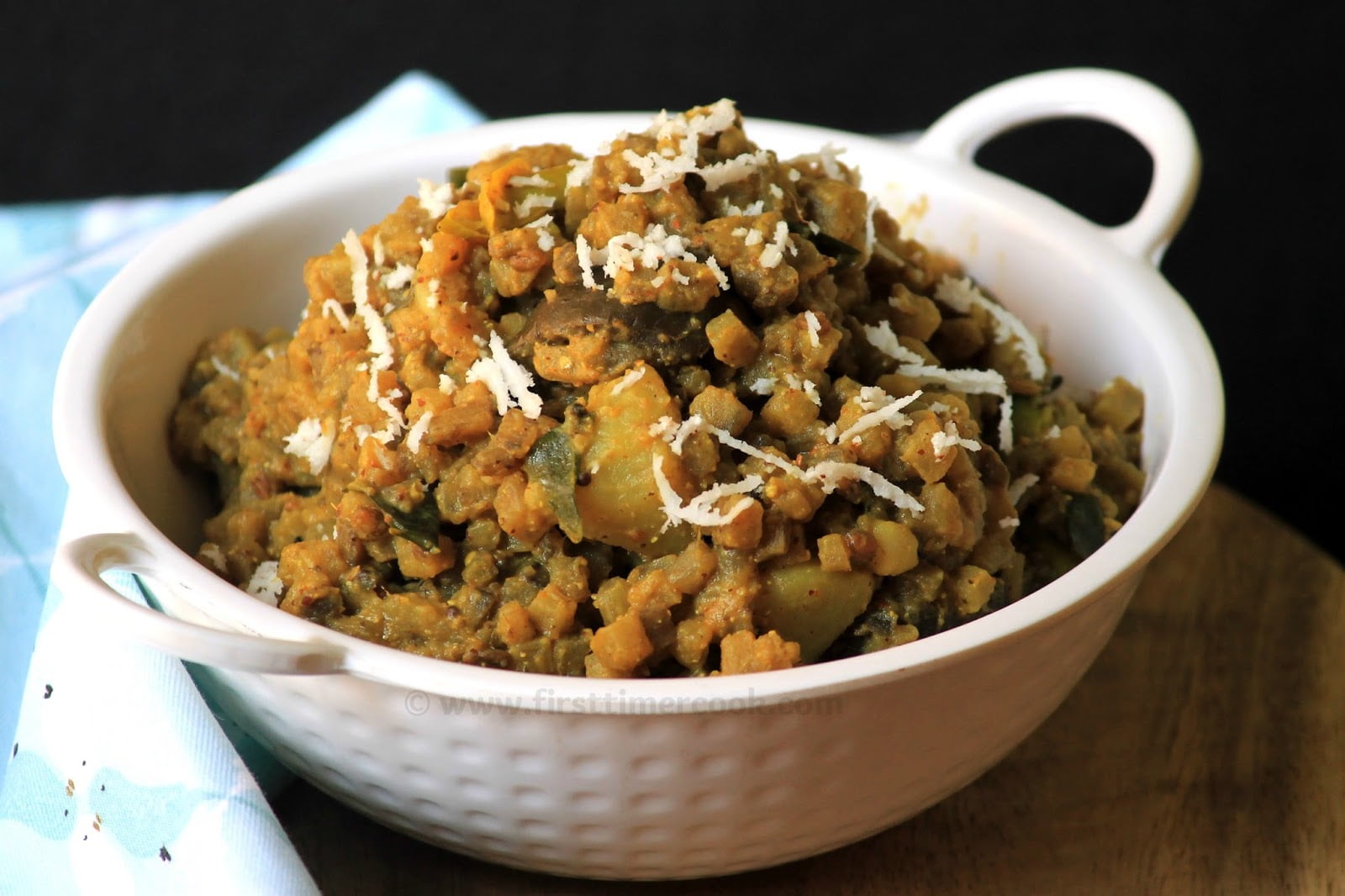 Notes :
Always try to remove thin threads while cutting the banana stem into circles as much as you can.
My mother prefers to use the chopped banana stem pieces as it is without squeezing the water from it. But I have squeezed out excess water. So 'whether squeezing or not' totally depends upon you. I never feel any difference in taste.