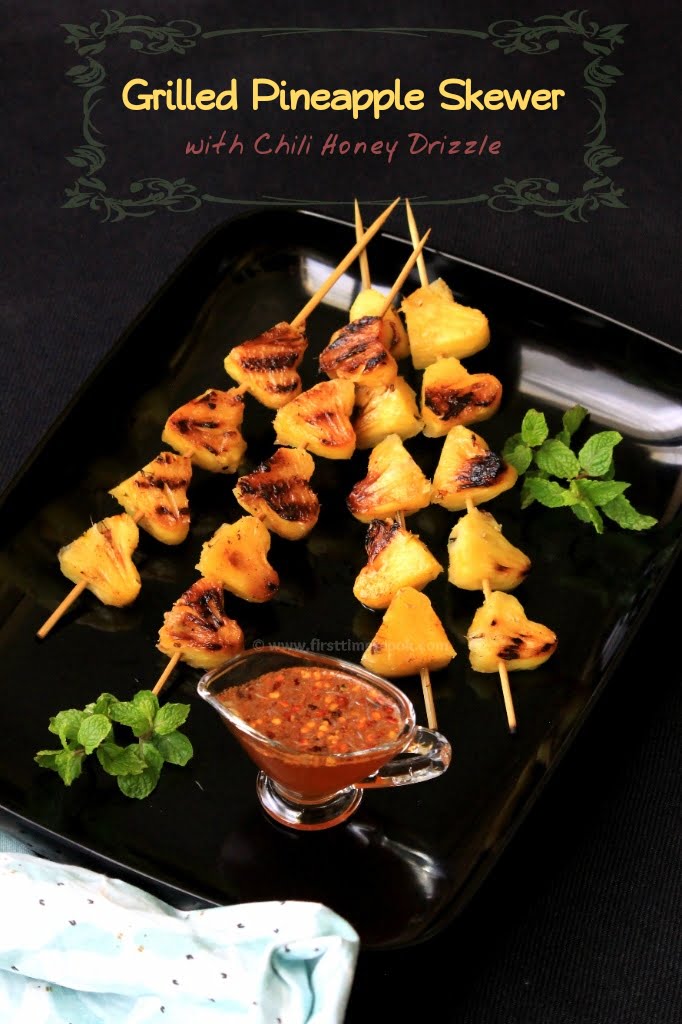 Pineapples are a delicious tropical fruit that have been celebrated for centuries not only for their distinct and unique taste, but also for their seemingly miraculous health benefits. Pineapples are eaten fresh, juiced etc., actually there are so many ways to use pineapples.
Pineapple is a good source of vitamin C and yes, so many medicinal benefits are there which include improve digestion, help in weight loss, strengthen bones, improve oral health, reduce inflammation, prevent cancer, improve heart health, improve the immune system etc. Here I have come up with grilled pineapples which are threaded in a skewer and drizzled by a sweet and chili condiment. Sweet and chili flavor comes from the mixture of honey, chili flakes and also with a dash of fresh lime juice.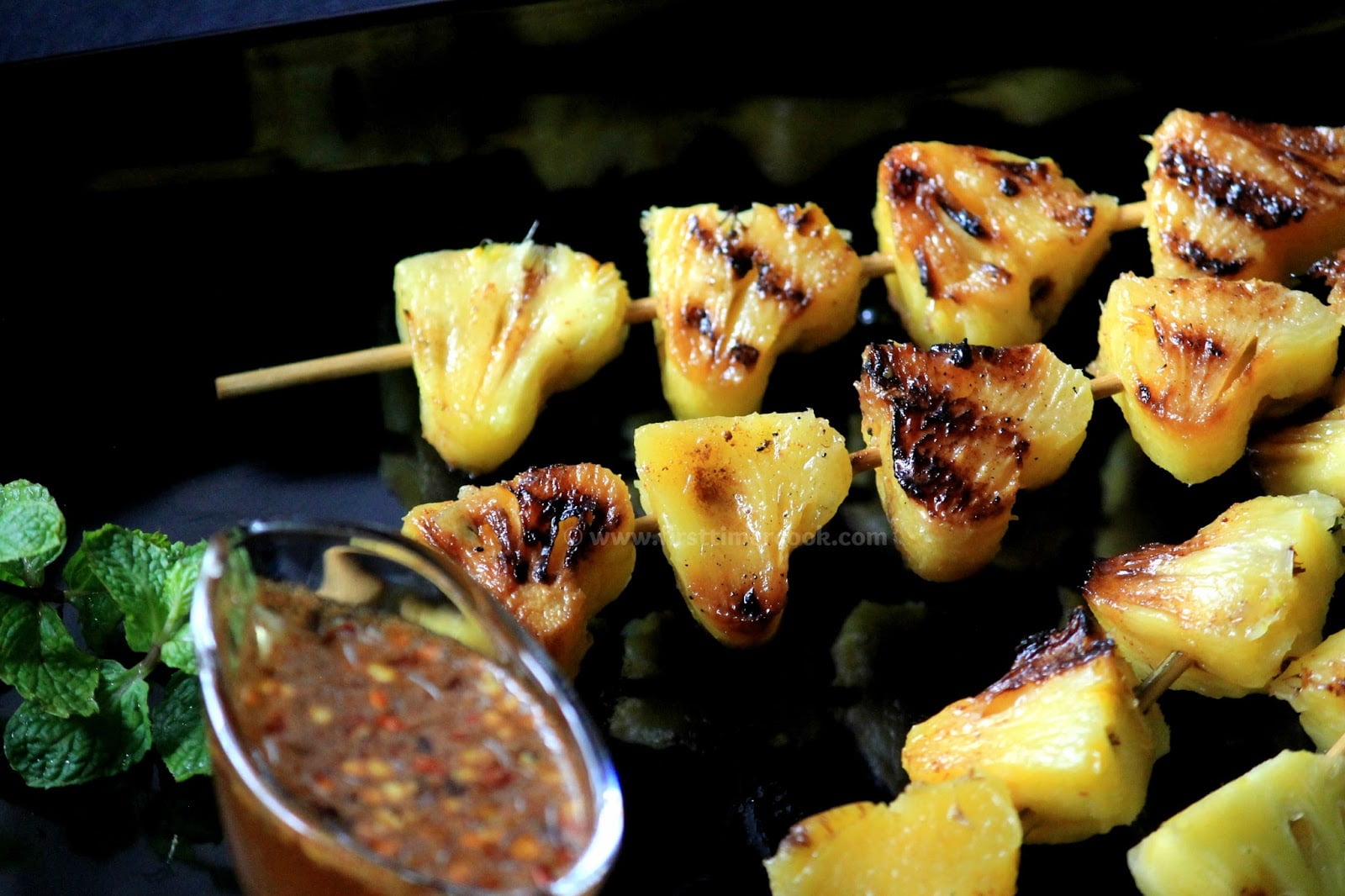 After grilling, the pineapple becomes soft, tender and melts in mouth ! Also grilled pineapple doesn't alter the taste buds like raw pineapple does. Basically the bromelain enzyme in raw pineapple kill the top layer of taste buds on tongue and hence making it hard to taste for a few hours afterwards. So if this type of issue is there with you, then I can assure that this grilled pineapple skewers is the best way to enjoy without any fear of taste buds get killed.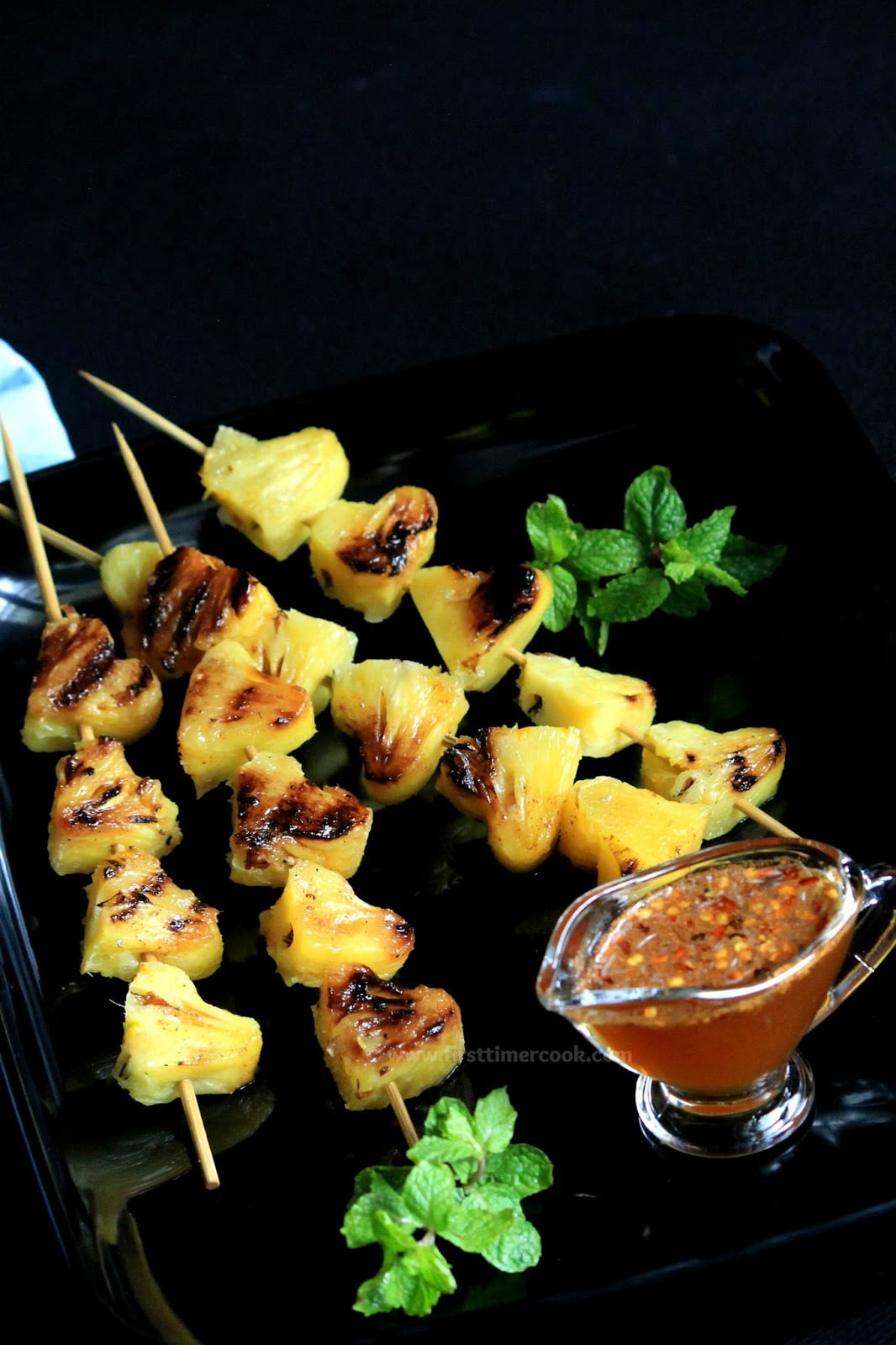 Here the pineapple is not cooked fully, just grilled a bit to break down the enzyme. These grilled pineapple can be used in a mock-tail which tastes heavenly. Do check my earlier post virgin grilled pineapple mojito, a fun and easy twist to the traditional refreshing virgin mojito which gives a whole new level of fruity and smoky flavors.
This grilled pineapple skewer with chili-honey drizzle is a perfect light dessert. These are so easy to make and even easier to eat. So lets go in details.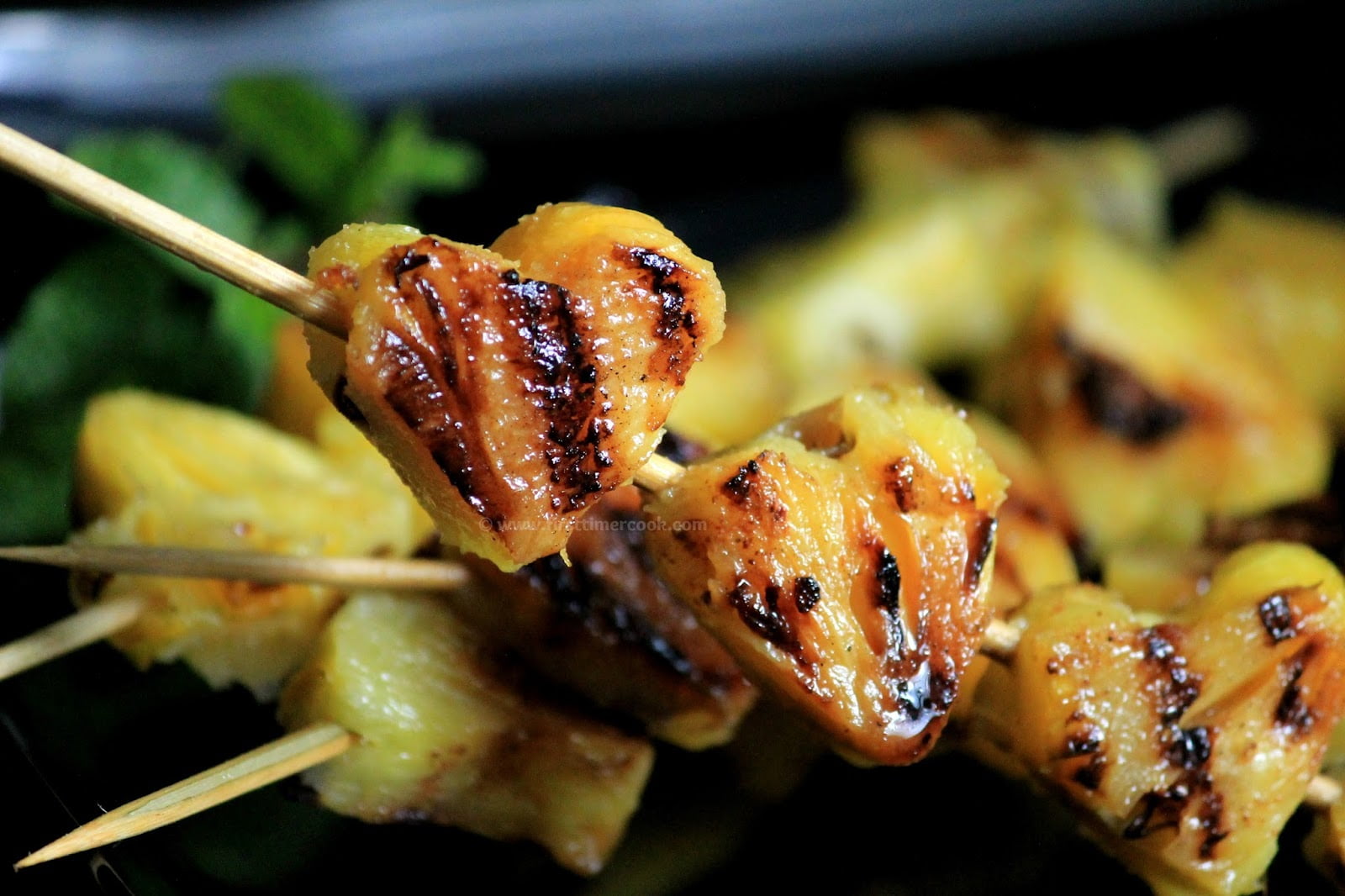 Preparation Time : 10 mins | Cooking Time : 8 mins
Ingredients :
| | |
| --- | --- |
| Ingredients | Measurements |
| Pineapple (ripe) | 1 no. |
| Honey | ¼ cup |
| Chili flakes | 2 tsp |
| Lime juice | 2 tbsp |
| Butter | For brushing the pan |
| Bamboo skewer | As needed |

​
Method :
Soak all the bamboo skewers for 10 minutes in water and keep aside.
Cut the leaves off the top of the pineapple, then peel it with a serrated knife.
Remove any eyes with a paring knife and then cut into 1 inch slices.
Keep those slices as it is just by removing the core or cut into desired shape.
Arrange few pineapple pieces on skewers depending upon size of the pineapple piece and length of skewer.
Next brush the grill pan very lightly with butter and heat the pan over medium heat. But I usually avoid brushing the pan and my pineapples get grilled well.
Place the pineapple skewers carefully on the hot grill pan.
Cook for 3 minutes, then flip the skewers and let cook other side of the pineapple piece for about 3 minutes.
Meanwhile whisk together honey, chili flakes and lime juice in a small bowl.
Next drizzle the honey-chili-lime mixture over the grilled pineapple skewers.
Then turn off the heat and take out all the skewers from the pan.
Place on a serving platter and brush again lightly with the left honey-chili-lime mixture if desire.
Serve these warm grilled pineapple skewers immediately !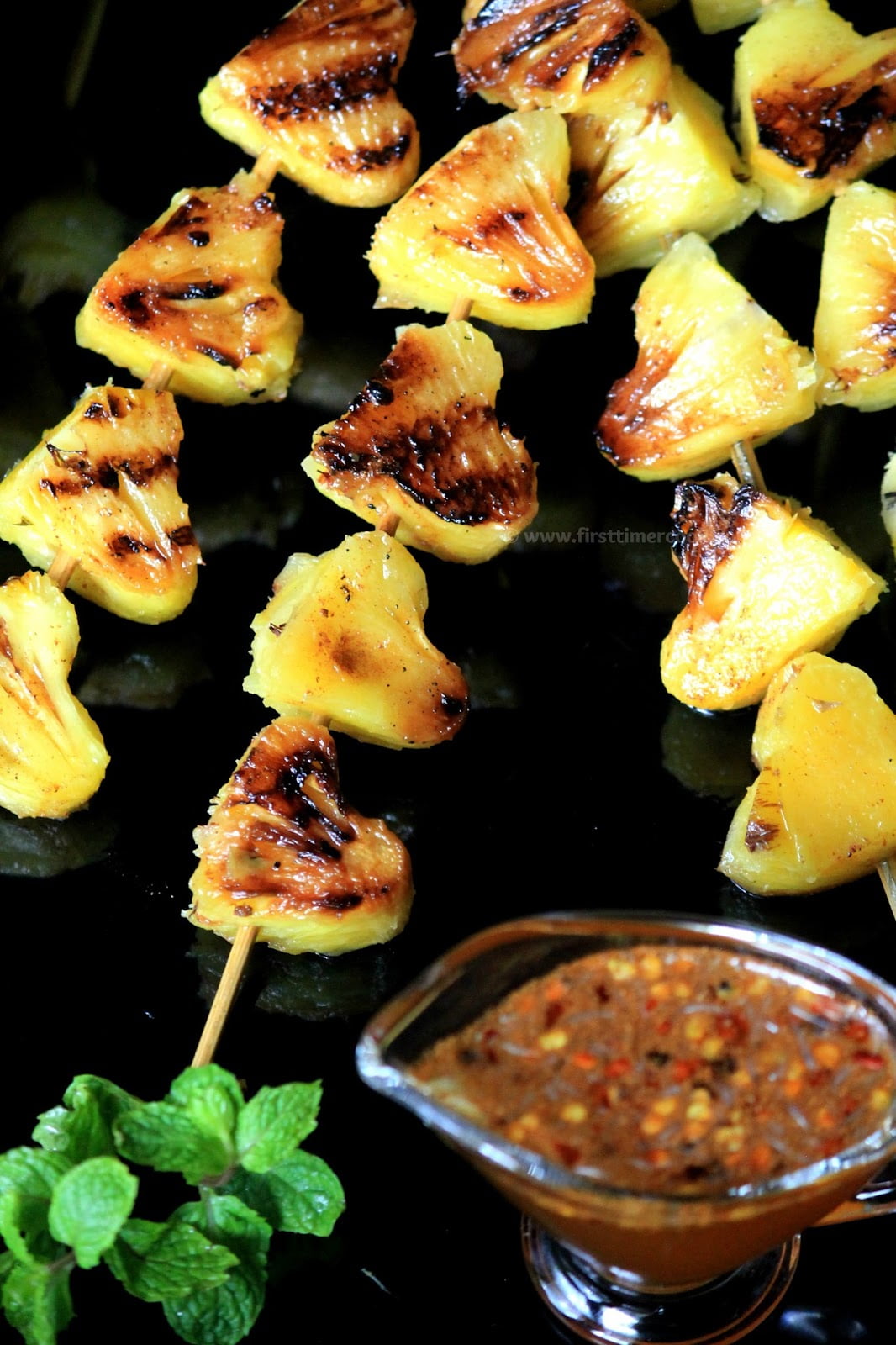 Notes :
Butter is not mandatory. If pineapple slices stick to the grill pan, then brushing the grill pan with butter is must.
Prefer to use semi ripe pineapple or fully ripe pineapple.
If you don't want spicy tone, then just omit chili flakes.
Honey amount also may vary depending upon the sweetness of the pineapple.
PIN for later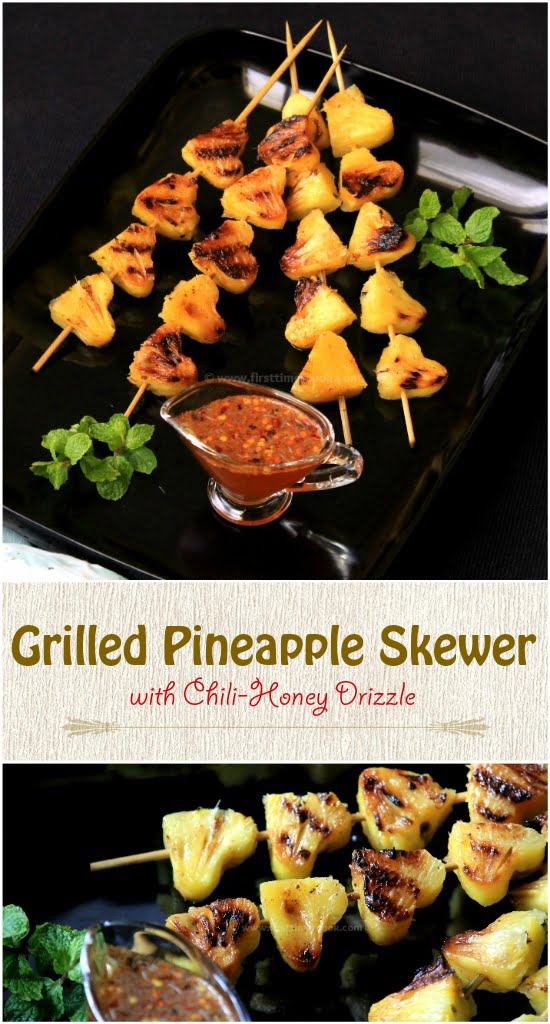 This 'grilled pineapple skewer with chili honey drizzle' recipe is contributed for 109th Foodie Monday Blog Hop where the theme is 'On a Stick Dishes'.