Watalappan is the most delicious and ubiquitous creamy coconut custard from Sri Lanka, sweetened with natural kithul jaggery and spiced with cardamom, cinnamon, and nutmeg, but in an eggless version.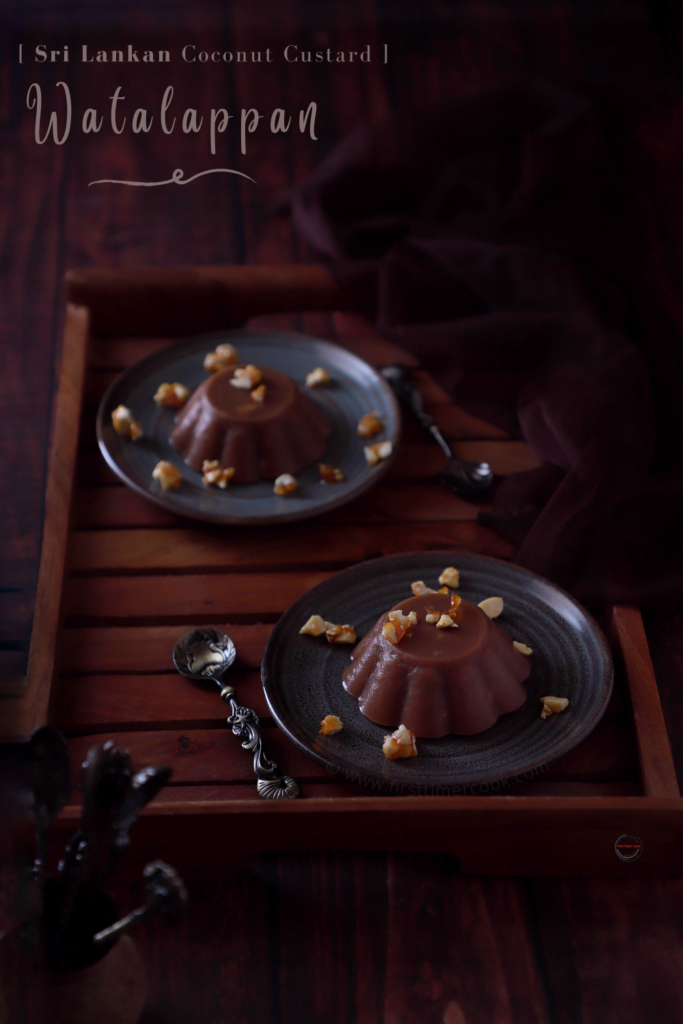 Sri lankan Cuisine !
Though quite similar to South Indian food, Sri Lankan Cuisine has its own distinct personality. Every dish is uniquely spiced with a Sri Lankan flavor, even those that have foreign roots. From desserts to snacks, most dishes use locally grown fruit, seafood, and, most importantly, spices. The use of bold, flavorful spices is so characteristic to Sri Lankan cuisine, that it led to the island nation being dubbed 'Spice Island'.
Coconuts are the lifeline of Sri Lankan cuisine. Coconut oil is the oil of choice for grilling, deep-frying, and tempering. Coconut milk is added to the majority of curries to create a creamy gravy. Coconut flesh is grated to make a spicy pol sambol used as an accompaniment for rice and bread. Grated coconut is also the base for many Sri Lankan sweets like pol toffee.
So here I have come up with a dessert from this cuisine with a coconut base as Watalappan.
What is Watalappan ?
It is quite similar to flan but made from coconut and like any good island dessert, the coconut palm sugar jaggery.
Watalappan, which is very popular with Sri Lankan Muslims, is a must for their religious festivals. It is a rich steamed pudding prepared with egg, jaggery, coconut milk and spices like cinnamon, cardamom and nutmeg. The aromatic spices lend the characteristic flavour to this silky smooth dessert.
Although watalappan is traditionally a Muslim dessert prepared during the Ramadan season, it has become a staple of Sri Lankan cuisine over time. Nowadays one can find it in many restaurants across the country.
Well, the recipe which I am going to share here is an eggless version of the much popular Watalappan.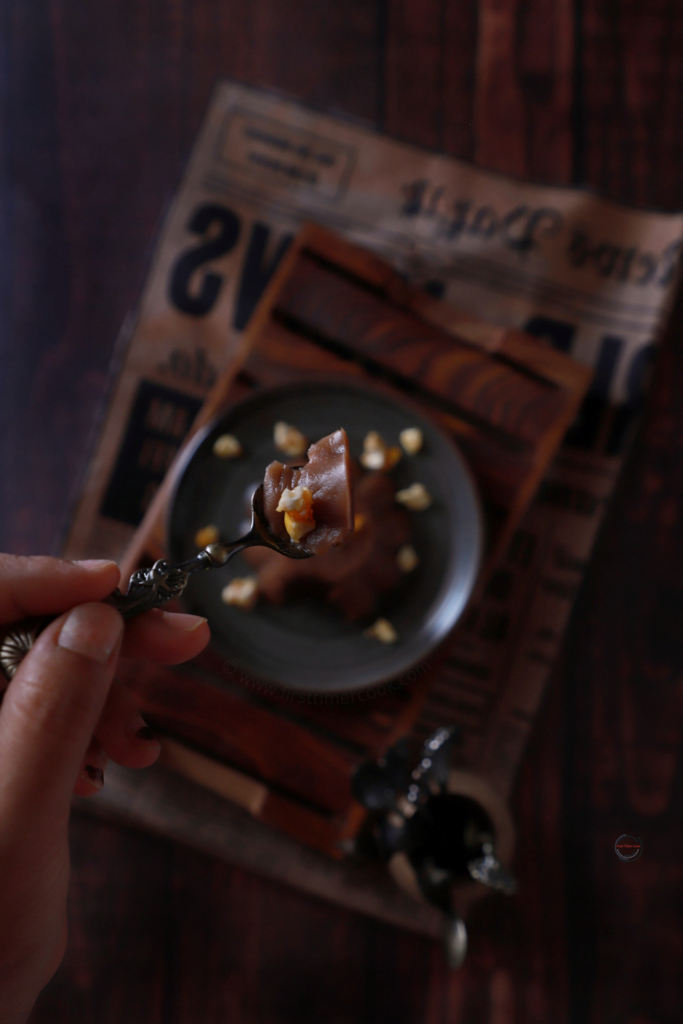 📖 RECIPE CARD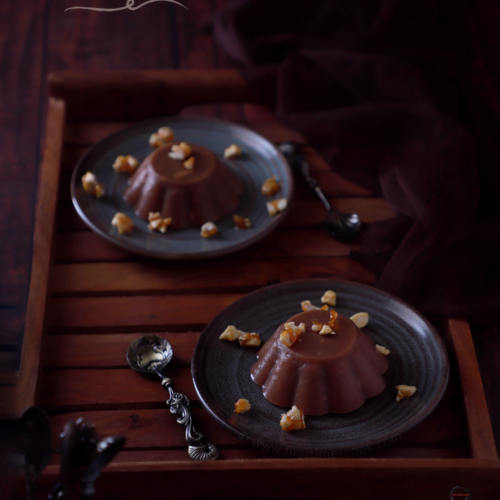 Eggless Watalappan (Sri Lankan Coconut Custard)
the most delicious and ubiquitous creamy coconut custard from Sri Lanka, sweetened with natural kithul jaggery and spiced with cardamom, cinnamon and nutmeg, but in eggless version.
Ingredients
Watalappan
2

cup

Coconut milk

½

cup

Jaggery (grated)

¼

cup

Corn flour

¼

tsp

Cinnamon powder

¼

tsp

Cardamom powder

¼

tsp

Nutmeg powder

⅛

cup

Water

(optional)
Cashew Praline
½

cup

Cashew (roasted and roughly crushed)

3

tbsp

Sugar

1

pinch

Cardamom powder
Instructions
Turn on the steamer first.

Grease the mold in which the custard is going to be cooked. Keep aside.

In a mixing bowl take grated jaggery along with cinnamon powder, cardamom powder, nutmeg powder.

Using a hand whisk, mix well everything first.

Then pour the coconut milk and whisk again till everything is well incorporated.

After that, add the corn flour and gently mix using the hand whisk.

If the mixture seems little thick in consistency, then add 1 tbsp water little by little.

Pour the mixture into the greased molds.

Cover the molds with aluminium foil and steam for 10-12 minutes.

Take out the molds from the steamer and allow to cool down.

Then keep in the refrigerator till serving.

Meanwhile, start making the cashew praline.

For this, first line a parchament paper over a plate. Keep aside.

Now heat sugar in a saucepan over medium heat.

Soon the sugar will start to completely melt down, then add the cardamom powder.

The color will change to amber, immediately turn off heat and add the cashews.

Mix quickly everything and transfer the mixture onto the plate lined with parchament paper.

Immediately try to spread the mixture as much as possible using a spoon or knife.

When it cools down, then it will become so hard.

Now break it with the help of rolling pin and cashew praline is ready.

While serving the watalappan, just top with some cashew pralines and serve !
Notes
Instead of cashew praline, normal cashew can be used. Just roughly break the cashew and top on the watalappan. Well,
when I tried this dessert a few months ago, that time I simply topped it with regular cashew chunks. But yesterday while preparing this again, I somehow changed my mind and made some cashew praline. And believe me, this just elevated the taste of watalappan to another level.
I have used corn flour here as the binding agent since this is completely an egg-free version.
The spices just add so much flavor to the watalappan.
Just before steaming, some chopped cashews can be mixed with the coconut, cornflour mixture. I have not added though.