Chini Paratha is a sweet flavored Indian whole wheat flatbread made with sugar as the stuffing.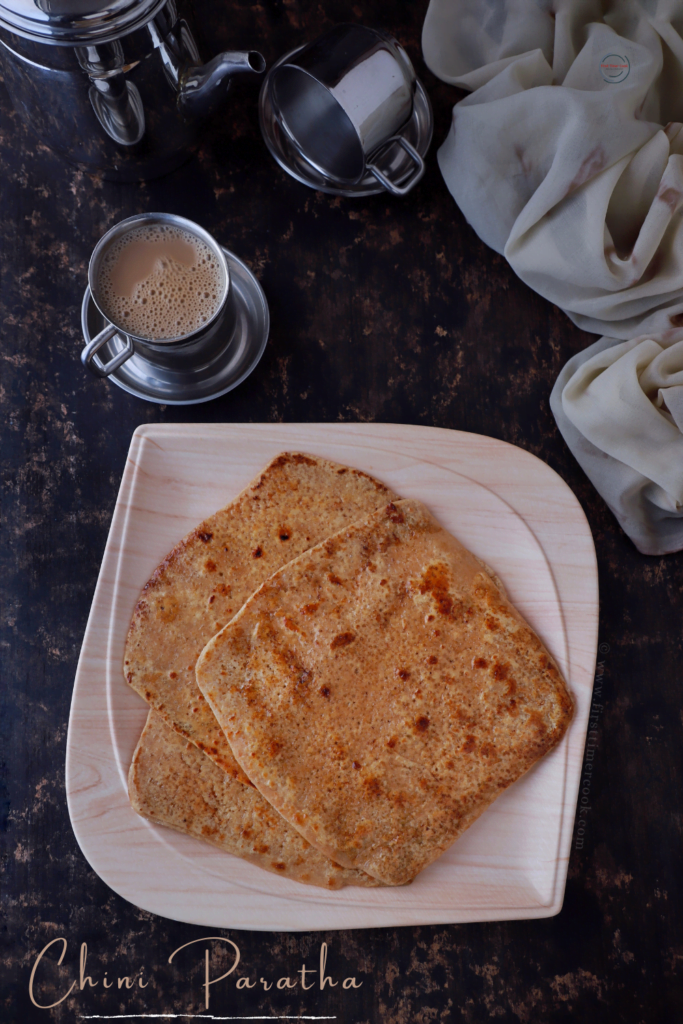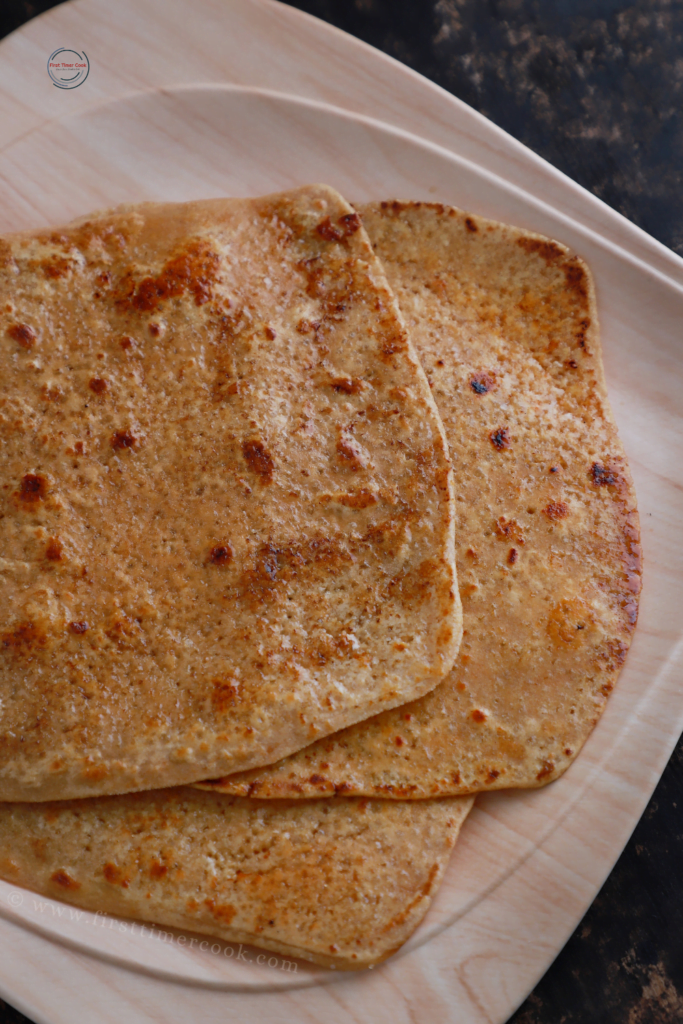 Chini Paratha
a sweet flavored Indian whole wheat flatbread made with sugar as the stuffing
Ingredients
1

cup

Wheat flour

+ for rolling

4

tbsp

Granulated sugar

½

tsp

Salt

2

tsp

Oil

+ for roasting

Water

as needed
Instructions
Take the flour in a mixing bowl.

Add salt, oil and start mixing first.

Then add water little by little & begin to make a dough.

Knead the dough till it becomes pliable, smooth and soft (neither very soft nor hard).

Once the dough is ready, cover the bowl containing the dough. Keep aside for 10 minutes to rest.

After 10 min, knead once more & then divide the dough evenly into round balls (approximately 4 no.).

Before rolling the paratha, heat an iron tawa / skillet over medium heat.

Take one ball and press in between palm to give shape like a pattie.

Place it over a rolling board, sprinkle some wheat flour over it and then roll into approx. 5-6 inch diameter circle.

Sprinkle 1 tbsp granulated sugar in the center.

Bring 1/3 side of rolled dough towards the center and press lightly. Fold the opposite side of the rolled dough on top of the folded part & press lightly. Now a rectangle shape will form. Fold the right side (1/3 part) and bring towards the center. Lastly fold the left side on top of the right fold and this time, a folded square will form.

Sprinkle some flour on the folded paratha, begin to roll.

Add some more flour if required while rolling & roll into a square paratha of about 6 to 7 inches length.

Put the rolled paratha on hot tawa.

Flip the paratha when one side is partly cooked. Apply oil on this side with a spoon.

Flip again and let the oil side get cooked now.

Apply some oil on the top. Flip again, gently press the paratha specially the edges with a spatula and cook for some more seconds.

Flip and cook till the paratha has golden spots on both sides and is evenly cooked.

Transfer to the serving plate and serve immediately, as it becomes hard by cooling.

Repeat the same process for rest of the dough balls and make more Chini Parathas !
Notes
If the dough looks dry, then add some water. If the dough looks sticky and moist, then add some extra flour and knead again.
Ghee can be opted instead of oil here.
I have used granulated sugar, Some jaggery powder can be used also.
Granulated sugar gives a nice look to the paratha after rolling. But one has to be very gentle and careful while rolling the paratha, else the sugar will come out. If this happens, use powdered sugar.
I have made the square paratha. One can change it to round or even triangular paratha.