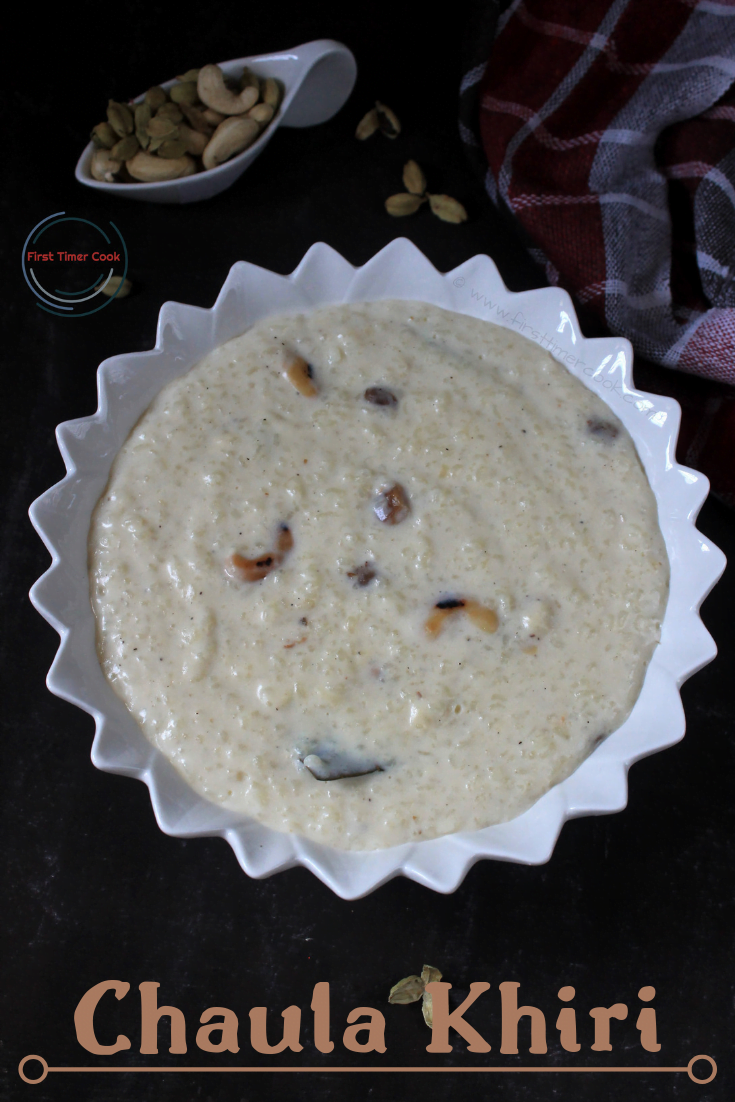 The day has come again. Exactly on this date just 3 years back I have created my food-blog www.firsttimercook.com. This is my second child which turns 3 years old today 😊😊 So some celebration must be here. And for that type of occasion particularly we Indians make kheer at least in our homes which is the integral part of any celebration. Well, kheer is an Indian version of rice pudding made by slowly cooking rice in milk with addition of generous amount of nuts and some fragrant ingredients like saffron, cardamom, rose water etc. This can be sweetened with sugar or even jaggery. This pudding dessert is completely egg free.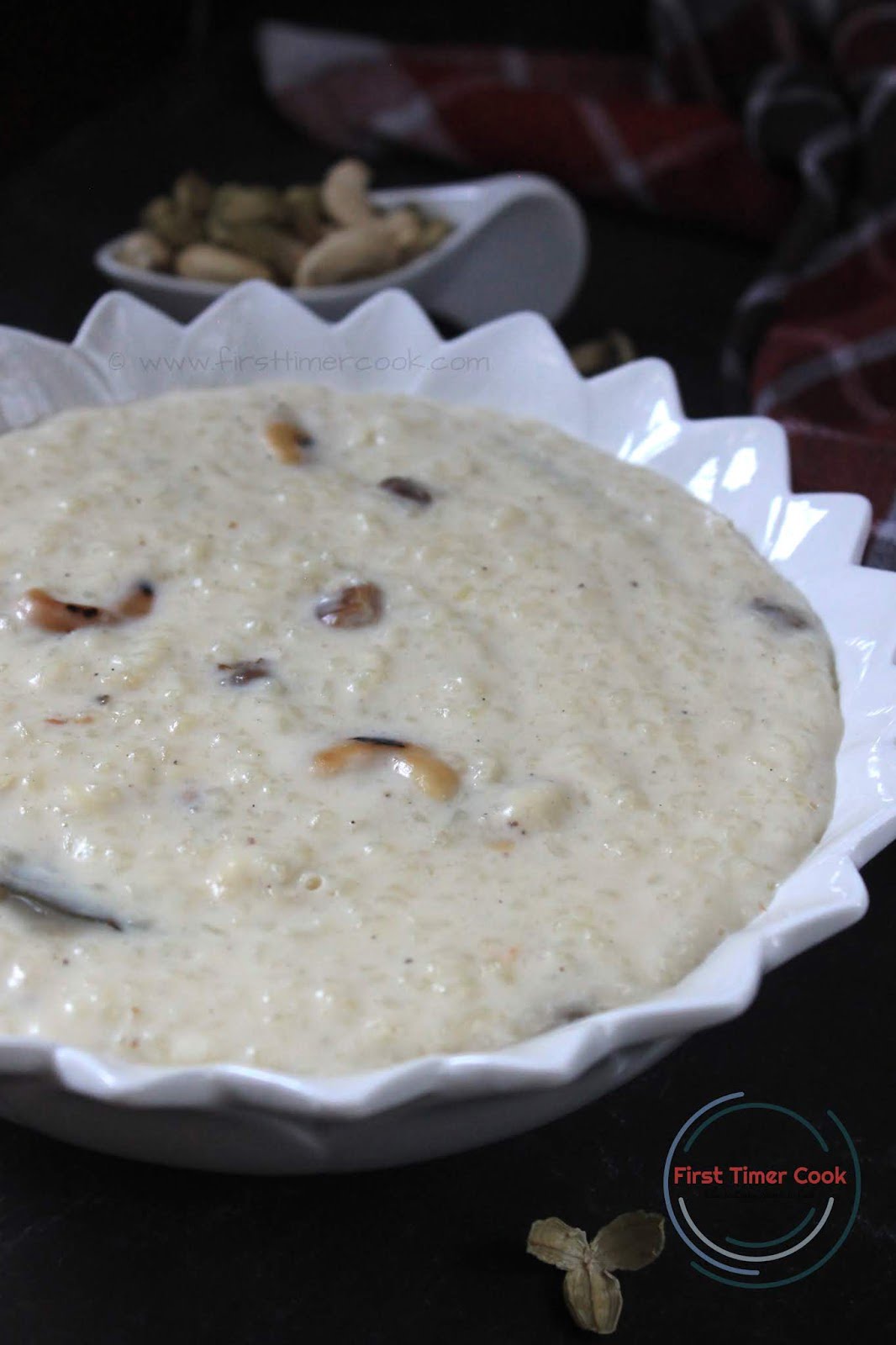 These days there are a no. of variation in having this sweet dessert where the main ingredient is being varried and results into kheers like gajar kheer, millet kheer, dalia (broken wheat) kheer, pasta kheer, modak kheer, orange kheer, makhana kheer, besan kheer, chhena kheer and lots more. Today's post is rice kheer from Odia cuisine aka Chaula Khiri / payesh for the celebration. Traditional method follows to cook the rice in the milk while boiling. But one can separately cook the rice, then add into the boiled milk and again cook both further to incorporate well. This way, the preparation time is bit less as compared to the traditional one.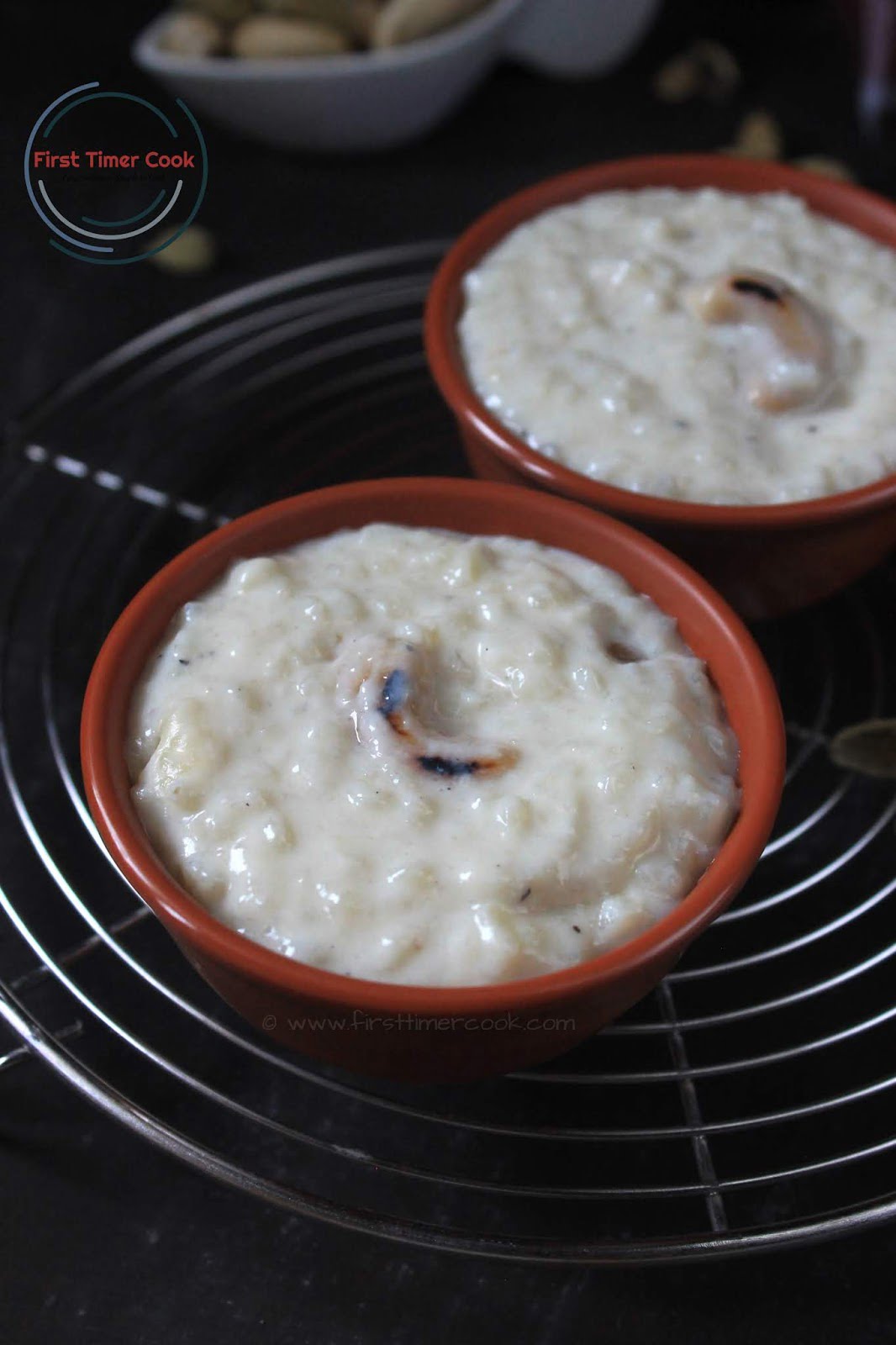 At my place, the Caramelization part is added at the starting of boiling the milk. Means in a heavy bottom pan, the sugar is caramelized with ghee and then milk is poured cautiously into that. Also the rice which I am here following to cook in pressure cooker separately is first fried for 1-2 minutes in ghee. This results into no sticky rice after pressure cooking and the cooked rice can get easily mixed with the boiling milk without creating much lumps. So this is a kind of kheer where the rice is being fried to use in kheer. The kheer here is also fully gluten free dessert. With the addition of fried nuts and the freshly grounded cardamom the kheer has a flavorsome taste and looks super delicious.
Recipe Card for 'Chaula Khiri | Odia Rice Pudding' :

Dessert, Rice, Gluten free dessert, eggfree Pudding, Kheer, payasam, payesh, Basmati rice
Dessert, Rice, Gluten free, Pudding, Kheer, Eggfree pudding
Odia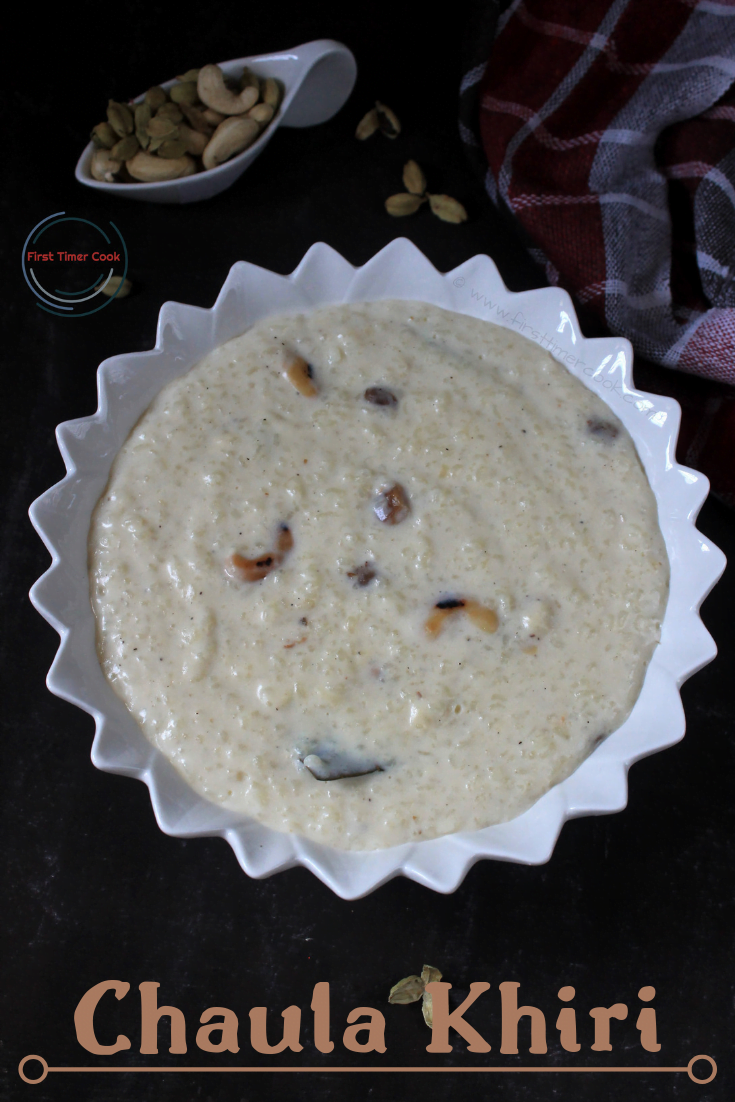 Chaula Khiri / Odia Rice Pudding
much deliciously flavorsome pudding using rice from Odia cuisine
prep time: 15 Mcook time: 1 hourtotal time: 1 H & 15 M
ingredients:
Short grain rice (jasmine / basmati) 1/2 cup

Milk (full fat) 1.5 lt

Sugar 1 cup + 2 tsp

Ghee 2.5 tbsp

Bay leaf 1 no.

Cashew

Raisin

Almond

Cardamom 4-5 no.

Salt 1 pinch

Water
instructions:
How to cook Chaula Khiri / Odia Rice Pudding
Wash and clean the rice with regular water.

In a bowl soak the rice with some water for 15-20 minutes.

Take a heavy bottom deep pan and heat 1/2 tbsp ghee in it.

Add 2 tsp sugar and start caramelizing over low heat.

Immediately pour the milk cautiously and give a nice stir.

Allow to boil over low heat stirring in between.

Meanwhile in a pressure cooker, heat 1 tbsp ghee.

Add bay leaf along with soaked and drained rice.

Using a spatula, mix everything.

Fry till 1-2 minutes over low heat.

Then pour 1 cup water, mix well and close the lid of the pressure cooker.

Cook till the rice is well done.

Turn off heat and allow the pressure to release automatically.

Then mash the cooked rice slightly and add into the boiled milk.

Mix everything well and allow to cook again for 30-35 minutes over low heat, stirring and scrapping the sides of the pan in between. Otherwise kheer will stick to the bottom and burnt.

In a separate pan, fry the dry fruits in 1 tbsp ghee. Keep aside.

When the khiri / kheer turns little thick, add sugar along with a pinch of salt, freshly crushed cardamoms and fried dry fruits.

Cook for 2-3 minutes till sugar melts.

Turn off heat and keep aside the kheer to cool down to the room temperature.

Serve as it is or cold !
NOTES:
Caramelization part impacts a beautiful color to the chaula khiri. So i always recommend not to skip that step.
Frying the rice in ghee results into no sticky rice after pressure cooking.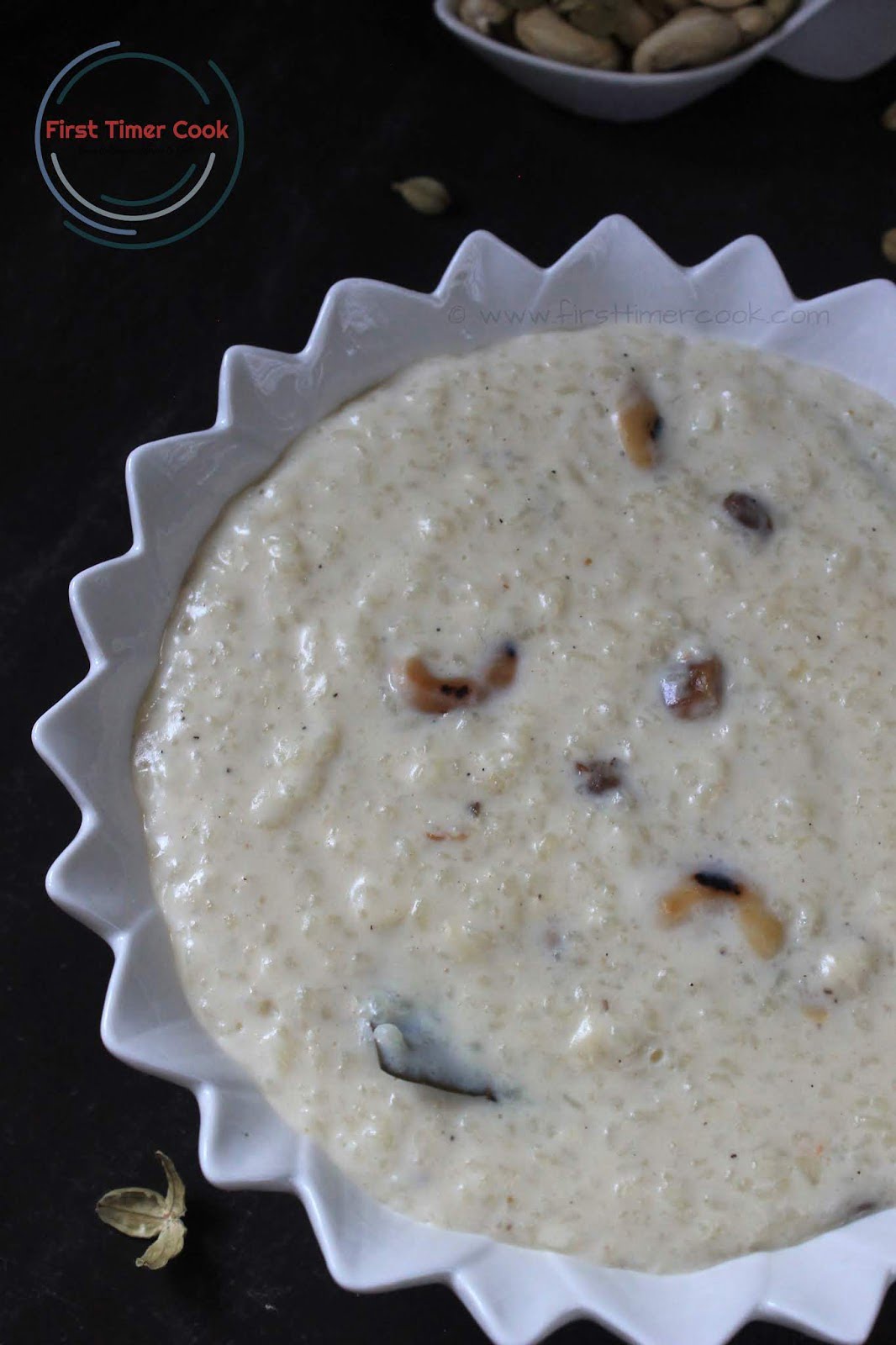 If you tried my recipe and enjoyed fully, then please share some pictures of your creation with me. Also kindly rate the recipe below, give your valuable feedback either in the comment box below or tag me as @firsttimercook on Instagram.
You may also follow me on Facebook, Pinterest, Twitter, Google+, Instagram and can subscribe for free to get new recipes directly into your inbox 😊
PIN for later :