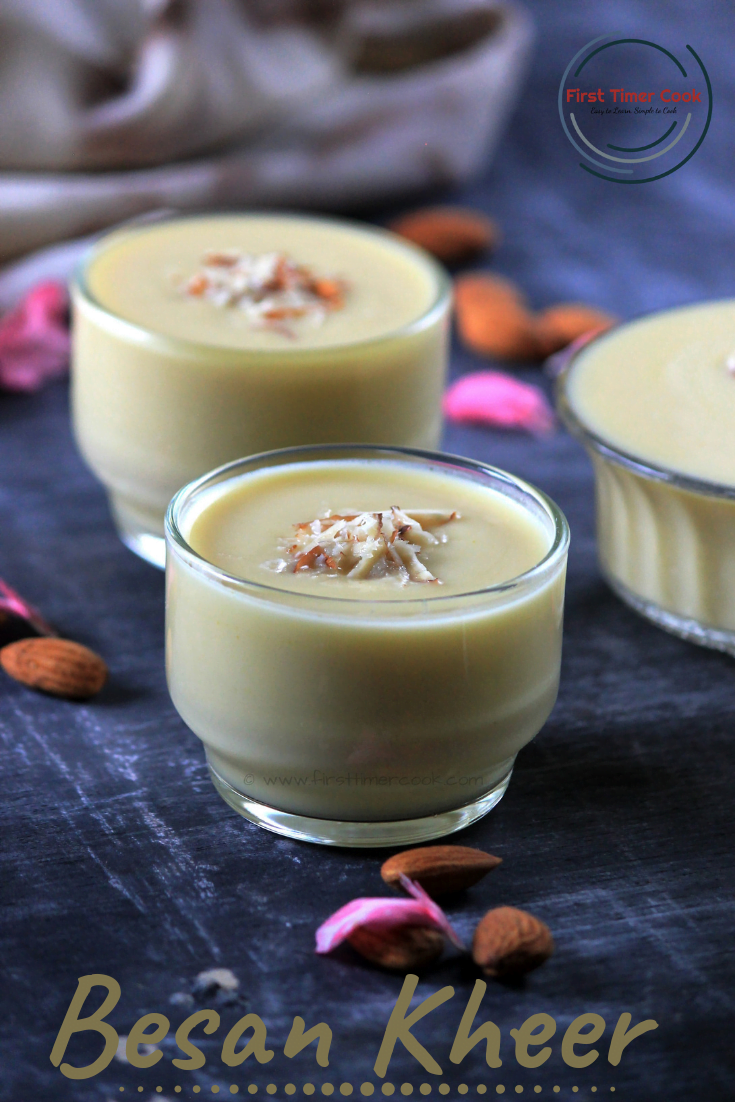 Auspicious month of Sawan / Shravan is going on these days. This is the fifth month in the Hindu calendar and is considered to be a sacred. It is considered very auspicious to offer holy Ganga water to Lord Shiva in this month. 16 Monday fast is one of the most popular vrat or fasting observances in Hinduism dedicated to Lord Shiva. This month not only includes only the 16 Monday fast, but also has other festivities like Janmashtami, Rakhsha Bandhan etc. And when there is festival many food cravings are there too that may include sweet or salty dishes.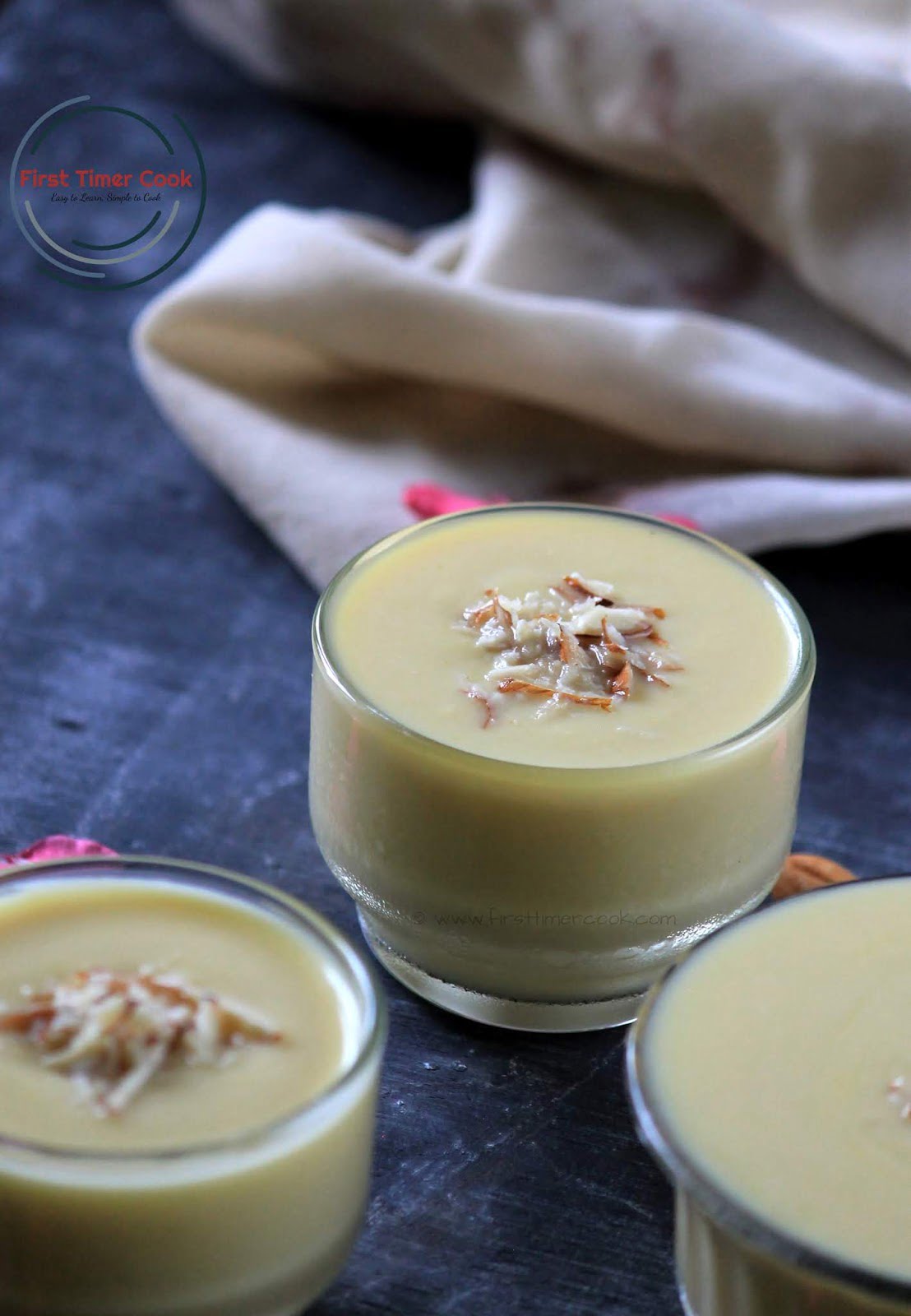 Today's post is all about a sweet dish using besan (gram flour) as Besan Kheer / Gram flour Indian pudding. Gram flour aka Besan is often used in Indian cuisine. From savoury to sweets, it has multiple uses. The besan kheer here is a nice addition of besan to our humble kheer (Indian pudding). Besan is completely gluten free and if one is following gluten free diet then this kheer can be thoroughly enjoyed without any guilt.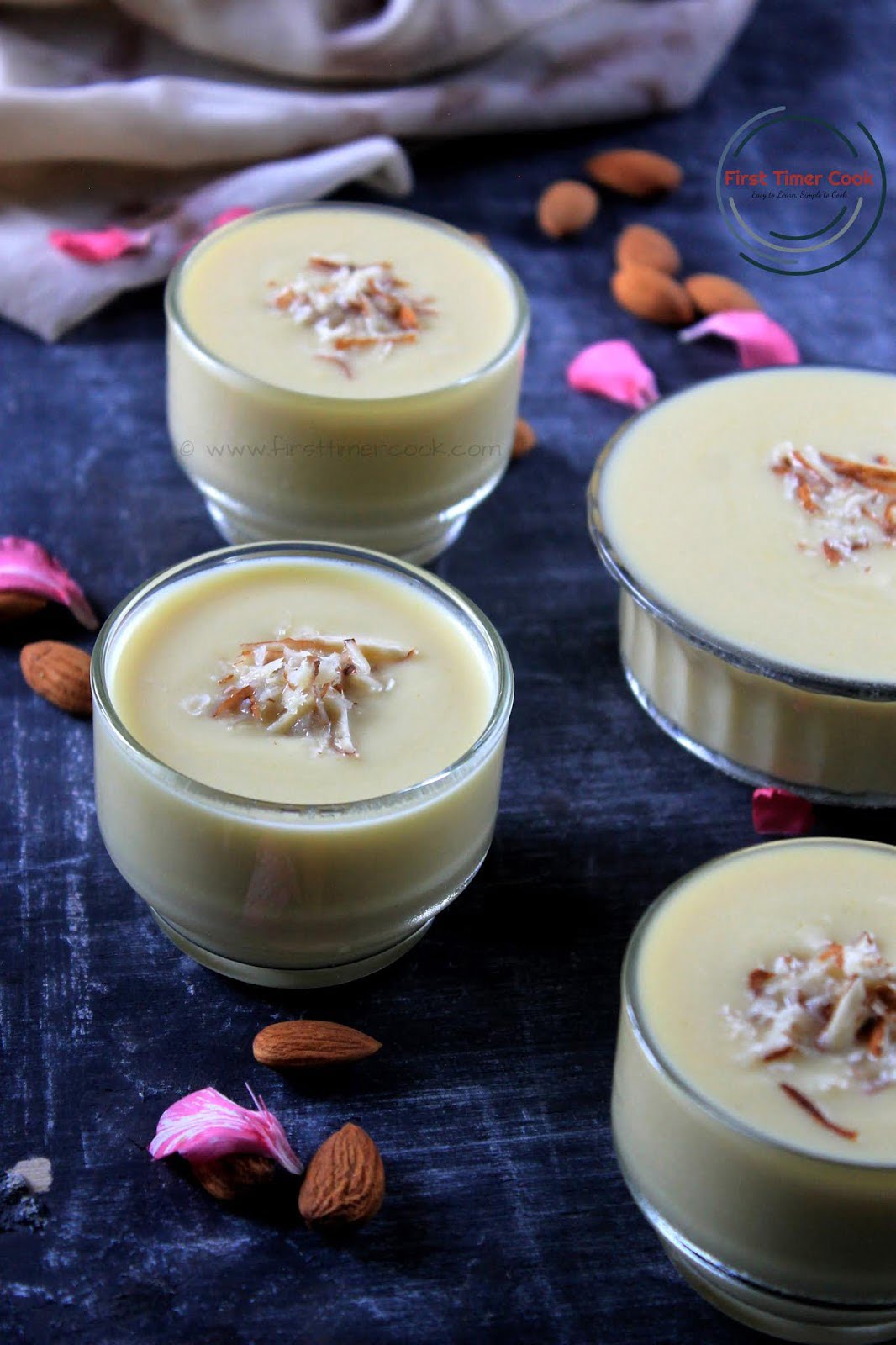 Before using in the kheer, the flour here has to be roasted very well and this impacts the aromatic flavor of the kheer. For the roasting part one can prefer using ghee or even without using ghee. In both the way the work can be done. The gram flour gives a nice nutty flavour and a rich texture. Milk, besan (gram flour), sugar is the main ingredients here in the kheer. Some roughly chopped dry fruits can be added to the kheer which give a nice crunch while having the kheer. This kheer has a tendency to thicken as it cools down, so one has to keep in mind the right consistency of the kheer while preparing. Whether in warm or chilled condition the simple low fat kheer is thoroughly enjoyed. So do try 🙂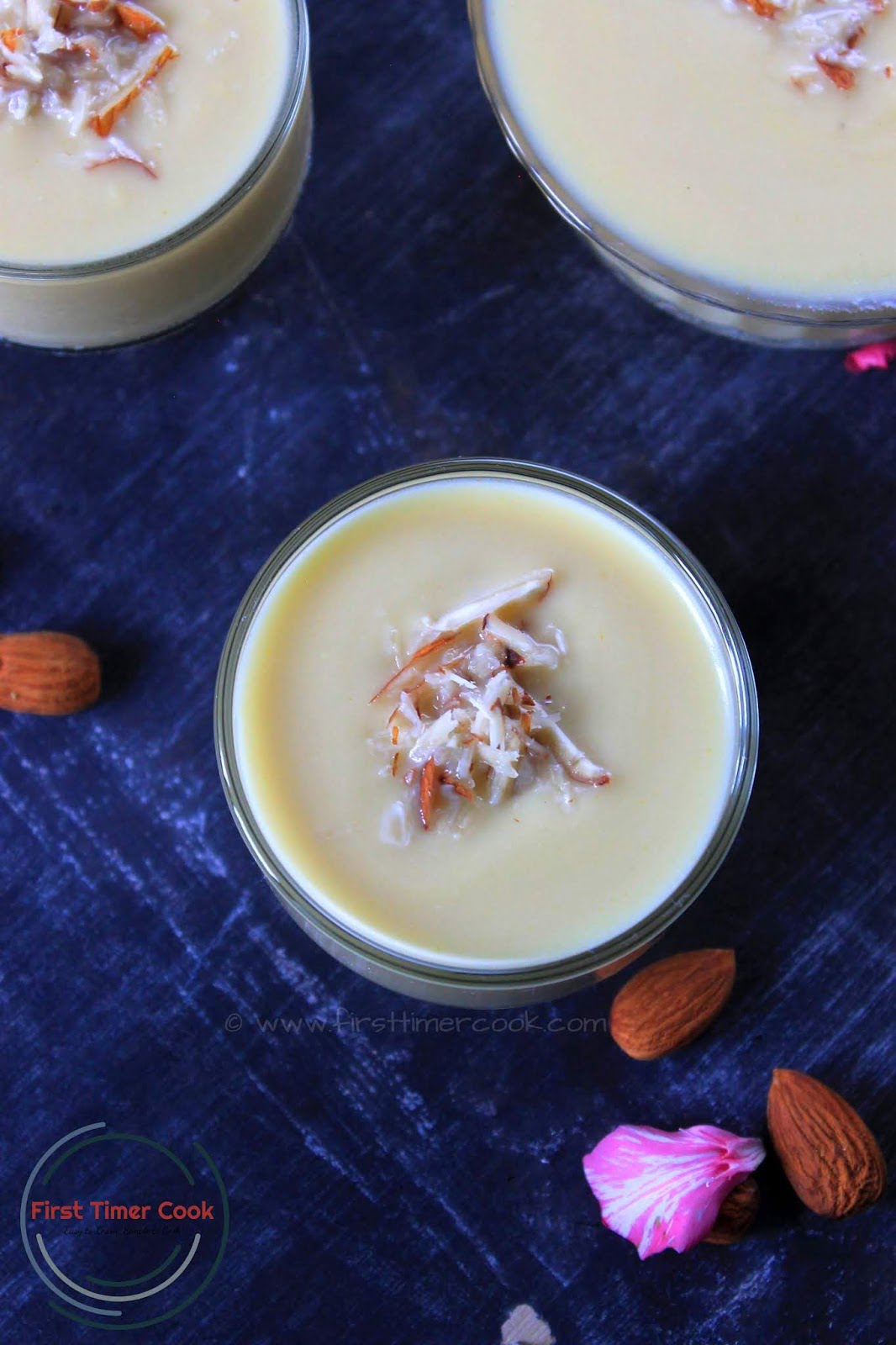 Recipe Card for 'Besan Kheer | Gram flour Indian Pudding' :

Gram flour, Besan, Kheer, Festive delight, Gluten free dessert, Pudding
Pudding, Dessert, Gluten free, Besan, Gram flour,
Indian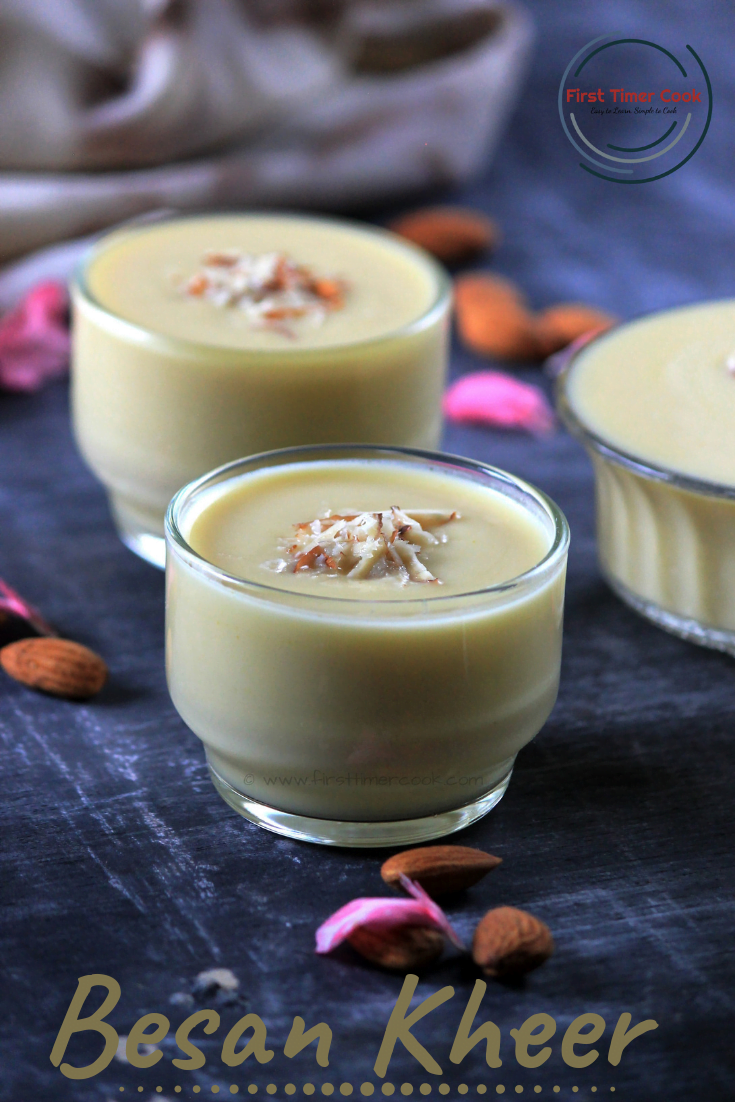 Besan Kheer | Gram flour Pudding
Indian pudding aka kheer using besan which yields a nice nutty flavor and a rich texture
prep time: 10 Mcook time: 20 Mtotal time: 30 M
ingredients:
Besan (gram flour) 3 tbsp

Milk 2.5 cup

Water 1 cup

Sugar 3 tbsp

Ghee 1/2 tbsp

Cardamom powder 1 pinch

Almond (roughly chopped) few
instructions:
How to cook Besan Kheer | Gram flour Pudding
Take a pan and heat ghee.

Then add besan and roast it over low heat till turns light brown in color and a nice aroma comes out.

Turn off heat and add water.

Whisk well till there is no lumps in the besan.

Next add milk, sugar and cardamom powder, salt.

Mix very well and till the kheer looks glossy and is slightly thickened.

Turn off heat.

Sprinkle some roughly chopped almond and serve warm or chilled !
NOTES:
Some saffron strands one can add to get a nice color in the kheer.
It is recommended to roast the besan very well till a nutty aroma comes out. This results in a lovely flavor of the kheer.
Some chopped dry fruits also can be added to the kheer along with sugar and milk.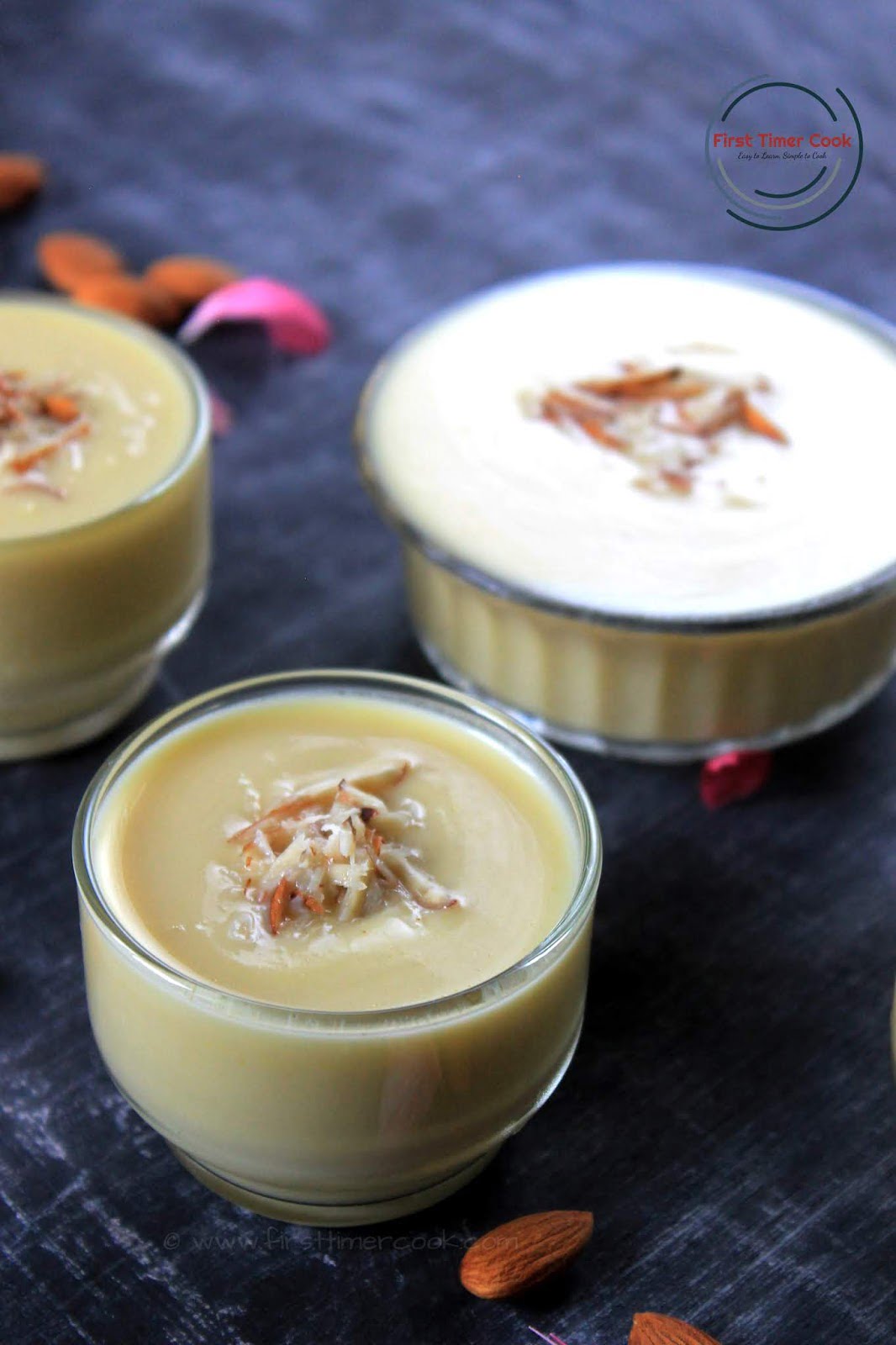 If you tried my recipe and enjoyed fully, then please share some pictures of your creation with me. Also kindly rate the recipe below, give your valuable feedback either in the comment box below or tag me as @firsttimercook on Instagram.
You may also follow me on Facebook, Pinterest, Twitter, Google+, Instagram and can subscribe for free to get new recipes directly into your inbox 😊
PIN for later :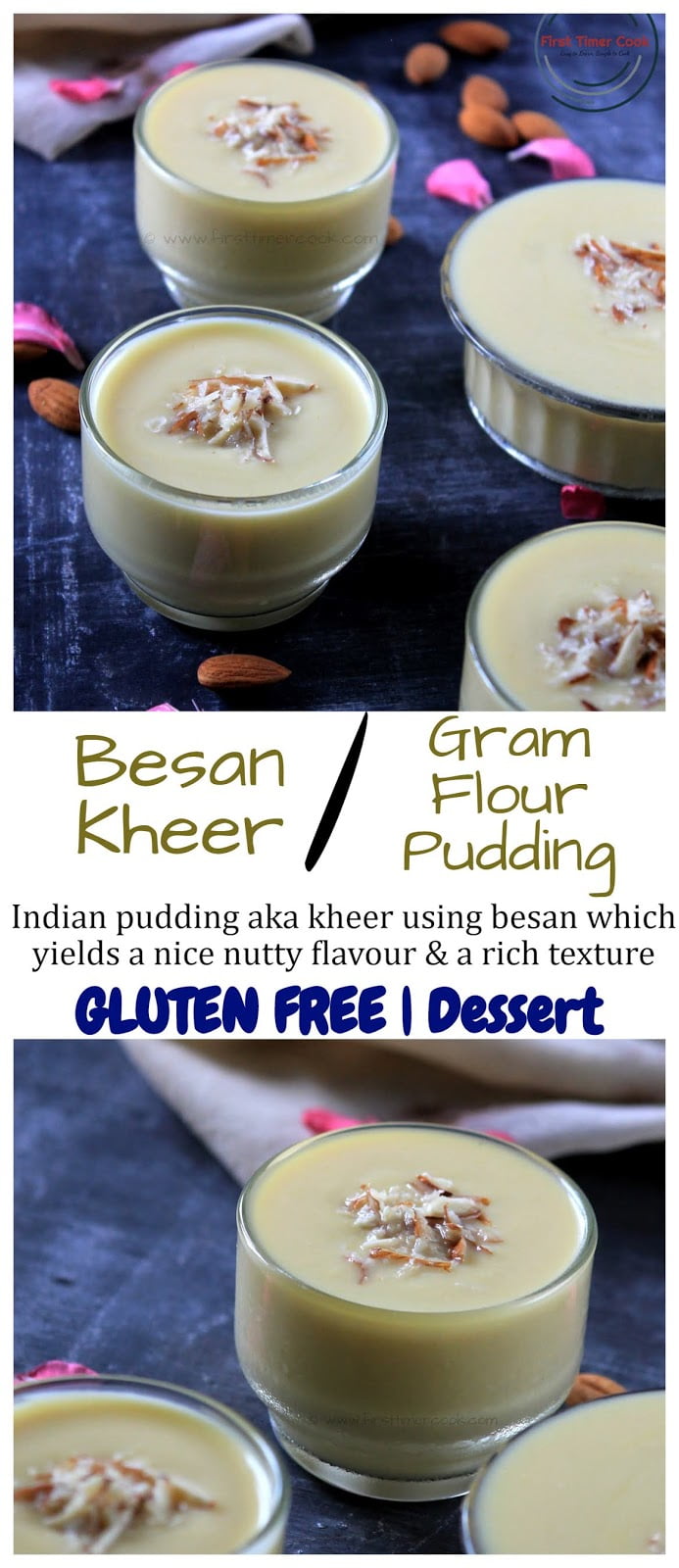 This 'Besan Kheer | Gram flour Indian Pudding' is contributed for 71th Healthy Wellthy Cuisines where the theme is 'Saawan Special at HW'. Here are more similar recipes shared by our Healthy Wealthy Group members as
Badam Kheer with Meethe Pude, Rajgira Ladoo, Churma, Quinoa Payasam.