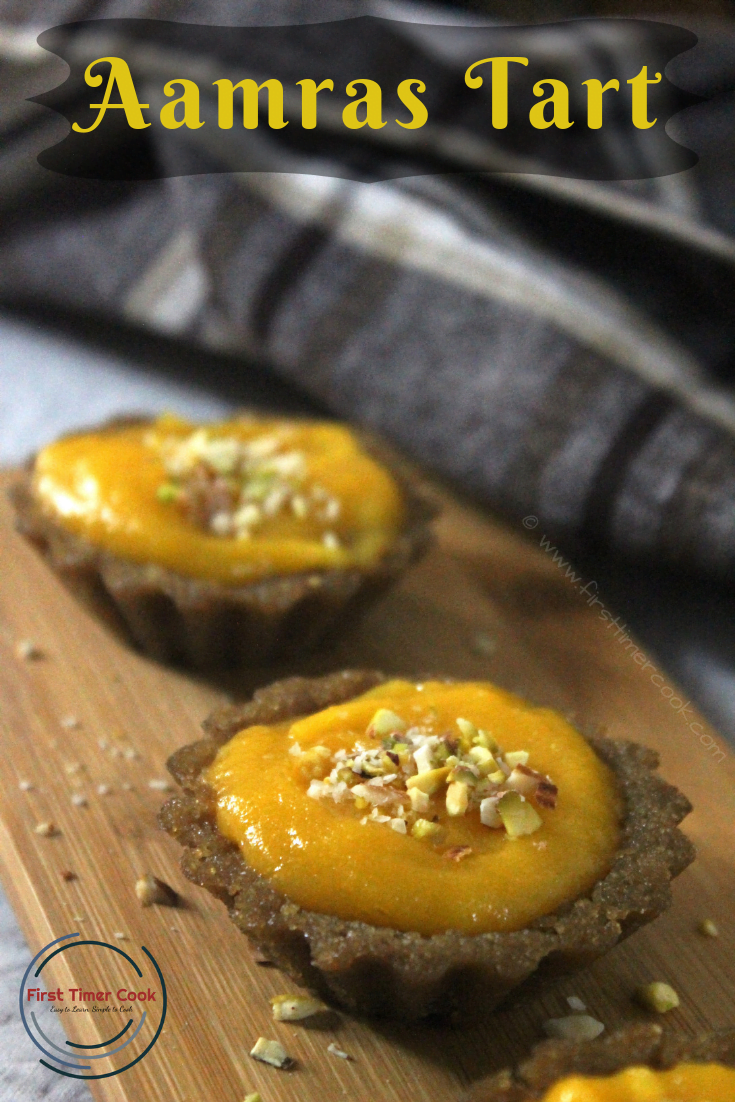 Festival time in India is somehow started with so much enthusiasm and devotion. This is the most awaited period by millions of Hindus in the country. In fact, the festive mood engulfs one and all, irrespective of their religion and beliefs. The rituals performed during the festivals varies in different parts of the country. So for these days the Food For Feast group has come up with a theme as 'Desserts using Jaggery'.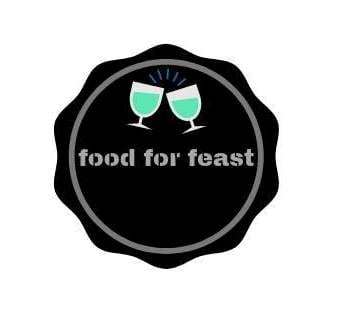 From the theme name itself one can understand that we have to make a sweet dish using the sweet factor, jaggery aka gur (in hindi) or guda (in odia) :). This is made from unrefined sugar, and is obtained by boiling raw, concentrated sugar cane juice till it solidifies. Although jaggery is also made from the sap of coconut and date palm, but the one made from sugar cane is the one that is used most widely. Not only jaggery is better than white sugar (which only adds empty calories to our body) also it has a number of health benefits including its ability to cleanse the body, aid in digestion, provide good amounts of minerals and many more. This natural sweetener has been a great go-to ingredient in India since time immemorial.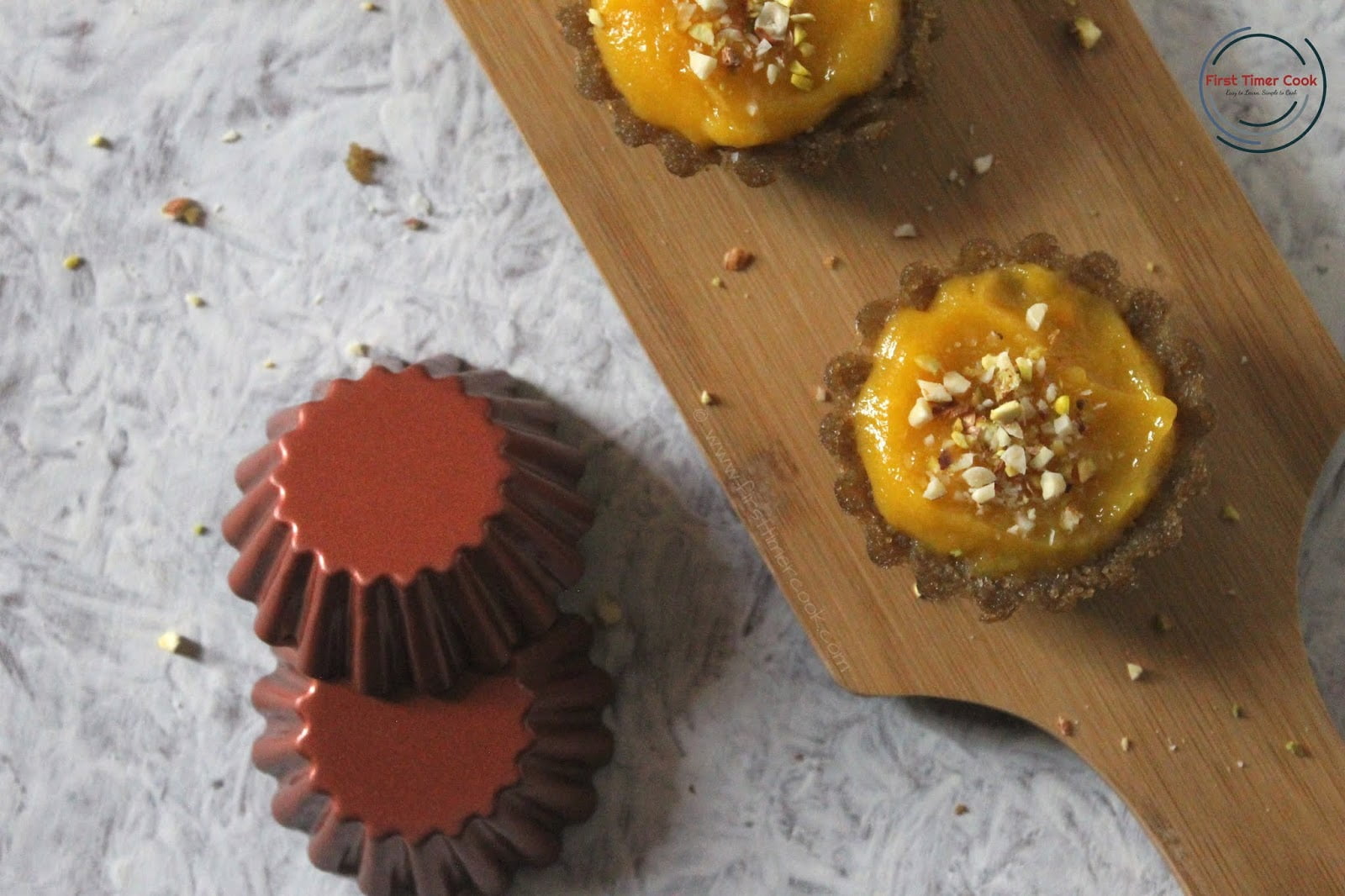 Well coming back to the recipe, for the theme here is a sweet dish using jaggery and semolina (sooji) as Aamras Tart. For a mango lover like me, this is completely a sure shot hit 🙂 Although the mango season is almost over now in most part of India, still in my locality I found some ripe mangoes. And what is next ? Before the fruit completely vanishes from the market this year, I bought some ripe and sweet ones. Using those first I prepared some aamras and enjoyed with hot pooris ;P Then this tart idea came to my mind.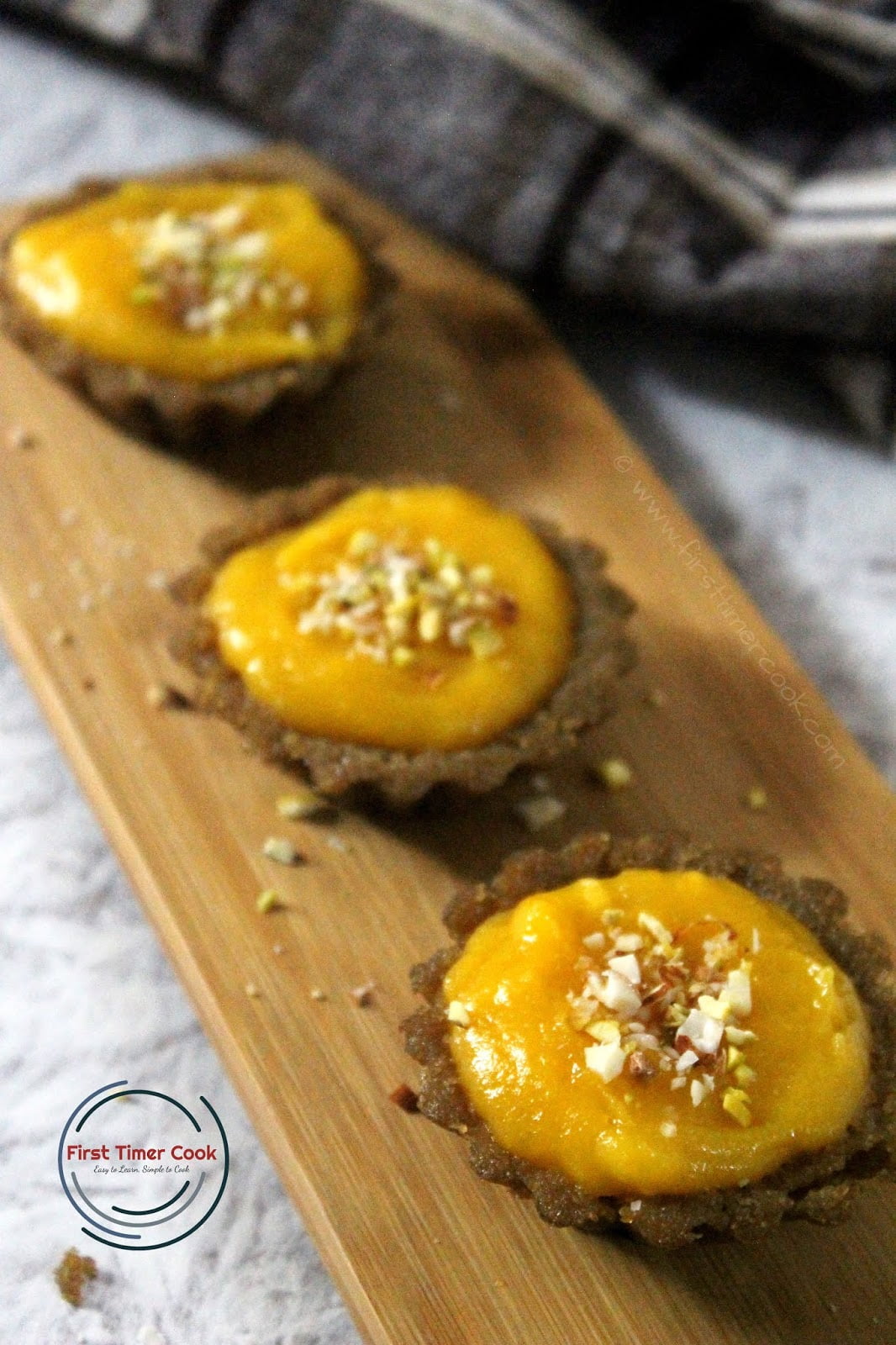 Basically, the aamras here is served in the tart prepared using semolina and jaggery. To get into match with the aamras I have flavored the sooji tart with some mango essence. If mango essence is not available, one can use vanilla essence / cardamom powder too. The whole process is quite simple and easy. These aamras tarts are completely vegan dessert. The mangoes here is fully ripe and sweet so I have not added any sweet factor into the aamras. Any other fruit can be used too instead of mango here. So do try these healthy tarts in these upcoming festive times and impress your guests.
Recipe Card for 'AamrasTart' :

Vegan dessert, MAngo, Aamras, Semolina, Jaggery, festival sweet, sooji, tart, dessert tart
Vegan, Dessert, Semolina, Jaggery, Mango, Aamras
Indian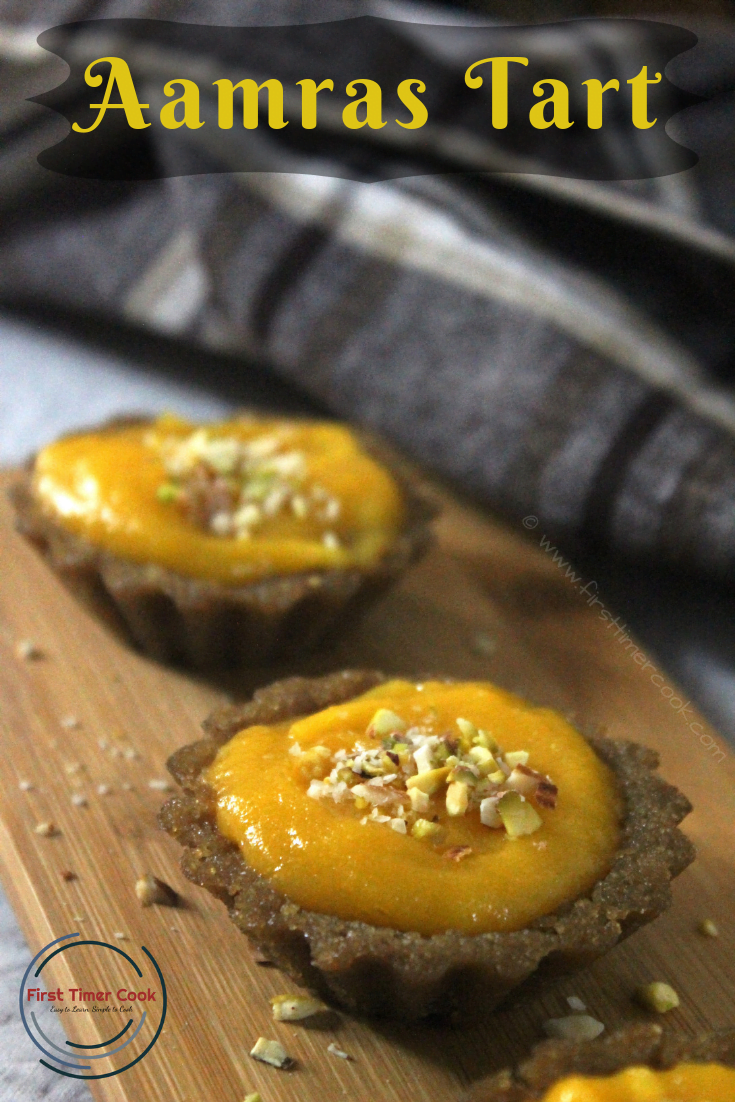 Aamras Tart
an eye-catchy dessert option in mango season using semolina or sooji and jaggery
prep time: 15 Mcook time: 15 Mtotal time: 30 M
ingredients:
Semolina / sooji 1/2 cup

Jaggery 1/2 cup

Mango (ripe & sweet) 2 no

Cardamom powder ¼ tsp

Mango essence 1-2 drop

Oil as needed

Water- 3/4 cup

Dry fruits (finely chopped) few
instructions:
How to cook Aamras Tart
In a pan first heat oil and then roast the sooji / semolina over medium heat.

When the raw smell disappears then transfer the sooji to a plate.

Again in the same pan take jaggery along with water and allow to boil.

When the jaggery dissolves in water completely, filter the syrup to remove any impurities.

Turn the heat again and allow the syrup to boil.

Slowly add the roasted sooji by stirring continuously in order to avoid any lump formation.

Allow the sooji to cook properly.

Then add mango essence, mix and cook for 1 minute more.

Turn off heat and allow to cool a bit.

Grease some tart pans (preferably small ones with 3-4 inch diameter) with little oil.

Scoop 1-2 tbsp of warm sooji mixture into one tart pan and press gently through out the sides of the tart pan so that the pan is well covered with the sooji mixture.

Gently flip the tart pan so that a sooji tart will come out.

Keep on a plate and similarly prepare sooji tarts from the rest mixture.

Now wash and peel the mango.

Chop roughly the mango and discard the stone.

Put in a blender jar and blend to a smooth consistency.

Strain through a strainer into a bowl to ensure that there is no lumps of mango still present.

Add cardamom powder and mix very well.

Finally on a serving platter place the sooji tarts and fill the tarts with aamras.

Sprinkle some finely chopped dry fruits on top and serve !
NOTES:
Adjust the jaggery quantity as desired.
I have not added any sweet factor to the aamras as the mangoes are very sweet.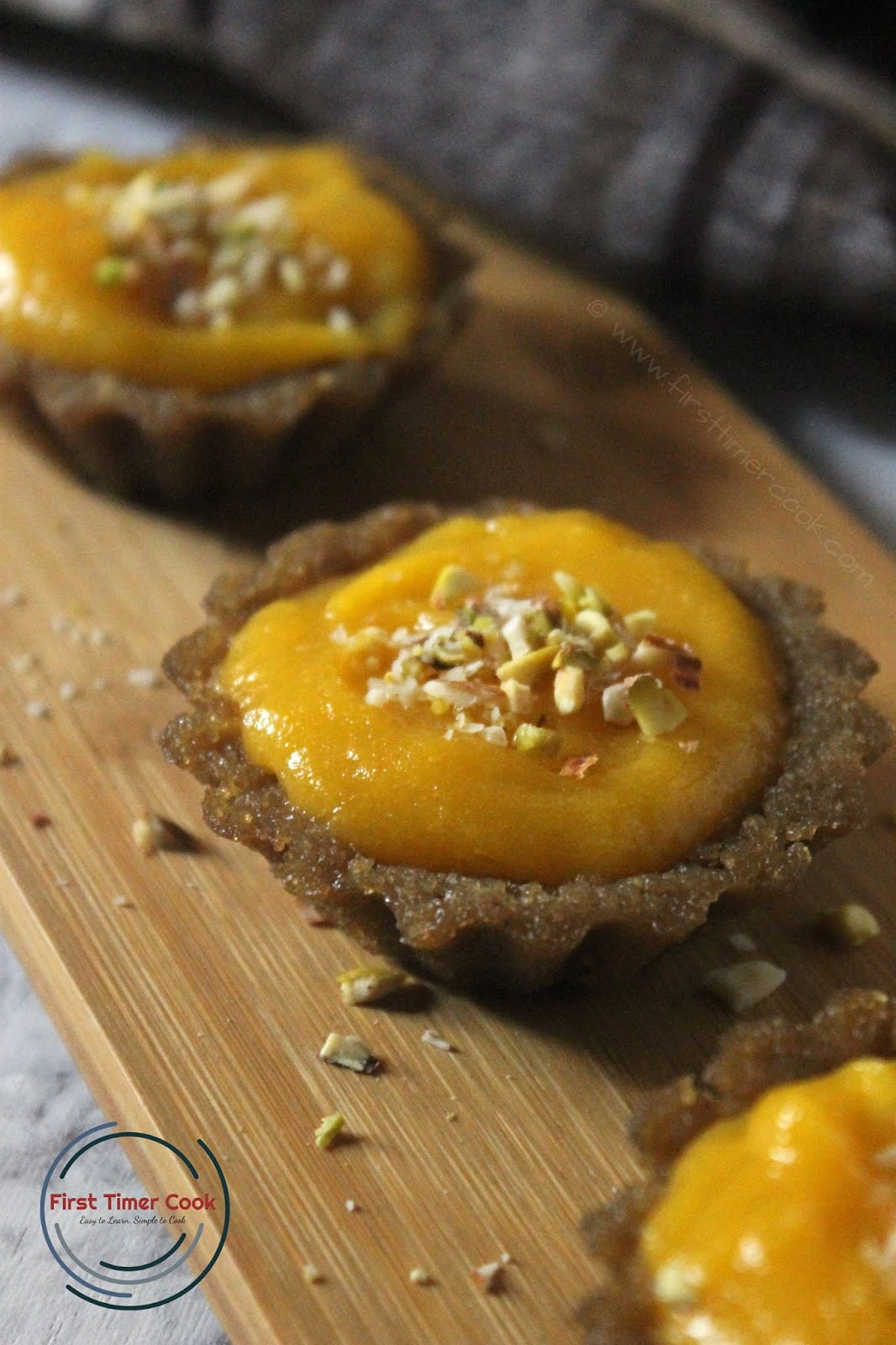 If you tried my recipe and enjoyed fully, then please share some pictures of your creation with me. Also kindly rate the recipe below, give your valuable feedback either in the comment box below or tag me as @firsttimercook on Instagram.
You may also follow me on Facebook, Pinterest, Twitter, Google+, Instagram and can subscribe for free to get new recipes directly into your inbox 😊
PIN for later :