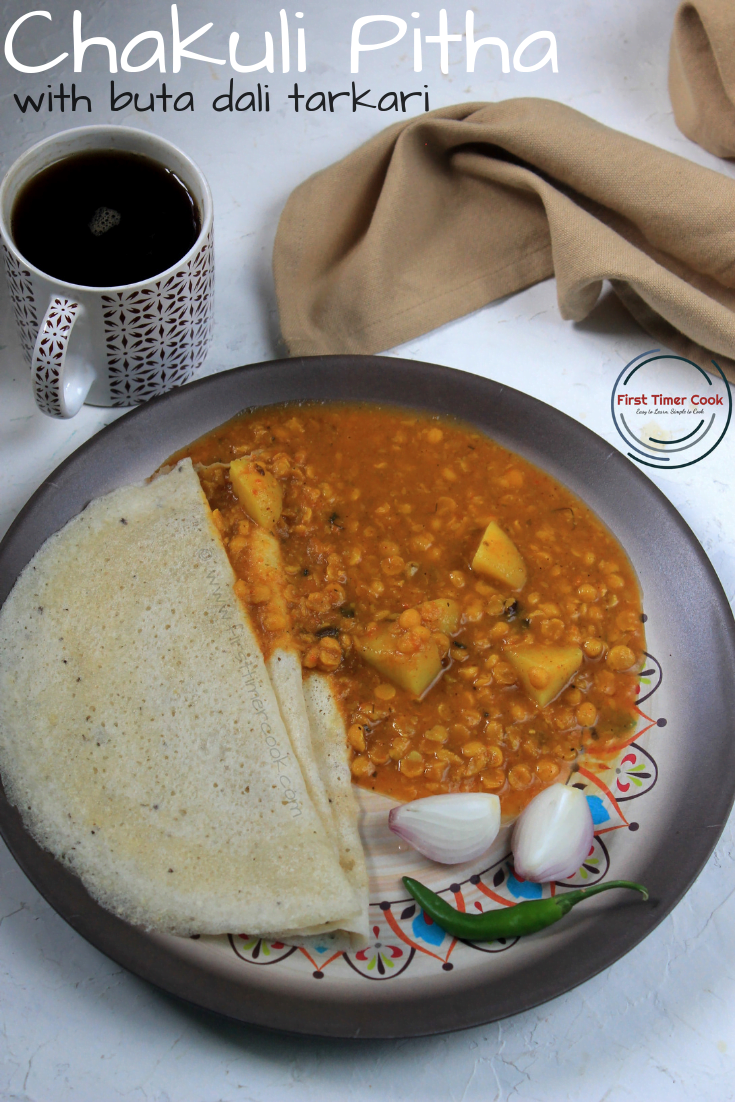 Breakfast is the starting food of a day and that decides the mood for most people through out the whole day (a belive). Odias also love to have varieties of breakfasts like pakhala (water rice), paratha with aloo bhaja, dahibara aloodum, bara ghuguni, chuda kadali chakta etc. Chakuli pitha is also one of those kind of Odia breakfast option. People love to have as breakfast particularly during festivals, any special celebration or even in regular day. Most can get confused with this dish and may assume this to be same as South Indian Dosa. But no, there are some differences in Odia as well as South Indian rice-lentil pancakes.
B

oth rice as well as lentil (black gram dal / biri) are used in dosa as well as chakuli pitha. But the proportion is different : in

chakuli pitha the rice to lentil ratio is 1:1 or 1:3/4 and in dosa the rice to lentil ratio is 2:1
Dosa has a crispy texture whereas chakuli pitha are neither too thin nor too thick.
Most varieties of dosa has a filling in the center where as chakuli pitha has not.
Oil used for making chakuli pitha is mostly mustard oil, but for dosa one can use any type of oil like peanut oil, sesameoil, simple refined oil too.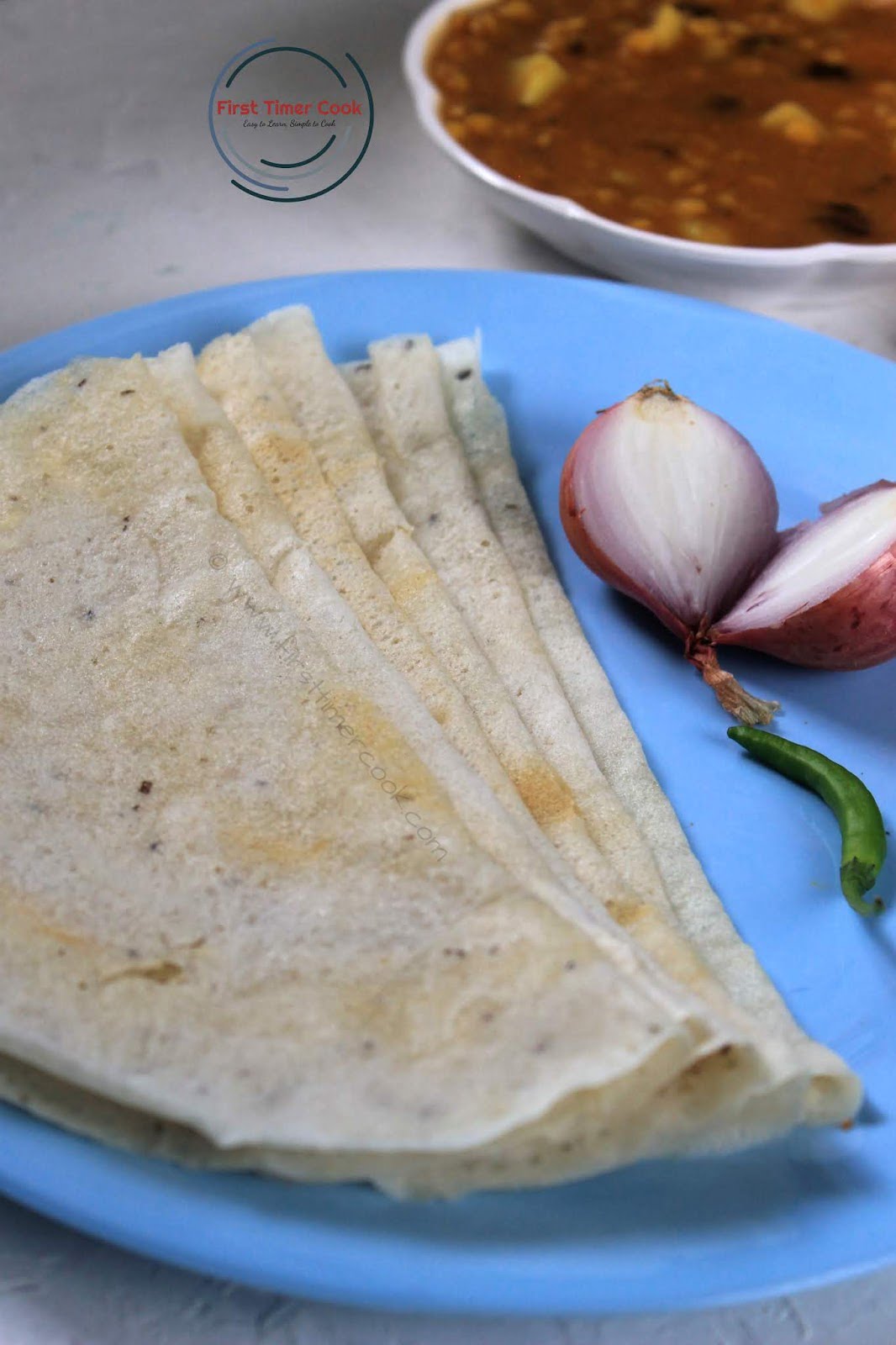 The chakuli pitha is vegan as well as gluten free. Both skinless or with skin black gram dal / biri (in Odia) can be used to make chakuli pitha. Most people uses the batter of 1:1 ratio of rice to lentil. But I always follow to make ratio of rice to biri as 1:3/4. The soaking as well as fermenting time is quite time taking. Some even omit the ferment part and make pitha just after preparing the batter if there is any hurry. Here I will strongly recommend to ferment the batter for at least 6-7 hours.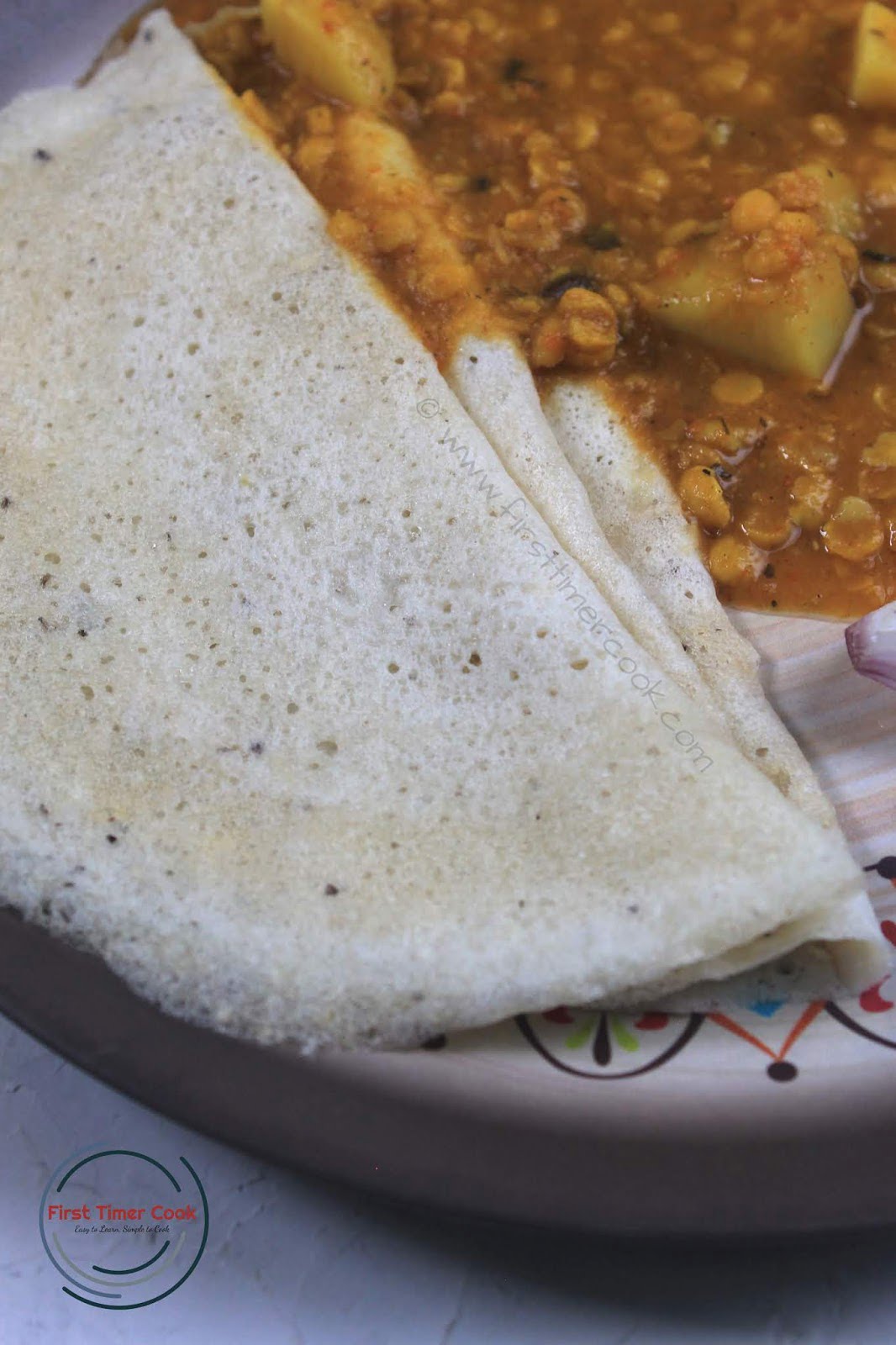 Mustard oil adds a lovely flavor to the pitha. Preparaing in iron tawa gives a lovely texture to the pitha, although one can enjoy by preparing on any nonstick pan. If using nonstick tawa then there is no need of any greasing the pan. These pithas can be thoroughly enjoyed as it is or with some jaggery or even with curries like dalma, ghuguni, buta dali tarkari etc. During festival ghee is used instead of oil to make chakuli pitha.
Recipe Card for 'Chakuli Pitha of Odia Cuisine' :

Rice, Lentil, Black gram, Indian Pancake, Odia Cuisine, Pitha, Vegan, Gluten free, Chakuli Pitha, Pancake
Pitha, Vegan, Gluten free, Chakuli Pitha, Pancake
Odia Cuisine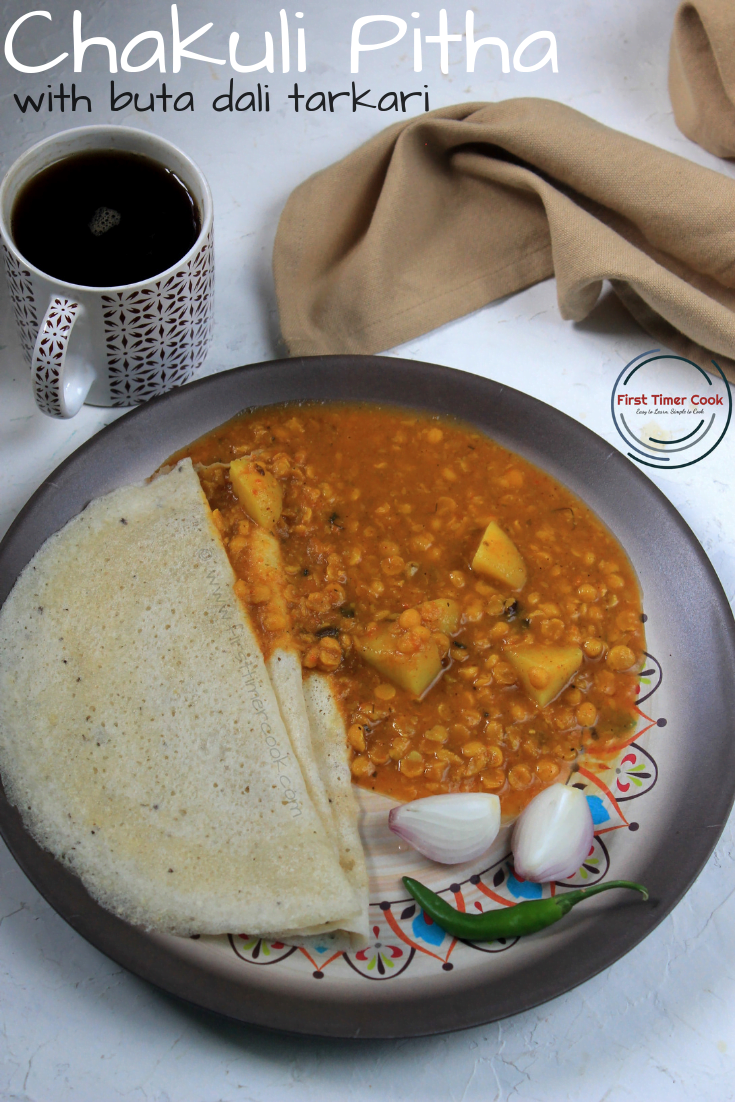 Chakuli pitha
neither thick nor thin rice-lentil pancake from Odia Cuisine
prep time: 15 M Resting time: 3-4 H Fermentation time: 6-7 H cook time: 5 M
ingredients:
Biri (black gram dal) 3/4 cup

Rice (sona masoori) 1 cup

Oil as needed

Salt as needed

Water as needed
instructions:
How to cook Chakuli pitha
First wash black gram and rice separately in normal water.

Then soak both in a bowl with enough normal water at least upto 3-4 hours.

Next drain the soaked black gram and rice and put into a bender jar.

Blend to make a semi liquid batter by adding a little amount of water.

Add salt and mix using a spoon.

Transfer to a large bowl and allow to ferment for 6-7 hours by covering.

Next heat an iron tawa / nonstick pan and grease with little oil (skip if using nonstick pan).

Take a laddle full of fermented batter and pour over the pan.

With the back of the laddle spread the batter with circular motion starting from center towards the edges of the pan, keeping the thickness neither too thin or too thick.

Allow to cook for 1-2 minutes and then drizzle few drops of oil on top as well as edges.

Once the edges starts lifting up, flip the pitha and again keep on the pan for few seconds till fully cooked.

Serve along with dalma, ghuguni or any other choice-able curry !
NOTES:
Fermentation part can be omitted and one can enjoy just giving a resting time of 30 minutes to the freshly blended batter.
Preparing in iron tawa gives a lovely texture to the pitha, although one can enjoy by preparing on any nonstick pan. If using nonstick tawa then there is no need of any greasing the pan.
The proportion mention here (1 : 3/4) I always follow, but 1:1 ratio also can be used to prepare chakuli pitha.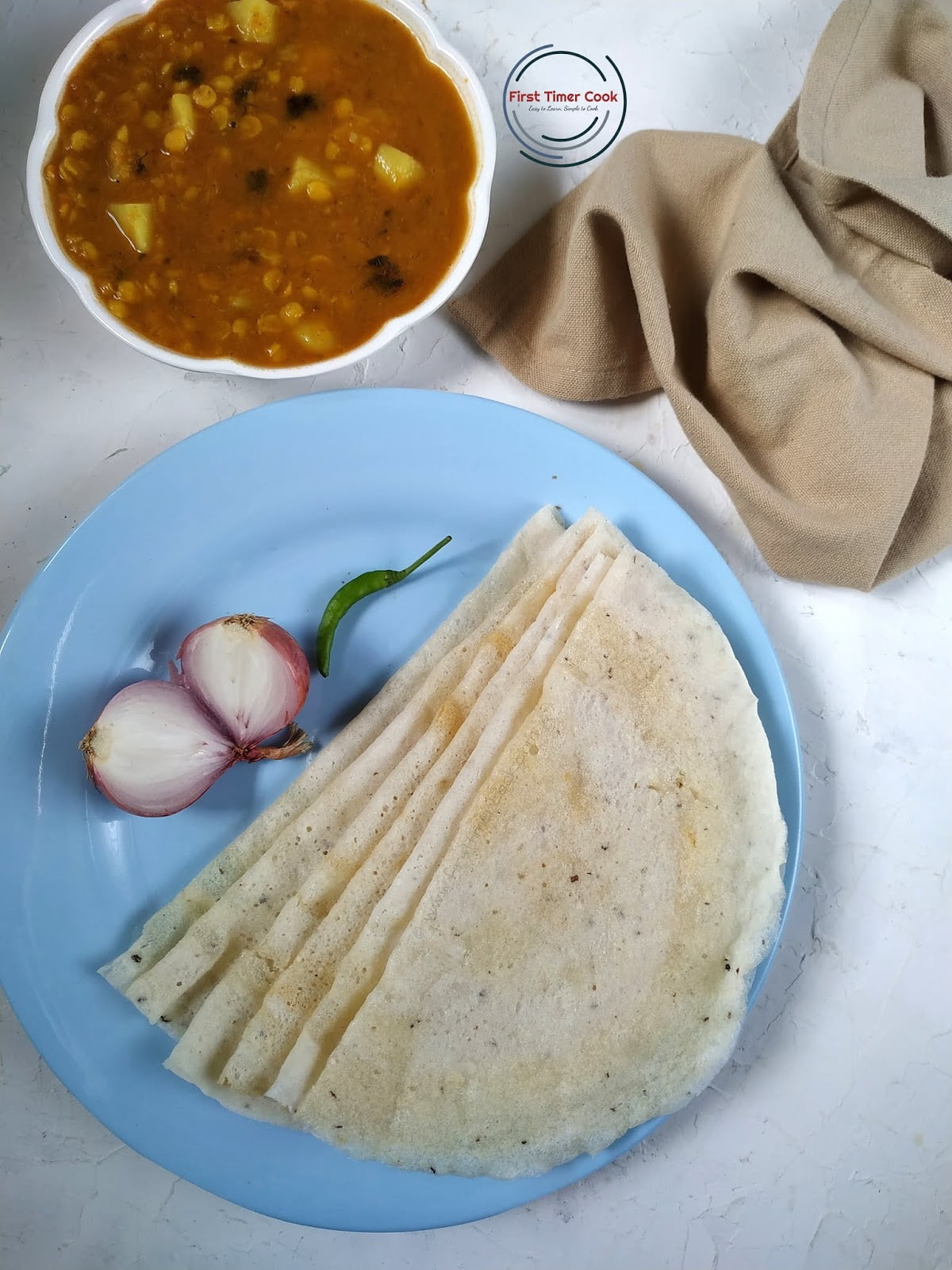 If you tried my recipe and enjoyed fully, then please share some pictures of your creation with me. Also kindly rate the recipe below, give your valuable feedback either in the comment box below or tag me as @firsttimercook on Instagram.
You may also follow me on Facebook, Pinterest, Twitter, Google+, Instagram and can subscribe for free to get new recipes directly into your inbox 😊
This Chakuli Pitha from Odia Cuisine is contributed for 204th theme of the Foodie Monday Blog Hop foodie group which is decided as 'Nashta Time' and suggested by 'Priya' who blogs at .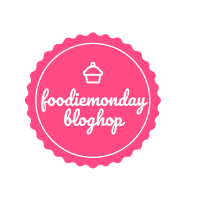 PIN for later :