easy and quick one pot Indian pulao using baby potatoes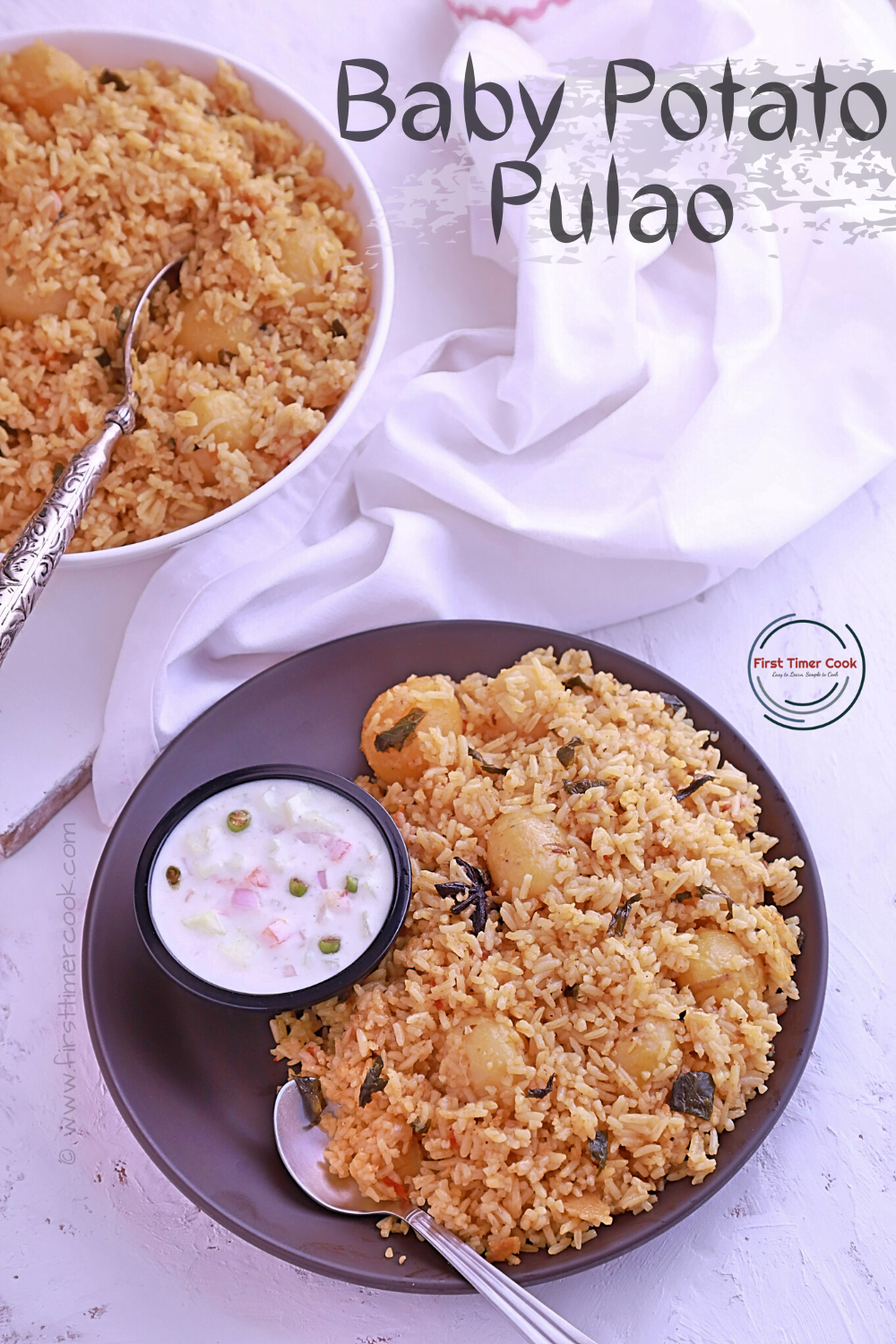 Who doesn't like one pot dish ! This is unbelievably delicious recipe which comes together all in one pot. And yes, preparing this kind of dishes, it really saves time ! And that can be any kind of pulao, pasta etc.
Today's recipe is an one-pot dish using some baby potatoes as Baby Potato Pulao (Vegan & Gluten free)

Lets go in details :
The event related to this post :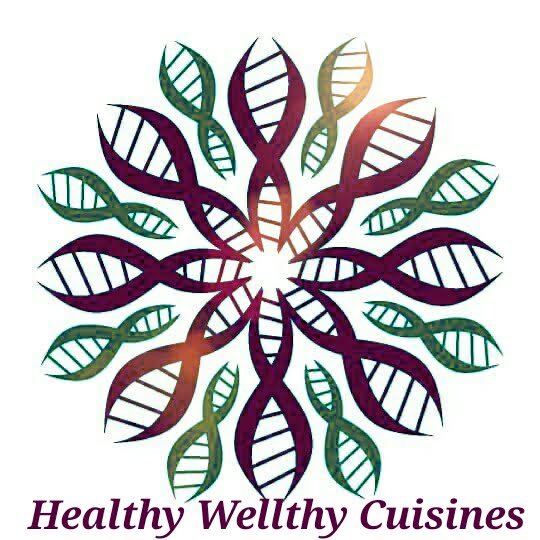 Well this time our fortnight foodie group named as Healthy Wellthy Cuisines is decided to select 86th theme : 'One Pot Dish' and is suggested by Shalu di. I love her step by step recipes, recently she has added the mango curry, one of my fav. Well coming back to theme, she suggested to make any dishes in one pot, So I have come up with this Baby Potato Pulao. Here are some similar recipes shared by our Healthy Wealthy Group members as Matar Paneer Curry by Shalu di,
Mixed Vegetable Masala Khichdi by Preethi di, Mint Pulao by Jayashree, Easy Pulao by Sujata di, Mushroom Tikka Biryani by Narmadha, One Pot Creamy Spinach Pasta by Swaty
Pressure cooker pulao by Vanitha di.

.

: Recipe Card :
Baby Potato Pulao (Vegan & Gluten free)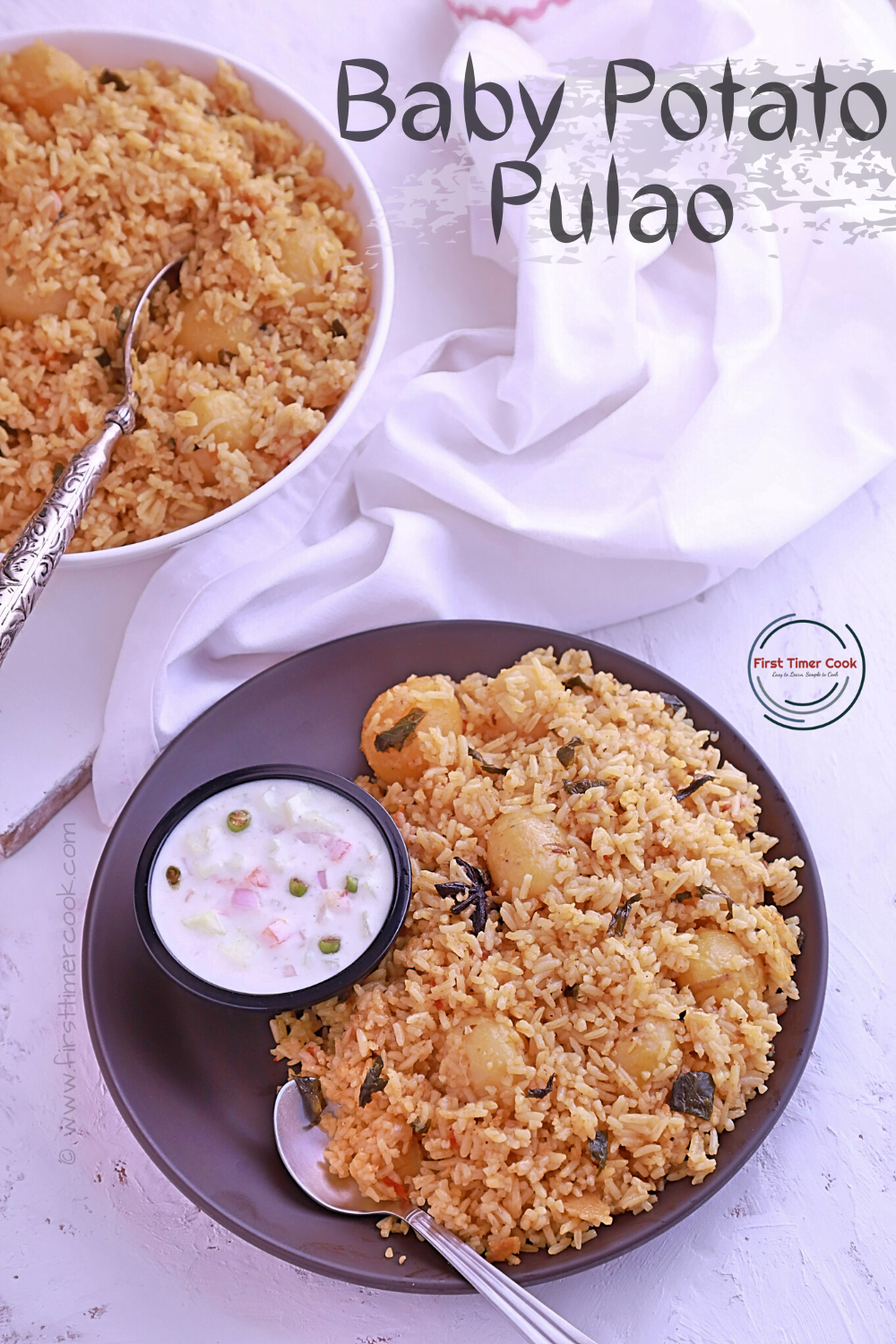 Prep time: 15 MCook time: 40 MTotal time: 55 M
easy and quick one pot Indian pulao using baby potatoes
Ingredients:
Basmati rice 1 cup
Baby potato (peeled) 10-12 no.
Onion (finely chopped) (large) 1 no.
Tomato (finely chopped) (large) 1 no.
Mint leaf (chopped) 3 tbsp
Coriander leaf (chopped) 3 tbsp
Green chili 2 no.
Ginger-garlic paste 2 tsp
Coriander powder 2 tsp
Cumin powder 1 tsp
Red chili powder 1 tsp
Garam masala powder 1 tsp
Bay leaf 1 no.
Star anise 1 no.
Green cardamom 2 no.
Clove 3-4 no
Cinnamon stick 1 inch
Lemon juice 1 tbsp
Oil as needed
Salt as needed
Water as needed
Instructions:
Wash and clean the basmati rice in regular water and then soak the rice with enough water for 30 minutes in a bowl. Keep aside.
Now using a fork, prick the baby potatoes gently from all sides.
Heat oil in a pan and fry the baby potatoes till slightly golden brown in color.
Transfer to a plate and keep aside.
In the same pan, pour 1 tbsp oil more.
Add bay leaf, star anise, green cardamom, cinnamon stick, cloves and saute till a nice aroma comes out over low heat.
Next add finely chopped onion and saute till transparent.
Add ginger garlic paste and saute again until the raw smell goes off.
After that, add finely chopped tomatoes and saute.
After few times, tomatoes look mushy and then add green chilies along with coriander powder, cumin powder, red chili powder, garam masala powder.
Mix all the spices and add little water.
Mix again and allow to cook till oil separates.
Then add the chopped coriander and mint leaves, mix everything well.
Now add the soaked basmati rice, the fried baby potatoes and salt.
Gently mix everything without breaking the rice grain.
Then pour 2 cup water and gently give a stir.
Cover the pan and allow to cook for 20-25 minutes over low heat till rice and baby potatoes are well done.
Turn off heat and keep the pan covered for 1-2 minutes.
Then add the lemon juice and gently mix using a fork (preferably) without making mushy.
Serve this hot baby potato pulao with any raita or pickle or pampad !
Notes:
Adjust spiciness as desired.
Vegetarian, Egg free, Rice recipe, Baby potato rice,
One pot dish, Pulao, baby potato pulao, vegan, gluten free
Indian
Did you make this recipe?
Tag @firsttimercook on instagram and hashtag it #firsttimercook

You may also follow me on Facebook, Pinterest, Twitter, Google+, Instagram and can subscribe for free to get new recipes directly into your inbox 😊
PIN for later :