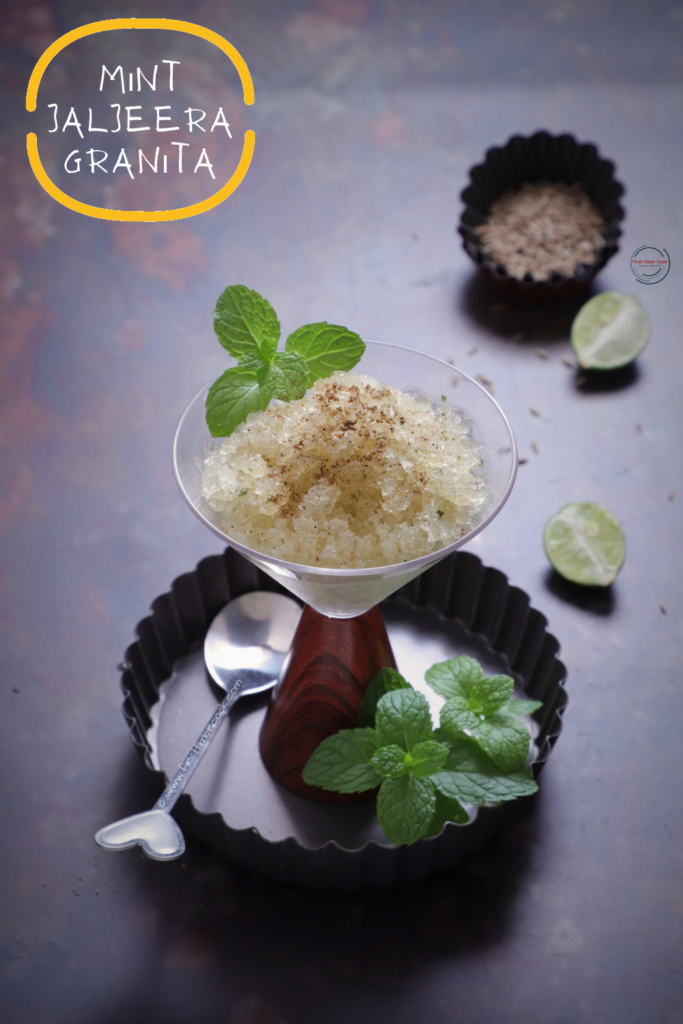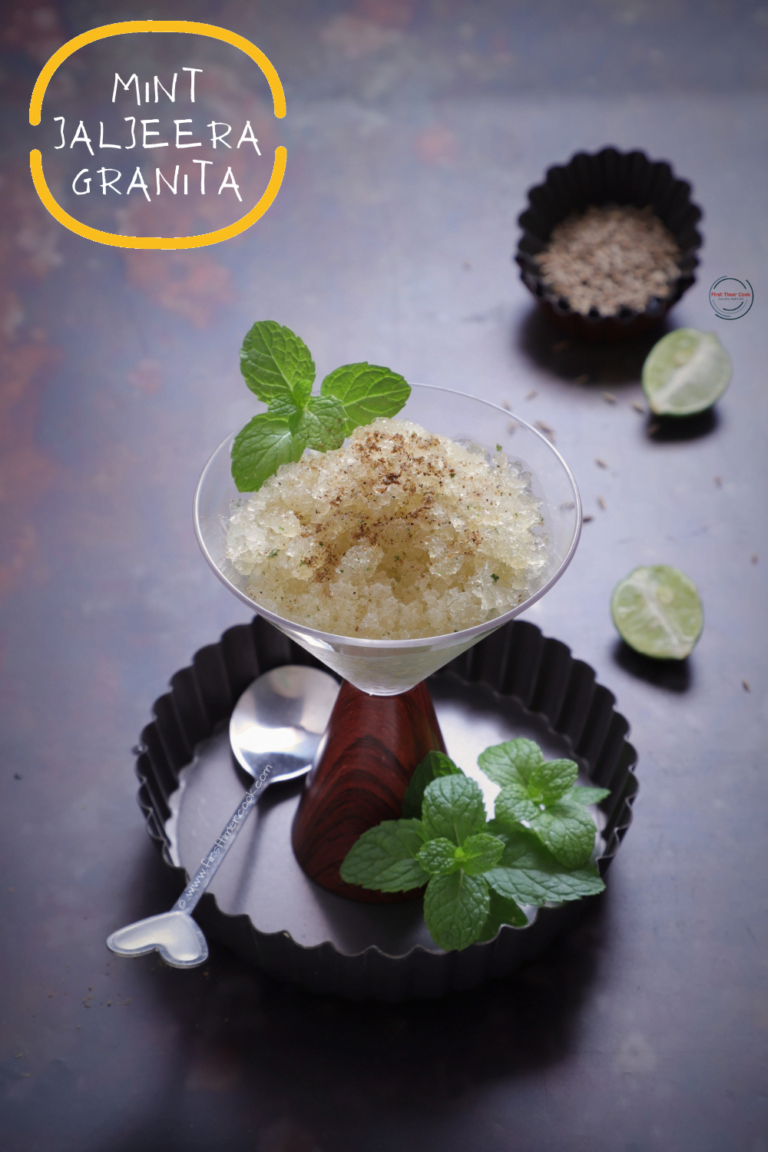 Ice cream may be the ideal summer dessert, but there are enough other fantastic frozen treats out there to fill a whole fleet of ice cream trucks, from gelato to ice pops to homemade Dole Whip. Some of the easiest to make oneself, though, are 'Sorbet' and 'Granita', which require no special equipment, happen to be pretty healthy, and are also perfect for showcasing summer fruit.
So if making frozen treats is on your summer bucket list and you have had a long list of excuses like no time, no ice cream maker, or no Popsicle molds, etc. then these two are super simple options.
well, What is Granita?
Granita is an Italian frozen dessert very similar to sorbet, except that it is made by hand instead of in a machine. Because of this, the texture of granita is coarser and flakier like eating snow ! It is briefly crunchy at the first spoonful and then melts deliciously in your mouth.
The exact recipe for the granita base can vary depending on how ripe the fruit is, how sweet or sour it is, and how much liquid it holds.
One can make granita in a whole range of flavors from coffee to traditional Italian lemon, but during the summer we can go for whatever fruit is in season. Even just pick anything like peach, watermelon, mango, strawberry, blackberry; all look as well as taste the best!
Don't be confused between Granita and Sorbet !
It is all in the texture! Sorbet is fairly smooth and soft, whereas granita is crunchy, more like shaved ice.
They are both dairy-free and low in fat. Either one can go savory (although savory granita is more common than savory sorbet) but is most often served as sweet desserts.
While one can use an ice cream maker to get extra-smooth sorbet, there is technically no need in the case of granita; it only requires a pan (preferably a shallow kind) and a fork.
In the manual technique, for a no-churn sorbet, one has to just smush and stir it fairly often while it is freezing, in order to encourage a smoother texture. With granita, one simply scrape the ice crystals up with a fork during the freezing process. This two method results into a coarser yet lighter texture in granita and denser, plusher form in sorbet.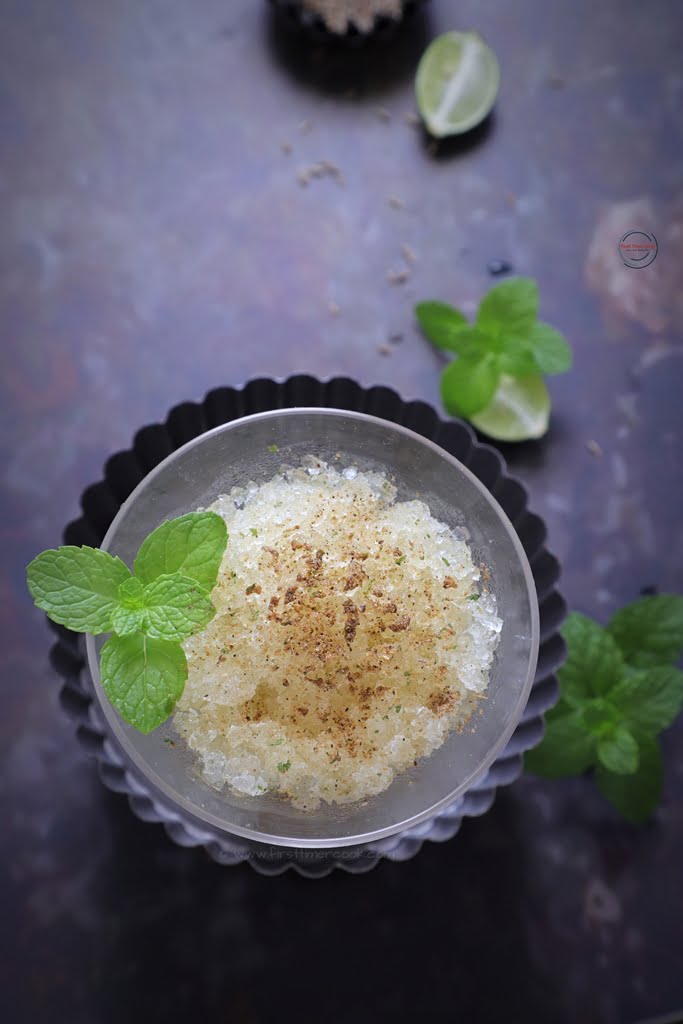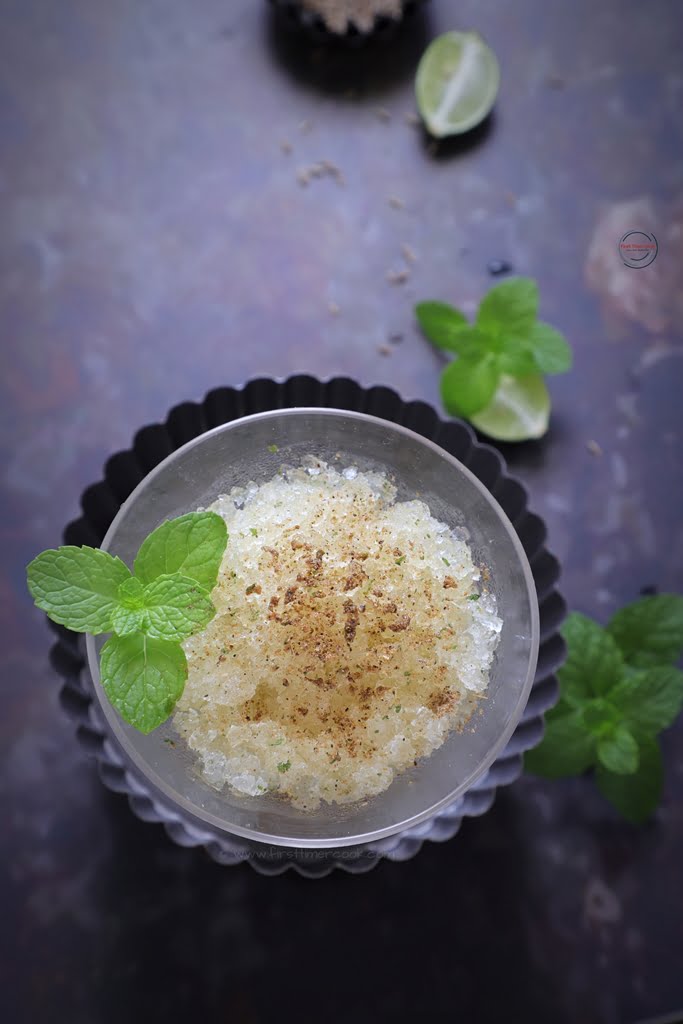 Mint Jaljeera Granita !
Jaljeera is a healthy, refreshing drink and quite popular throughout India. This drink not only helps with our digestion problems, but it also improves our appetite. In Hindi, Jal means water, and jeera means cumin. The mixture of these with other spices and herbs makes the drink much more appealing.
I loved the flavor and tanginess of the drink and is perfect for summers. It tastes slightly tangy and has a strong flavor from all the spices and spice powders used.
Well, here I have come up with a granita using this refreshing drink, jaljeera.
Jump to Recipe
Can one make granita ahead or Can one freeze leftover granita?
Yes, one can surely!
Keep the mint jaljeera granita (either made ahead or the leftovers) in the freezer covered. When just ready to eat, let it sit on the counter for a few minutes until it softens slightly, and then one can scrape it again and break the icy chunks. Place it back in the freezer for about 15-30 minutes before serving and voila !!! It is ready to go!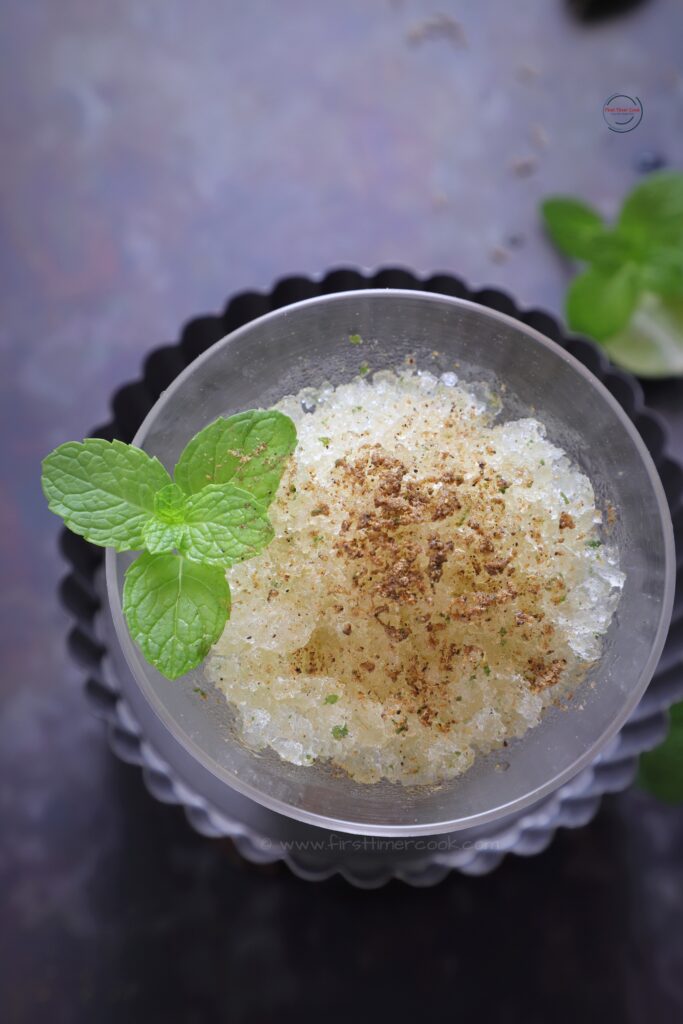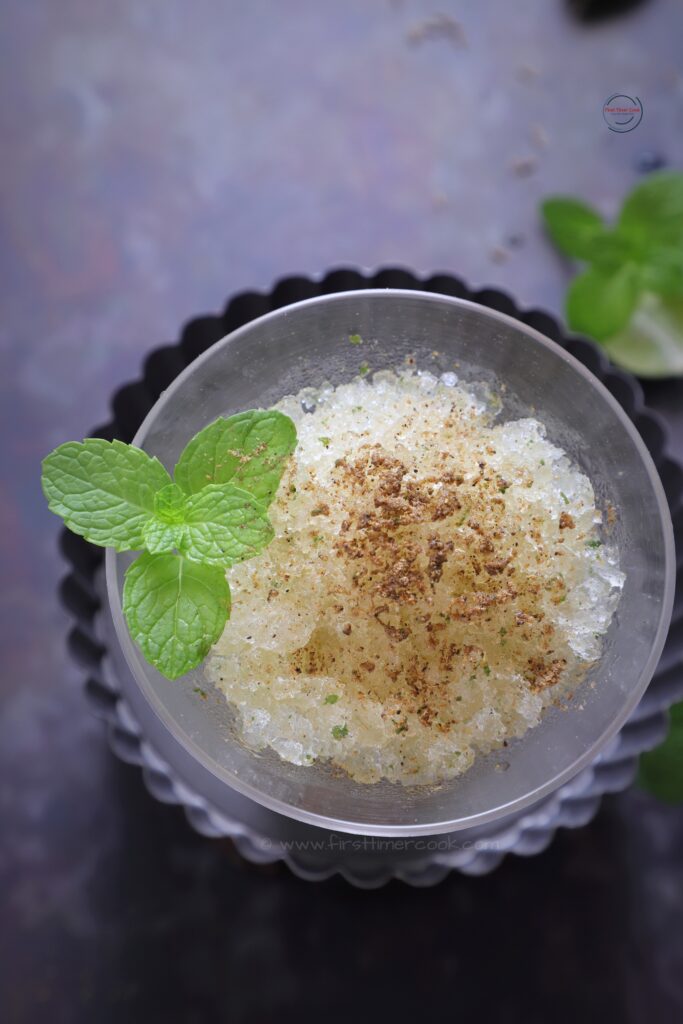 Let's go through how to make "Mint Jaljeera Granita" at home 👇
---
And, yes !!!

If you like the recipe shared here and give it a try at your place then do share in INSTAGRAM by tagging #firsttimercook. I would be so happy to see and surely share in my INSTA stories 😊😊
---
: Recipe Card :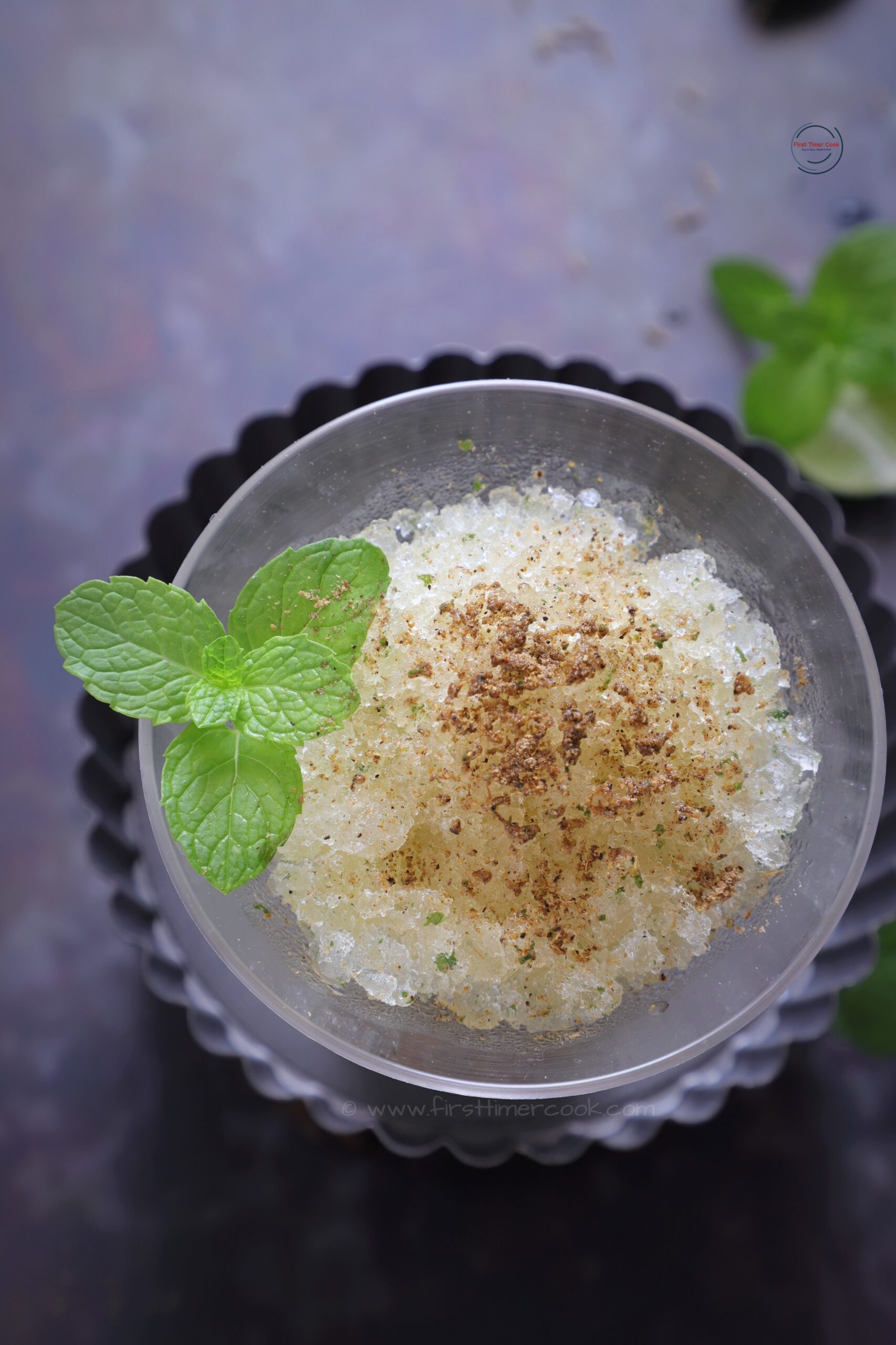 Mint Jaljeera Granita
A slightly tangy and crunchy dessert prepared by the popular and refreshing drink, Jaljeera
Easy and simple to make during summer.
Ingredients
¾

cup

Mint Leaf

¼

cup

Lemon juice

½

tbsp

Sugar

1.5

tsp

Amchur powder

1

tbsp

Cumin seed (roasted)

2

tsp

Black salt

Salt as needed

3

cup

Water

Cumin powder (roasted) for sprinkling
Instructions
In a blender jar first, take all the ingredients except water and cumin seed powder.

Make a fine paste, if needed add little amount of water.

Strain the paste into a bowl.

Pour water and give a nice stir.

Now transfer this mixture into a shallow container (freezer-friendly) and keep in the freezer for about 30 minutes or until mixture starts to be icy on the edges.

Using a fork, scrape ice crystals from the edges, stir the mixture and break all the icy chunks. Return to the freezer.

Repeat every half hour for about 3-4 hours.

Granita is ready when it is no longer liquid and looks like a big pile of crystals.

Just spoon into serving glasses or bowl, sprinkle some roasted cumin powder if you'd like and serve immediately !
Notes
I have used only mint leaves. Some coriander leaves can be used in a 1:1 ratio.