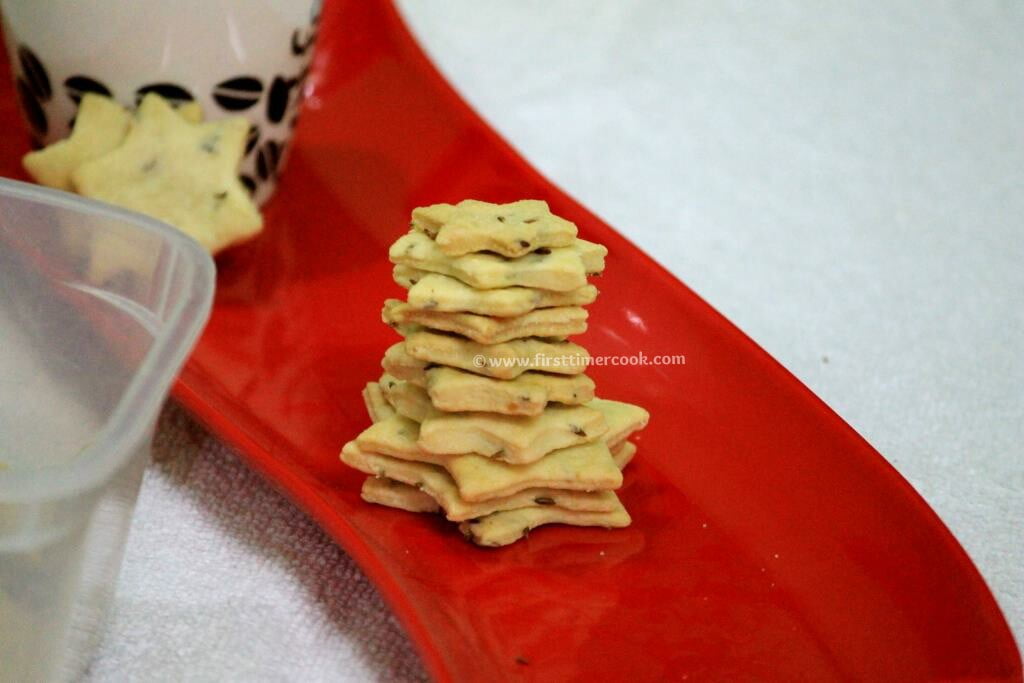 Preparation Time : 15 mins | Cooking Time : 20 mins
Ingredients :
| Ingredients | Measurements |
| --- | --- |
| All purpose flour (Maida) | 1 cup |
| Butter (at room temp.) | 4 tbsp |
| Sugar | 1 tsp |
| Jeera (cumin seed) | 1 heaped tsp |
| Water | 3 & 1/2 tbsp |
| Salt | 1/2 tsp |
Method :
In a mixing bowl, add flour with butter, rub it gently until it resembles breadcrumbs.
Now add salt, sugar, cumin seeds. Mix well and den add water little by little. Knead it to form a dough, not too tight more like chapathi dough.
Flour the surface and roll the dough thin of about 1/4 inch thickness. Cut with cookie cutter with any desired shapes.
Collect the scraps and repeat the process until the whole dough gets over. Prick the biscuits with fork to avoid puffing up.
Mean while preheat the oven at 180 deg C. Arrange the biscuits in a baking tray with butter paper.
Bake the biscuits for about 15-20 mins. Keep an eye after 15 mins. Once taken out of the oven, the biscuits are soft, so cooled down them to crispy. Store in an airtight container and it'll keep well for about a week.
Notes :
​You can add full maida / add half of maida and half of wheat flour / add full wheat flour.
​If planning to use wheat flour, then add 1/4 tsp of baking powder along with wheat flour.
​Do not over bake, otherwise the biscuits'll become hard.​