This beautifully festive Chocolate Wreath (eggless) is perfect for a Christmas holiday party. Each bite is warm, fluffy, and dusted with powdered sugar. It is sure to impress a crowd and is much easier to make than it looks!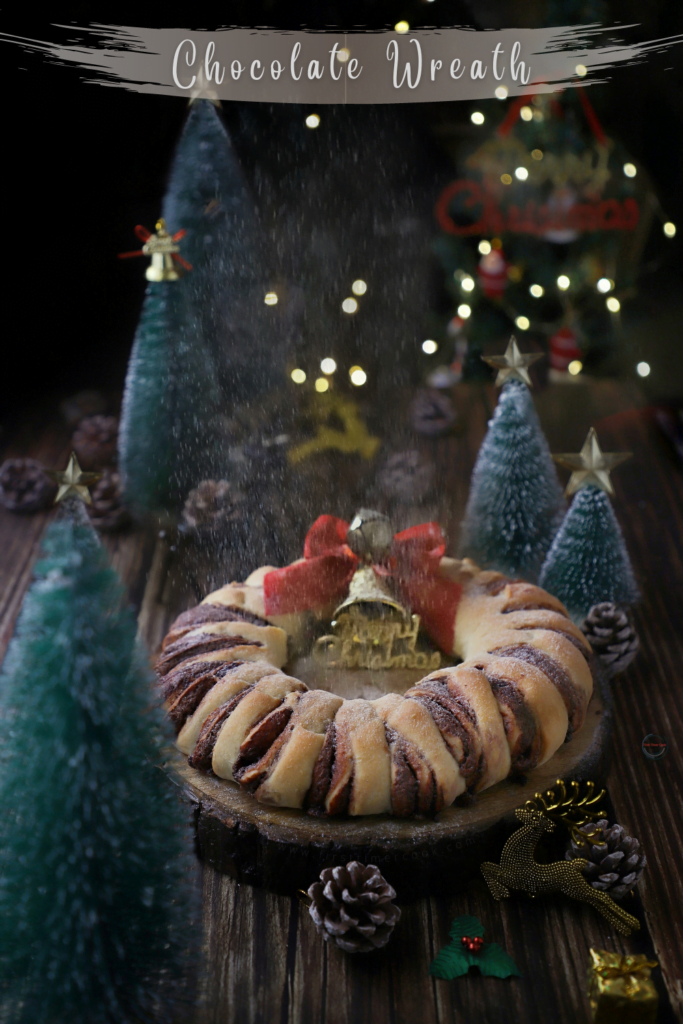 Who doesn't love Christmas Wreath especially when it is edible?
So here I have with a 𝗖𝗵𝗼𝗰𝗼𝗹𝗮𝘁𝗲 𝗪𝗿𝗲𝗮𝘁𝗵 as the Christmas vibe is full-on.
This type of edible wreath is surely a centerpiece of any Christmas party.
This is the first time I attempted making a wreath and I absolutely loved it. Even my Lil one just kept saying to make more mama. Hopefully, I will make one more by this year's Christmas again. It is not as tough as it looks and sounds. All one needs is some patience. So don't be intimidated and give it a try surely. You will surprise yourself and your family as well, I promise!
📖 RECIPE CARD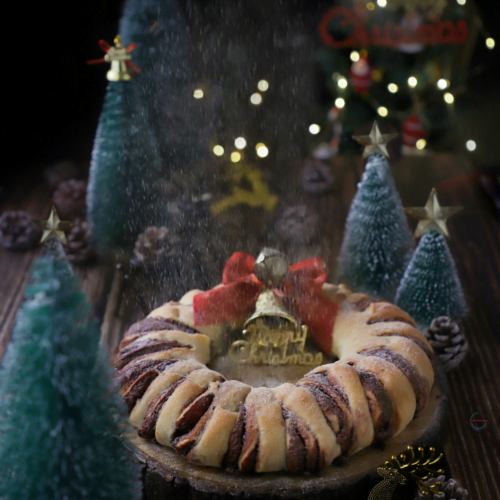 Eggless Chocolate Wreath
This beautifully festive Chocolate wreath is perfect for Christmas holiday party. Each bite is warm, fluffy and dusted with powdered sugar. It is sure to impress a crowd and is much easier to make than it looks!
Ingredients
for the Dough –
3¾

cup

All purpose flour

⅓

cup

Luke warm water

2¼

tsp

Yeast (instant)

5-6

tbsp

Butter

1½

tsp

Salt

1

tbsp

Sugar (powdered)

1-2

tbsp

Olive oil
for the Filling –
¼

cup

Butter

⅓

cup

Dark chocolate (chopped)

2

tbsp

Cocoa powder

2

tbsp

Brown sugar

1

pinch

Cinnamon

(optional)

1

pinch

Salt
Instructions
In a mixing bowl, take lukewarm milk along with powdered sugar and yeast. Mix using a spoon and keep aside covered to proof (approximately 10 minutes).

Then into that add flour, salt and mix to form a rough dough.

Knead until it forms a smooth ball and then addthe softened butter.

Continue to knead until the butter is fully incorporated and the dough is smooth and elastic. It may seem greasy and messy at first, but keep kneading so that the butter will all mix in and the dough will become smooth.

Once the butter is fully incorporated, the dough should look smooth and silky and it should pull away from the sides of the bowl cleanly. It should still be soft and slightly sticky but if it seems too wet then knead in a little more flour. But be careful not to add too much flour however.

Place the dough in a lightly oiled bowl, cover it.

Keep the bowl in a warm place to rise the dough and double in size.

After 1-2 hours, the dough should have doubled in size.

Meanwhile take the butter, chopped dark chocolate, sugar, cocoa powder, cinnamon and a pinch of salt in a small pan.

Heat the pan over a low heat and stir constantly until chocolate is melted and smooth.

Turn off the heat and set aside the pan to cool completely. It should thicken slightly but still be spreadable. If it gets too firm, then just rewarm it very gently until it reaches a spreadable consistency. Keep aside this filling.

Now punch down the dough and roll it out on a lightly floured surface to a long rectangle, but do not roll thin.

Spread the filling evenly over the rectangle, leaving a 1cm border.

Then roll the dough up tightly from one of the long edges to enclose the filling and create a long sausage shape.

Join the two ends together to create a wreath shape and stick together.

Transfer the wreath to a baking tray lined with baking parchment.

Meanwhile preheat the oven at 180 deg C.

Using a sharp knife, cut into around 20-22 number of 1 inch thick pieces. But do not cut all the way through. The wreath has to remain connected.

Brush the top side of the wreath with olive oil.

Bake for about 25 minutes, until the wreath is golden brown from all over.

Remove from the oven and allow to cool.

Decorate as desired or simply dust some powdered sugar all over like I did.
Notes
The wreath can be made a day in advance and kept covered in the fridge. Just before baking, take it out from the fridge, allow it to come down to room temperature. Then bake as the time and temperature mentioned above.
I have used chocolate as the filling here. One can use nutella, chocolate with chopped dryfruits etc instead of that.
Dont forget to brush the wreath, this will surely give a nice golden brown color all around the wreath.
I have used powdered sugar for the dough. Regular sugar can be picked instead.