Basically paratha is a yummy circular / triangular / square shaped flat bread made of whole wheat flour and served with any vegetable dish / eaten plain with any pickle. Traditionally paratha is cooked in ghee on an iron tawa / skillet. Although paratha is made with almost same ingredients as of roti / phulka / chapati, the style of rolling, the method and medium of cooking (with / without oil) is the key factor which creates a huge difference between them.
Paratha can be made plain, spiced / stuffed with veggies, paneer etc. However the basic plain paratha rules most.
Here is the recipe of plain layered paratha which can be of triangular / square shape.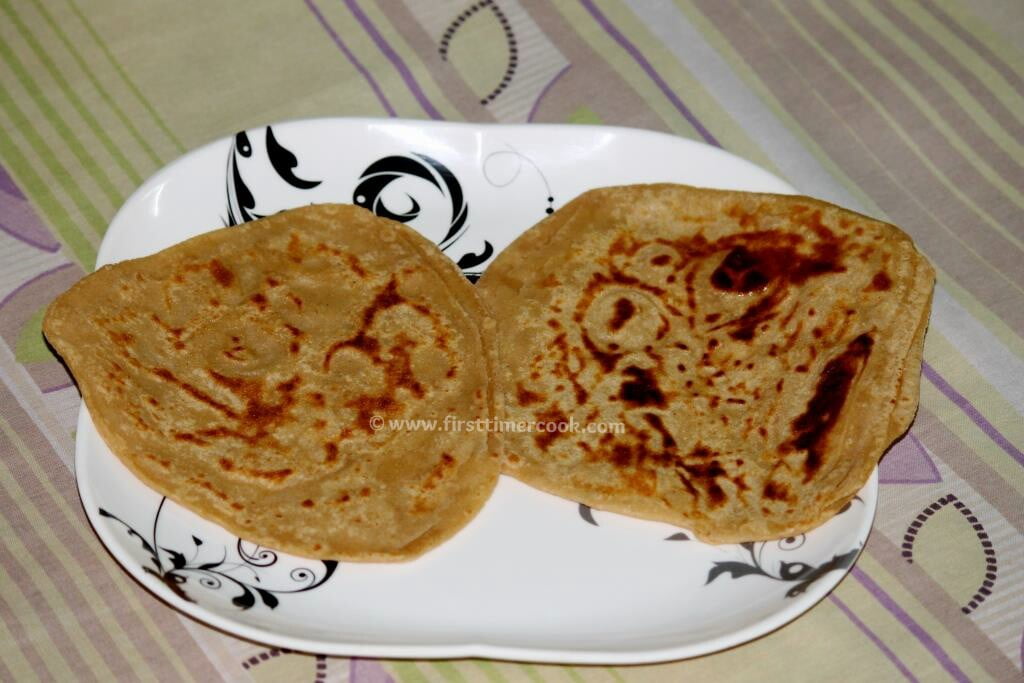 Preparation Time : 35 mins | Cooking Time : 30 mins
Ingredients :
| Ingredients | Measurements |
| --- | --- |
| Wheat flour | 1 cup |
| Oil / ghee | 1-2 tsp |
| Water | as needed |
| Salt | 1/2 tsp |
| Oil / ghee (for roasting) | as needed |
Method :
Sieve the wheat flour using a siever, so that any impurities'll remove from wheat flour.
Now add a bit of water, salt and oil and start mixing. Add water to the dough little by little & begin to knead the dough.
Knead the dough till it becomes pliable and soft. The final dough consistency should not be very soft or hard.
Once the dough is ready, cover the dough with damp cloth and keep aside for 10 minutes to rest. After 10 min, knead once more & then divide the dough into medium size round balls.
Roll the balls between both palm and make them into round shape ball. Keep aside.
Before rolling the paratha, heat an iron tawa / skillet on gas.
Take a rolling board, place a dough ball on it, press and make flat. Dust the dough ball with some wheat flour and start rolling into 4-5 inch diameter circular disc. Spread some ghee on the dough circle.
Triangular folded plain paratha method : After spreading ghee, just fold in a half. Now spread some ghee on this half folded dough. Fold sideways and this time, afolded triangle will form. Dust some flour on the folded triangle, begin to roll the folded triangle evenly. Add some flour if required and roll into a triangle of about 6 to 7 inches length.
Square folded paratha method : After spreading ghee, bring 1/3 side of rolled dough towards the center and press lightly. Now spread again some ghee on the folded part. Fold the opposite side of the rolled dough on top of the folded part & press lightly. Again spread some ghee on this second folded part. Now a rectangle shape will form. Fold the right side (1/3 part) and bring towards the center. Spread some ghee on this fold too. Lastly fold the left side on top of the right fold and this time, a folded square will form. Sprinkle some flour on the folded paratha, begin to roll. Add some more flour if required while rolling & roll into a square paratha of about 6 to 7 inches length.
By the time the tawa should be medium hot. Place the paratha on tawa. The paratha'll soon start puffing up from the base at some places, then just flip it.
Fry on a medium high flame on the other side as well until brown spots appear. Drizzle ghee on both sides.
Stack them one over the other and keep them covered in a kitchen tissue or roti basket. Serve these plain parathas with any vegetable curry !
​Notes :
If the dough looks dry, then add some water. If the dough looks sticky and moist, then add some extra flour and knead again.
To keep paratha soft, keep them covered using kitchen tissues or roti basket.
Do not fry on a low flame as this will harden the paratha.