Paneer bhurji is an easy, delightful and spicy paneer dish that tastes great with roti, paratha / even with regular bread. Paneer bhurji is preferred as a breakfast dish. Bhurji means scrambled, so the paneer is scrambled here.
The most important tip for making superb paneer bhurji is to use freshly made paneer as it tastes tasty and yields soft paneer bhurji. Also always make the bhurji just before serving, otherwise it tends to get a little soggy. It is a quick and easy recipe prepared using crumbled / grated paneer along with spices, onion, tomato, capsicum etc.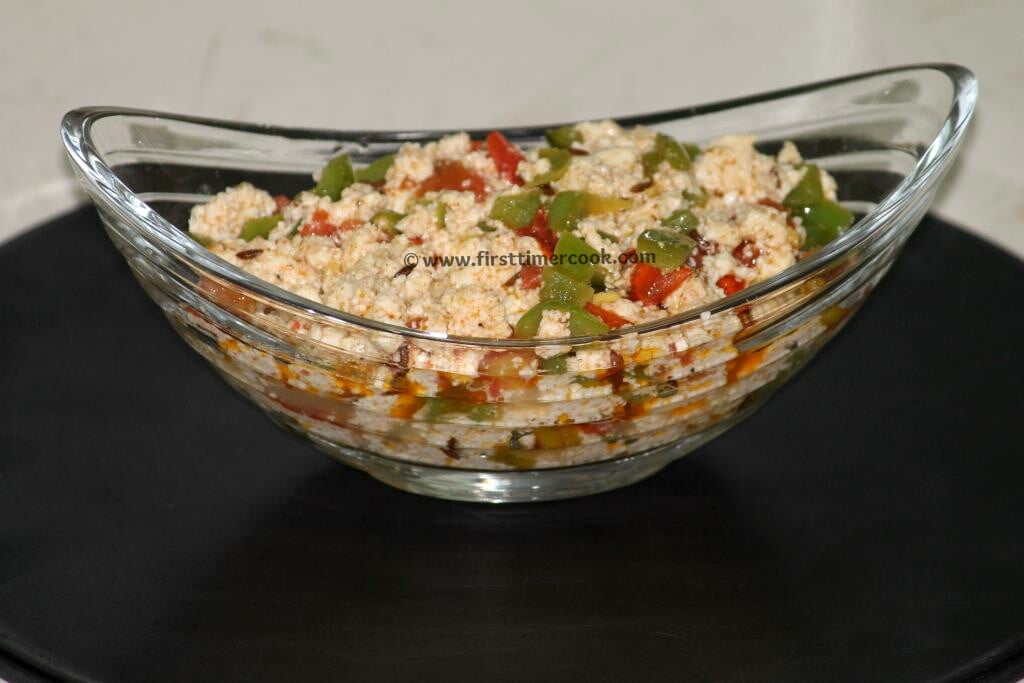 Preparation Time : 5 mins | Cooking Time : 15 mins
Ingredients :
| Ingredients | Measurements |
| --- | --- |
| Crumbled paneer(homemade) | 1 cup |
| Bell Pepper (red, green, yellow) | 1/3 cup |
| Tomatoes (chopped) | 1/3 cup |
| Cumin seeds (jeera) | 1 tsp |
| Green chilies (finely chopped) | 1 tbsp |
| Chili powder | 1/2 tsp |
| Garam masala powder | 1/2 tsp |
| Oil | 2 tbsp |
| Coriander powder | 2 tsp |
| Onion (chopped) | 1/4 cup |
| Ginger garlic paste | 1/2 tsp |
| Salt | as per taste |
| Coriander leaves (finely chopped) | 2 tbsp |
Method :
Soak thepaneerin hot water with 1/4 teaspoon of salt for five minutes. Drain the water and crumbled the paneer. This process will make the paneer soft. If using the fresh paneer, then skip this step. Set aside.

Heat oil in a pan, add cumin seeds. When it sizzles, add finely chopped onions and fry till they turn slightly brown.

Addginger garlic paste, chopped green chili and saute for some more time.

Then add finely chopped tomatoes, chili powder, coriander powder, salt, garam masala powder and mix well. Cover the pan and cook for 3-4 minutes till the tomatoes turn mushy.

Add capsicum and cook for a few minutes (do not overcook the capsicum, make sure it is crunchy).

Add crumbled paneer and cook until everything gets blended well with the masala. Don't cook the paneer for a long time as paneer will lose the softness. If it is too dry, add few spoons of water.

Garnish with coriander leaves and serve hot !
​Notes :
Paneer bhurji tastes great with roti, paratha or even with regular bread ! This also makes a good stuffing for dosas or chapati rolls or sandwiches.

If using the paneer bhurji for stuffing then don't add the water, bhurji should be dry in texture.