MLLA here means My Legume Love Affair. This is a monthly event which is based on legumes started by Susan of The Well Seasoned Cook and Lisa of Lisa's Kitchen has been hosting this series for a while now. It has reached now on 131st turn so far and I am so happy to host my first event at MLLA for this month's turn here. Thank you Susan and Lisa for this wonderful opportunity 😊😊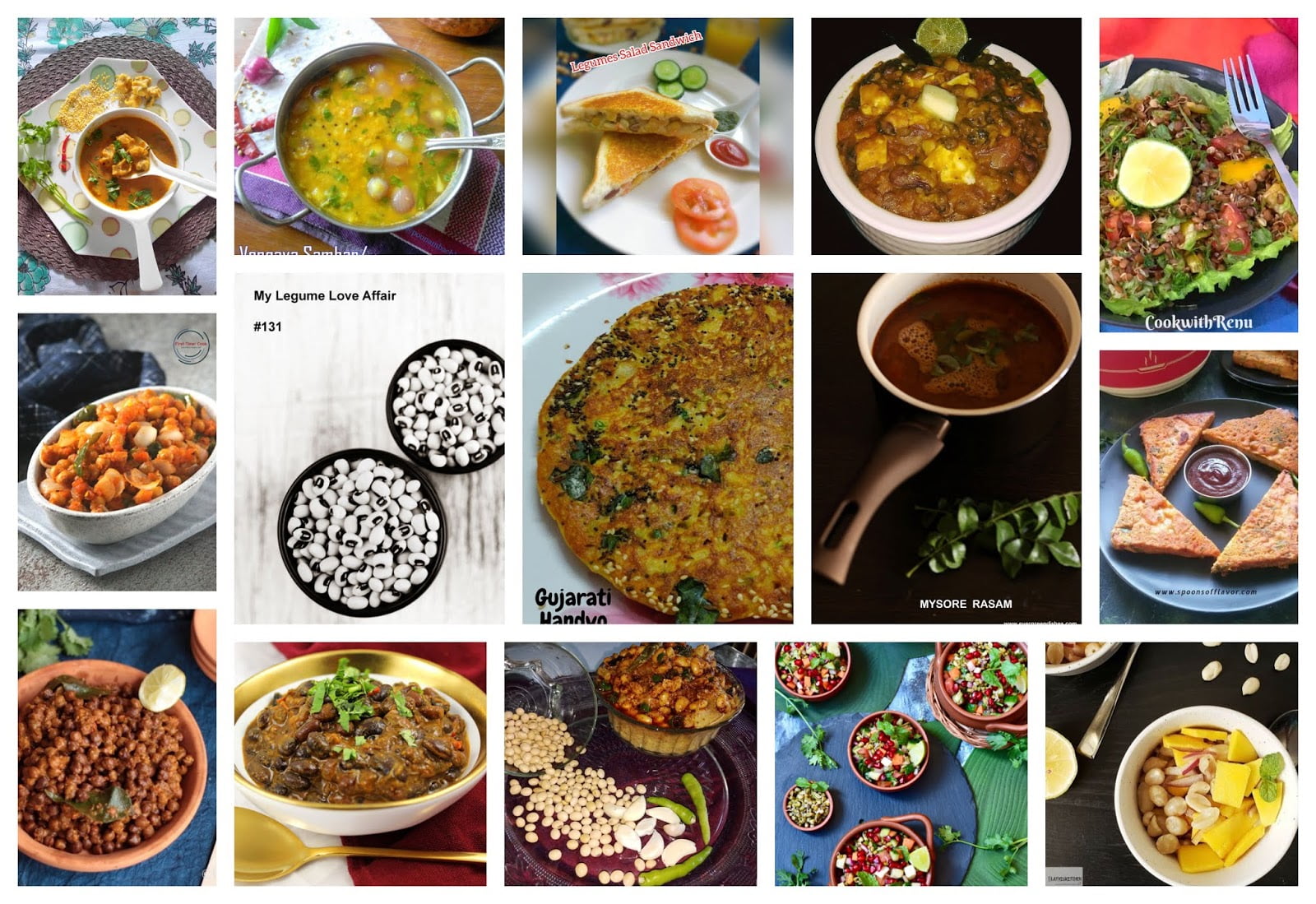 So What are Legumes ?
Well, Legumes are a class of vegetables which includes beans, peas and lentils.These are among the most versatile and nutritious foods available worldwide. Basically they are edible seeds grown in pods. Legumes having a good source of protein, can be a healthy substitute for meat which has more fat and cholesterol. These can be found in super markets in a wide variety like in fresh, dried and canned form. One of the main advantages of legumes is that they don't contain much saturated fat, unlike red meat. Legumes contain lots of fiber, also are a good source of plant protein, packed with other nutrients such as folate, calcium, potassium, zinc, B vitamins and antioxidants. There are many ways to incorporate more legumes into our meals and snacks each day. So do join for this September month MLLA event.
Few guidelines of this MLLA event :
A blogger / a non-blogger can join this event.
Entries must be within 1st to 30th September 2019.
Only 1 entry per blogger / non-blogger is allowed having legume as a key ingredient in the dish.

Fresh or dried beans, lentils, and the sometimes edible pods that contain these seeds, and derivative products such as tofu or besan, along with tamarind, fenugreek, carob, and peanuts are all acceptable.

Here is a list of legumes, check it out

😊

Vegetarian and vegan dishes are accepted. So keep in mind to make dish free of meat, fowl and seafood. Egg dishes will be accepted if legumes play a central role.
Recipes from the blog archives will be accepted if re-posted and updated.
Any cuisines and any courses using legume are welcome.
Bloggers have to link their post via linky tool, just at the end of this post. Non-bloggers can mail the recipe at [email protected] .
While making the post, these links must be included in your post with a logo.
Logo of MLLA (My Legume Love Affair) event👇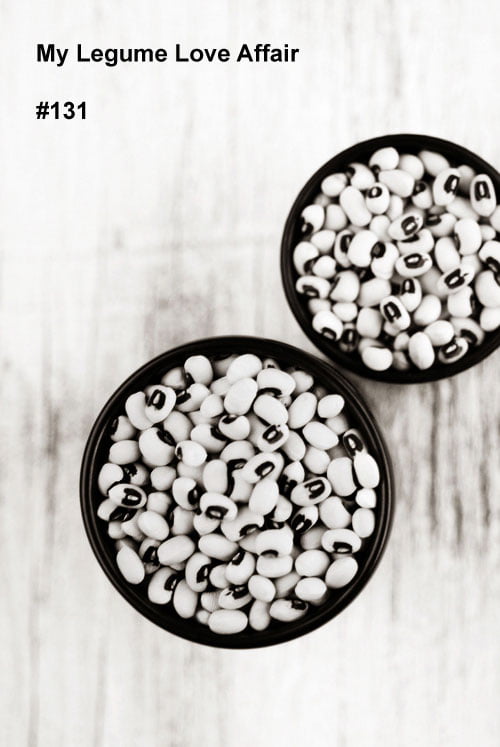 As the event is over by now, So I am just summarizing all the 14th entries which I have received from some bloggers (10 posts) as well as some non-bloggers (4 posts) for this event MLLA Round up #131.
1. Steamed Mangodi with Dahi Kadhi by Sibashankari Dash nani

Ingredients :
Moong dal 1 cup

Curd 1 cup
Besan 2 tsp
Red chili powder 2 tsp
Turmeric powder 1 tsp
Baking soda 1 pinch
Cumin seed 1/2 tsp
Mustard seed 1/2 tsp
Coriander leaves (chopped) 1 cup
Salt as needed
Water as needed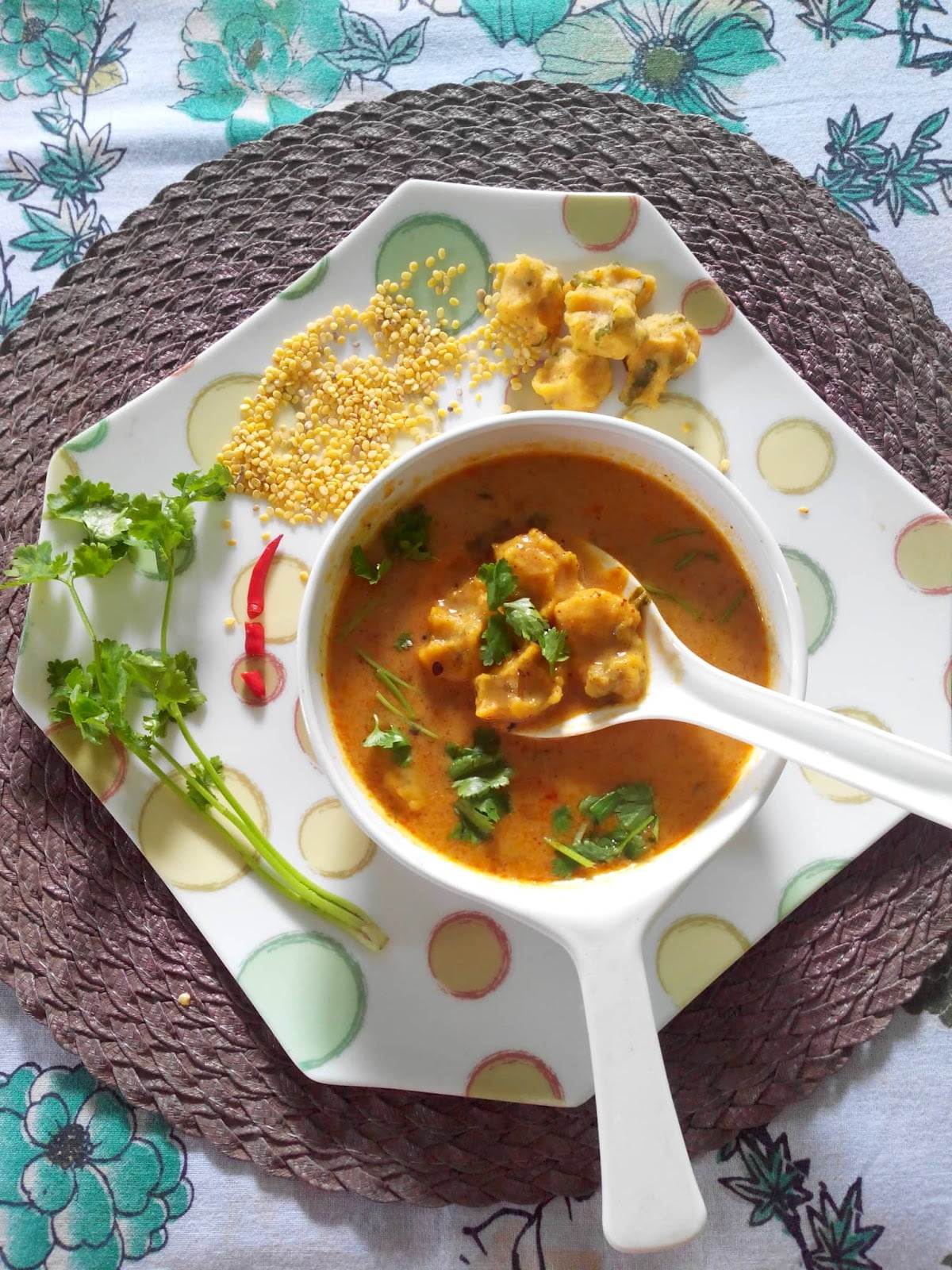 Method :
Soak moong dal 3/4 hours drain and make a thick paste without adding water in that batter.

Add salt, red chili powder (1 tsp) and half cup coriander leaves, baking soda. Mix everything well.

Make 1/2 tbsp size balls (can be ball shape or just take the batter in that portion) from the thick mixture.
Place in a steamer and steam these mangodi.
Transfer to a plate and keep aside.
In a bowl, mix besan and curd to make lump free mixture. Keep aside.
Heat oil in a pan.
Add mustard seeds, cumin seeds and allow to splutter.

Then add turmeric powder, red chili powder over low heat and give a quick mix.

Immediately add the curd mixture and stir well.

Next add the mangodi and allow to cook till the kadhi (gravy) becomes slightly thick.

Sprinkle rest 1/2 cup of coriander leaves and serve hot !
2. Cow-peas in Mustard Gravy by Sujata Nanda nani

Ingredients :
Cow-peas 1 cup
Potato (1 inch cubes) 2 no.
Onion (chopped into cubes) 2 no.
Tomato (chopped into cubes) 1 no.
Turmeric powder 1/2 tsp
Red chili powder 1/2 tsp
Salt as needed
Luke warm water 3 cup
Coriander leaves as needed
Mustard oil 2 tbsp
For mustard paste :
Mustard seed (black) 2 tsp
Mustard seed (white) 1 tsp
Poppy seed (white) 1 tsp
Cumin seed 1/2 tsp
Garlic clove 6-7 no.
Green chili 2-3 no.
Water as needed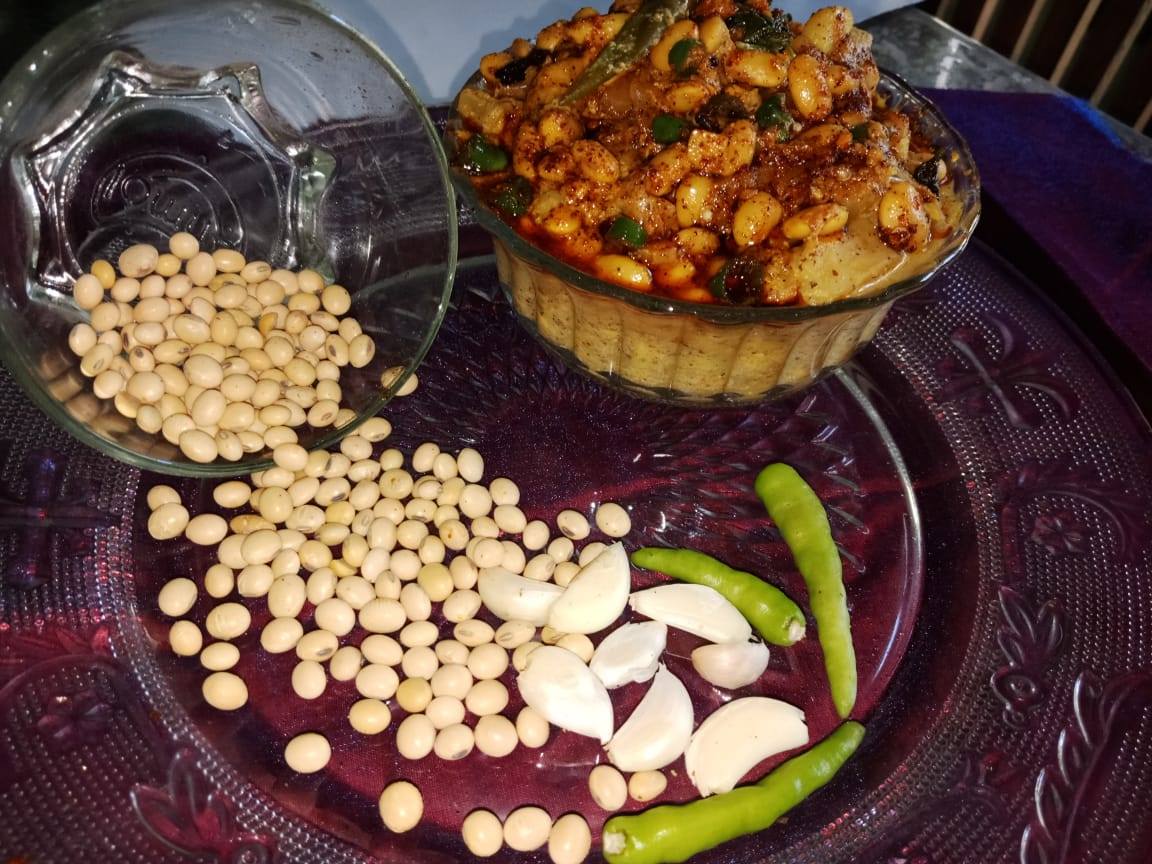 Method :
Soak cow-peas overnight with enough water.
Make a fine paste using the ingredients listed under Mustard Paste.
In a pressure cooker take the soaked cow-peas, mustard paste, potato cubes, chopped onion, chopped tomato, turmeric powder, red chili powder, salt along with Luke warm water.
Mix everything well and pressure cook for 4-5 whistles.
Turn off heat and allow to release the pressure automatically.
Then open the lid, put the cooker on the stove and allow to boil over low heat for 2-3 minutes or till desired consistency of the curry.
In a tadka pan heat mustard oil.
Add 1/4 tsp red chili powder along with few chopped coriander leaves.
Fry a bit and add this to the curry.
Mix everything well.
Sprinkle few more chopped coriander leaves and serve hot !
3. Paneer Tadka by Nibedita Ghosh di

Ingredients :
Masoor dal 1/4 cup
Split moong dal 1/4 cup
Channa dal 1/4 cup
Urad dal 1/4 cup
Chickpea & kidney bean (optional) 1/4 cup
Paneer cubes 200 gm
Onion (medium) 2 no.
Tomato (medium) 2 no.
Ginger (grated) 1 tsp
Garlic (grated) 1 tsp
Green chili 2 no.
Turmeric powder 1/4 tsp
Chili powder 1/2 tsp
Black pepper powder 1/2 tsp
Kasoori methi few
Coriander leaves (chopped) few
Salt as needed
Oil 3 tsp
Butter 2 tsp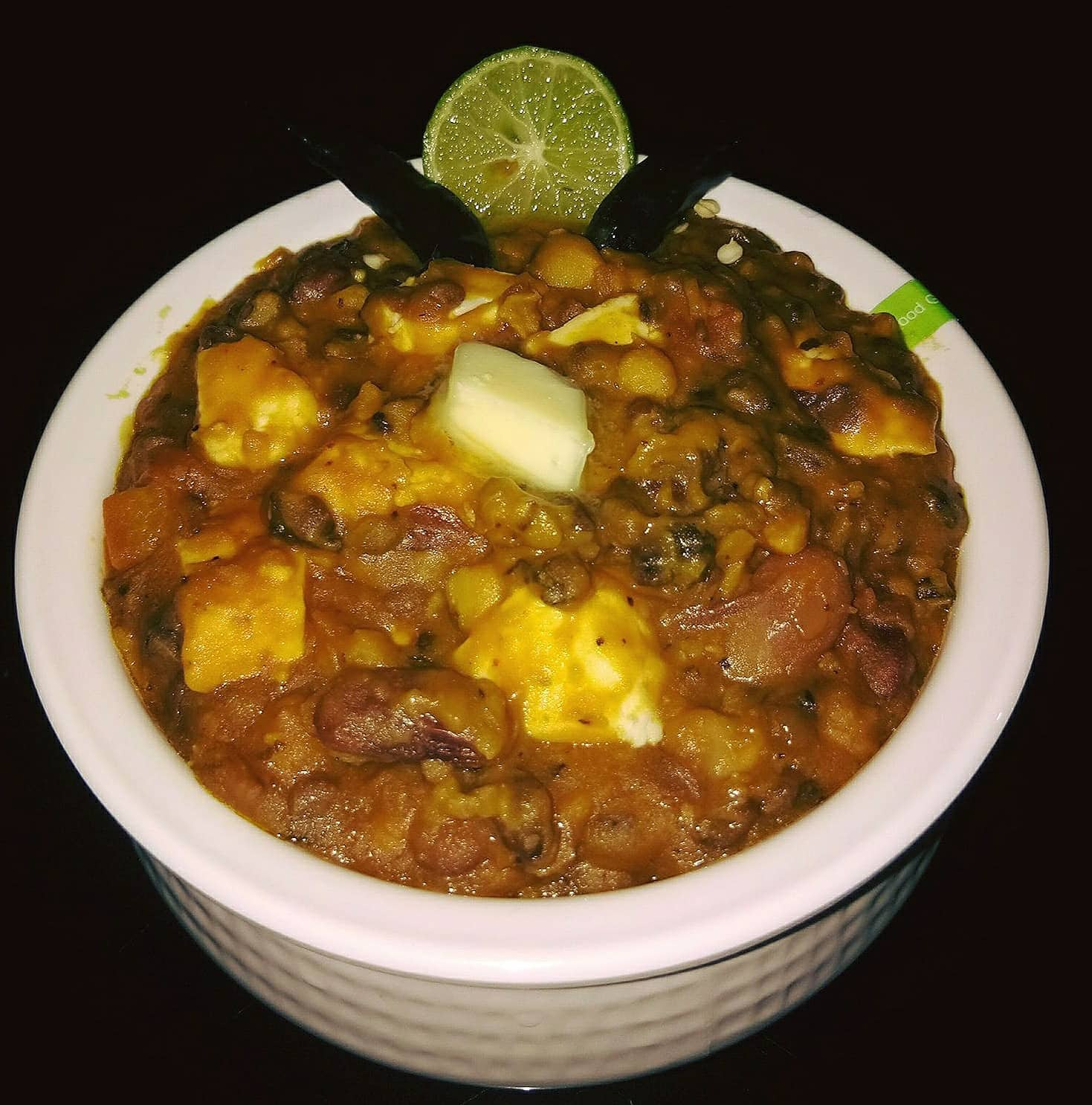 Method :
In a mixing bowl, take all the lentils / dals and soak with enough water overnight.
Then put all these soaked dal in a pressure cooker with 1/2 turmeric powder and salt (as per taste).
Pressure cook till all the lentils are well done.
Next in a pan, heat oil along with butter.
Add chopped onion and green chilies. Fry till onion turns transparent.
Add grated ginger, grated garlic and again fry till raw smell goes away.
Add chopped tomatoes, salt, turmeric powder, red chili powder and paneer cubes.
Mix everything and fry for 2-3 minutes.
Then add boiled lentils and gently mix again.
Allow to come a slight boil and then add pepper powder, kasoori methi.
Give a nice stir and turn off heat.
Transfer to serving bowl, sprinkle some freshly chopped coriander leaves, drizzle few butter on top and serve !
4. Legumes Salad Sandwich by Smita Samal

Ingredients :
Bread 8 slices
Hung curd 1/2 cup
Chickpea 1/2 cup
Rajma 3 tsp
Onion (chopped) 2 tbsp
Tomato (chopped) 2 tbsp
Pepper powder 1/4 tsp
Chat masala 1/4 tsp
Sugar 1 tsp
Salt as needed
Butter for toasting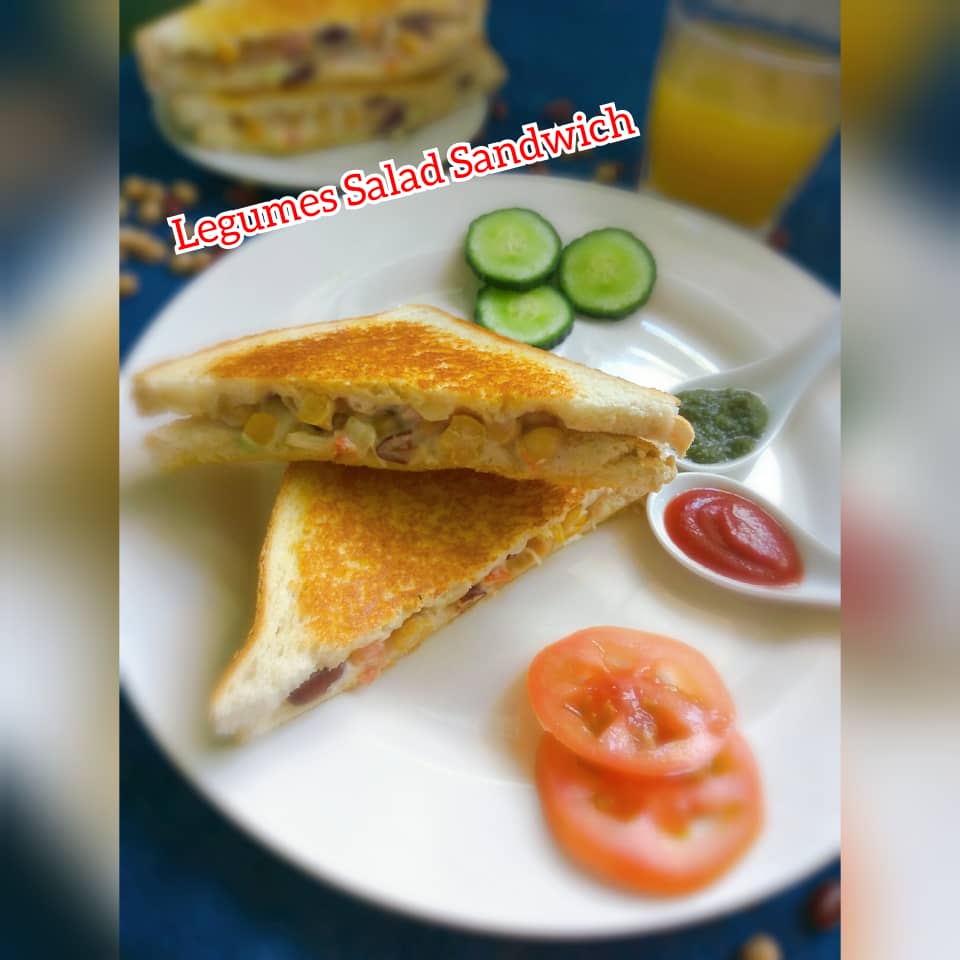 Method :
Soak chickpeas & rajma overnight.
Then pressure cook until well done.
Transfer to a mixing bowl and also add other ingredients except bread to the mixing bowl.
Give a gentle toss.
Now take a bread slice and place 1-2 tsp of salad mixture on that.
Place another bread slice over the salad and press gently so that the mixture will not fall outside.
Spread butter on one side of the sandwich.
Heat a griddle / tawa and place the buttered side of the sandwich.
Toast it till golden brown.
Again spread butter on the other side and flip to cook.
Turn off heat and cut into triangles.
Serve with tomato ketch up / green chutney !
5. Sprouted Horse gram Salad by Renu Agrawal Dongre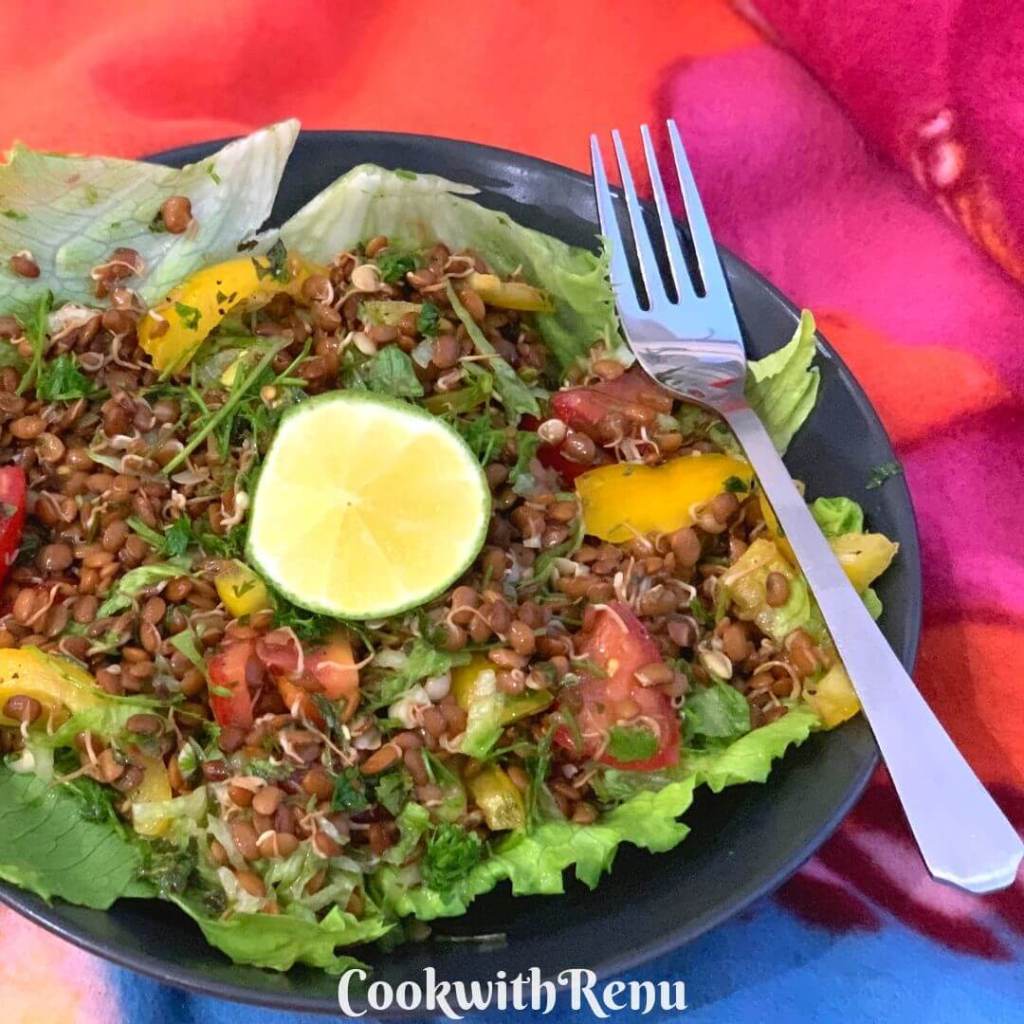 6. Peanut Mango Salad by Lathiya Shanmugasundaram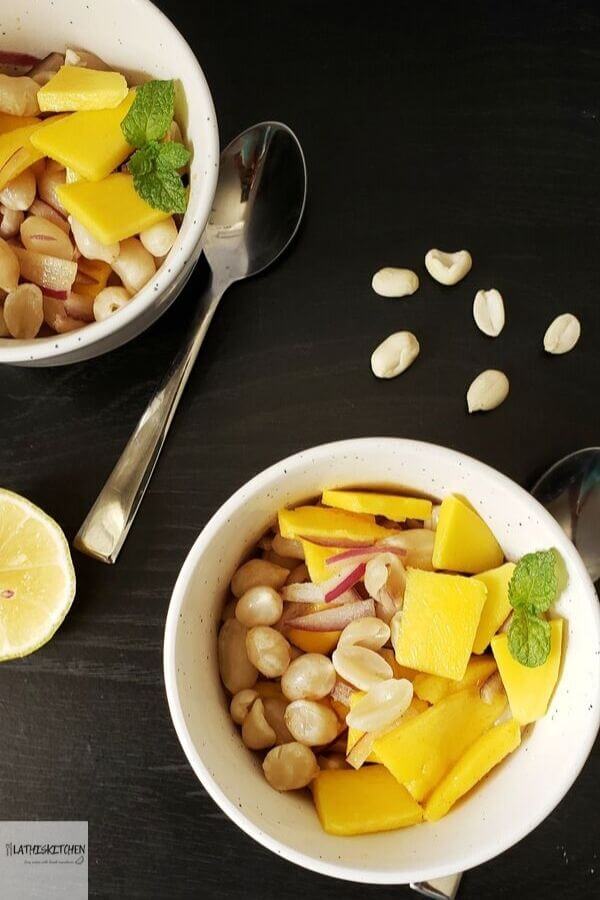 7. Black Beans Simmered in an Aromatic Tomato Sauce by Lisa Tuner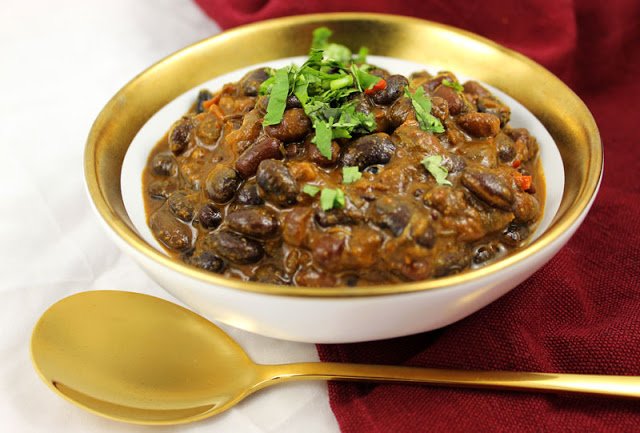 8. Kabuli Chana Chili (Dry Version) by Sasmita Sahoo Samanta
9. Mysore Rasam by Jayashree Trao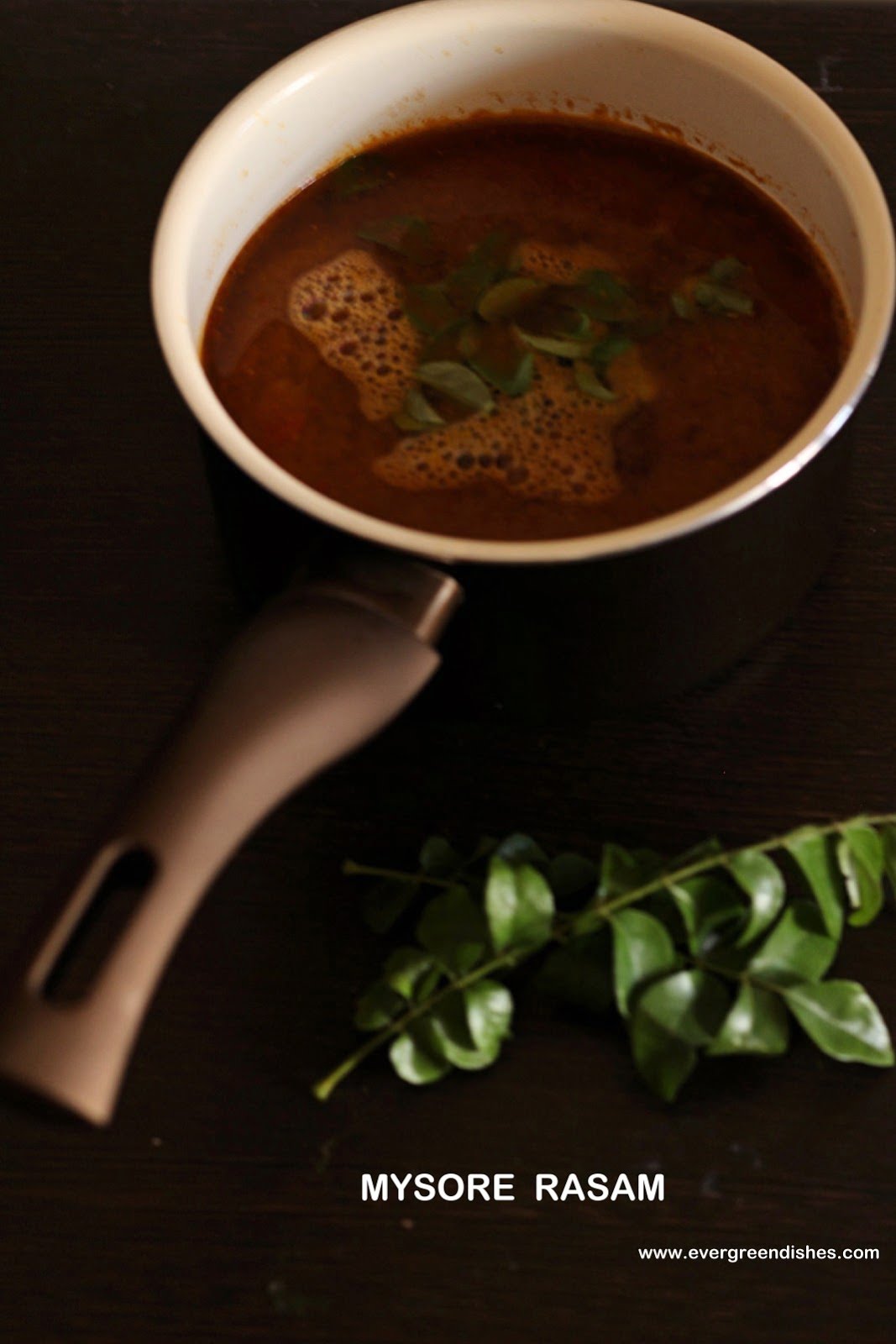 10. Besan Bread Toast by Geetanjali Tung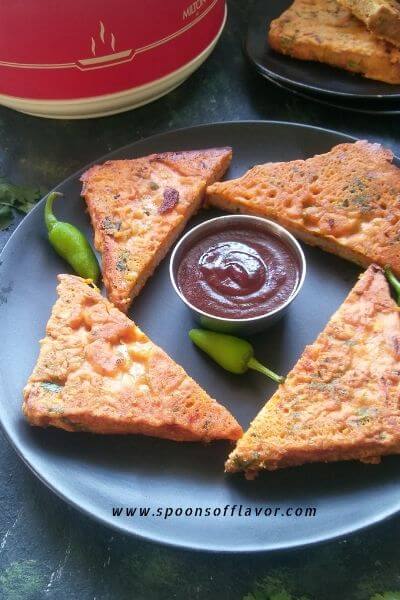 11. Moong Sprouts Chaat by Shalu Jain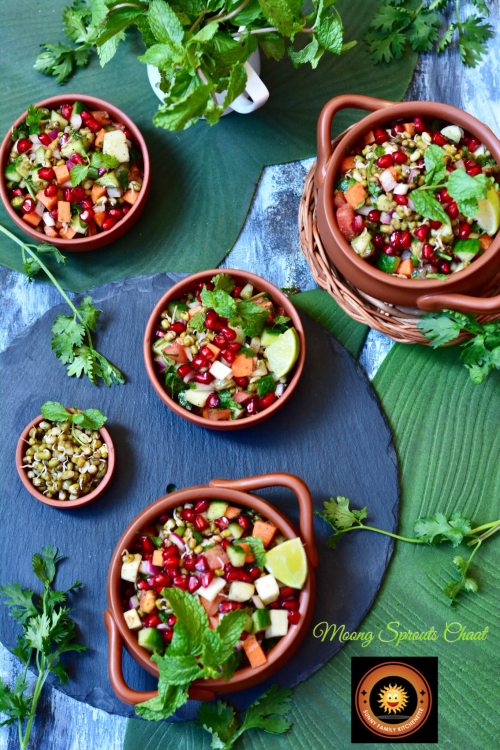 12. Kala Chana Googhani by Swaty Mallick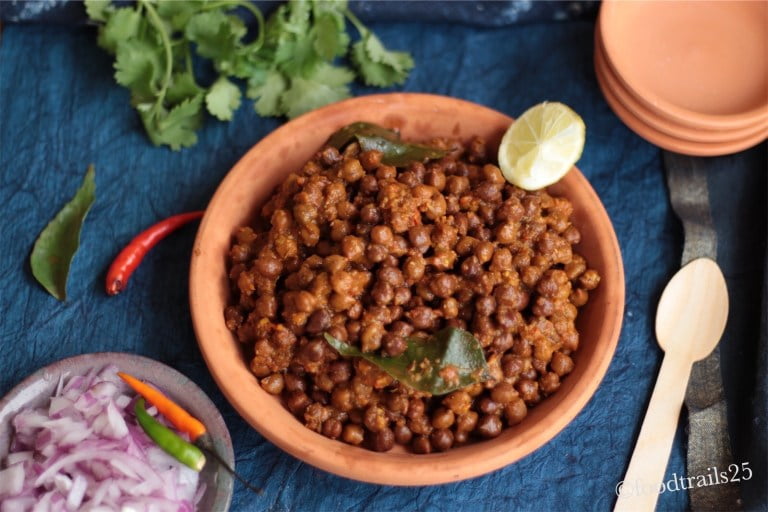 13. Gujarati Handvo by Narmadha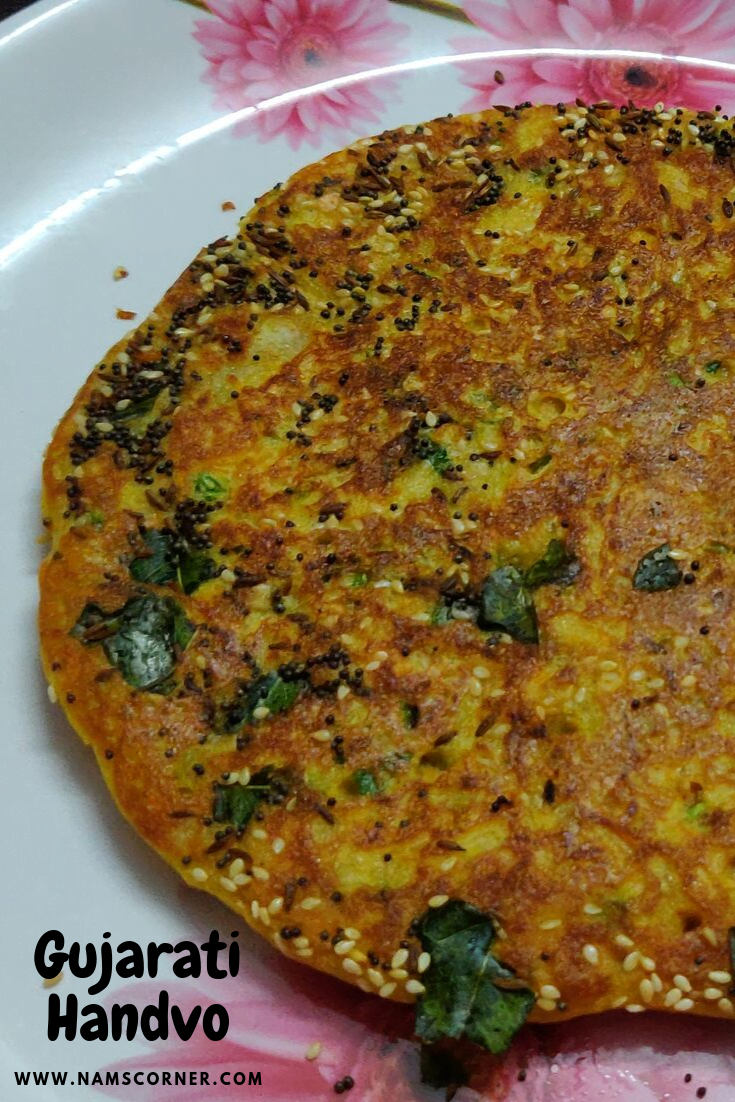 14. Onion Sambar by poonam Bachhav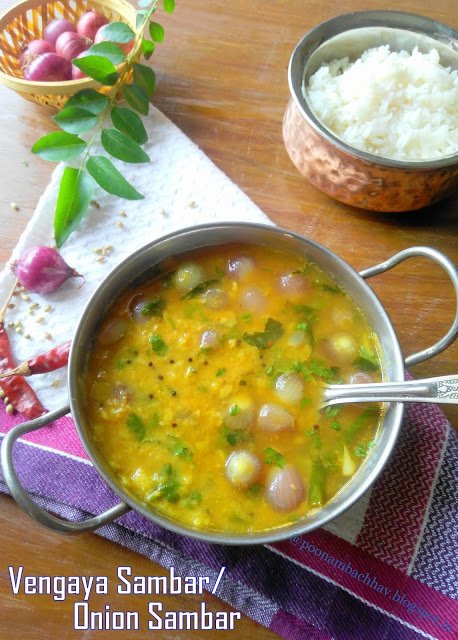 Thank you all here for the participation !!