Eggless Pineapple Upside Down Cake is an eggless cake topped with caramelized pineapples and cherries. It is a self garnished cake among all other eggless cakes. Once baking done, slices of pineapple and cherries will glazed on top of the cake. Basically it is a traditional spongy cake with strong pineapple flavor & caramelized pineapple slices along with cherries on the top. So below is the step by step method of preparation.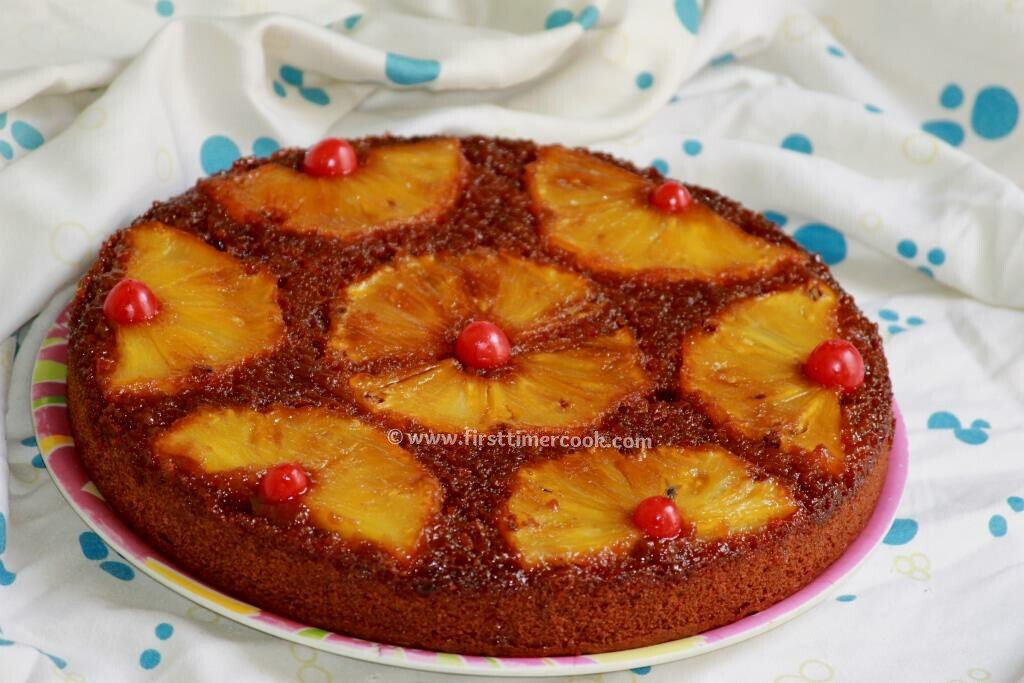 Preparation Time : 15 mins | Cooking Time : 40 mins
​
Ingredients :
| Ingredients | Measurements |
| --- | --- |
| All purpose flour (Maida) | 2 cup |
| Milkmaid | 1 tin or 400 gm |
| Granulated sugar | 5 tbsp |
| Baking soda | 1 tsp |
| Baking powder | 1 tsp |
| Butter | 100 gm or 2/5 cup |
| Pineapple essence | 1/2 tsp |
| Aerated soda​ | 3/4 cup |
| Water | 1 tbsp |
| Pineapple Slices | 8 no. |
| Cherries | Few |
​Method :
Preheat the oven at 180º C 10 mins before baking.
Grease a cake tin with butter or line up with a butter paper. Arrange the pineapple slices at the base of the tin.
Add water to sugar & heat it in a pan till it melts and becomes brown. Pour hot caramel onto the pineapple slices in the cake tin and leave aside.
Add Milkmaid to the softened butter (room temperature) and beat well.
Add pineapple essence to this & mix well.
Sieve all purpose flour, baking powder & baking soda. Keep aside.
Add some flour mixture to the milkmaid mixture and then add some aerated soda and mix well. Repeat, alternatively flour mixture and aerated soda till both are used up.
Pour batter into the cake tin and bake at 180º C for 40 minutes.
Remove from oven, loosen sides of cake using a knife and immediately turn onto a plate.
Notes :
Caramelization part is totally optional, can be omitted.
​​Do not allow pineapple upside down cake to cool before removing from the tin.The caramelized sugar hardens and results in the cake sticking to the tin.
The cake batter should be used for baking immediately after mixing the ingredients. If the batter is allow to stand, it loses its lightness.
​It can be stored in refrigerator for up to 4 days.