Haryana is one of the wealthiest state of India as it is a rich agriculture state which shares its borders with several states of India like Rajasthan, Delhi, Uttar Pradesh, Punjab, and Himachal Pradesh. Haryanvi cuisine, the cuisine of the state Haryana is like the people of Haryana : so simple, earthy and totally linked to the land. In Haryana, the emphasis is on food that is wholesome, fresh and prepared with little or no fuss at all. Their staple food is wheat or bajra, so in all total it is 'Land of Rotis, Vegetables and plenty of Milk and Ghee'. Some other finger licking food of Haryana include Methi Gajar, Singri ki sabzi, Mixed dal, Kachri ki Sabzi, Bajra Aloo Roti Makhan, Churma, Malpuas, Bathua Raita, Besan Masala Roti, Mithe chawal etc. The desserts mainly contain Gajar ka Halwa, Kheer and Rabri made from wheat flour etc.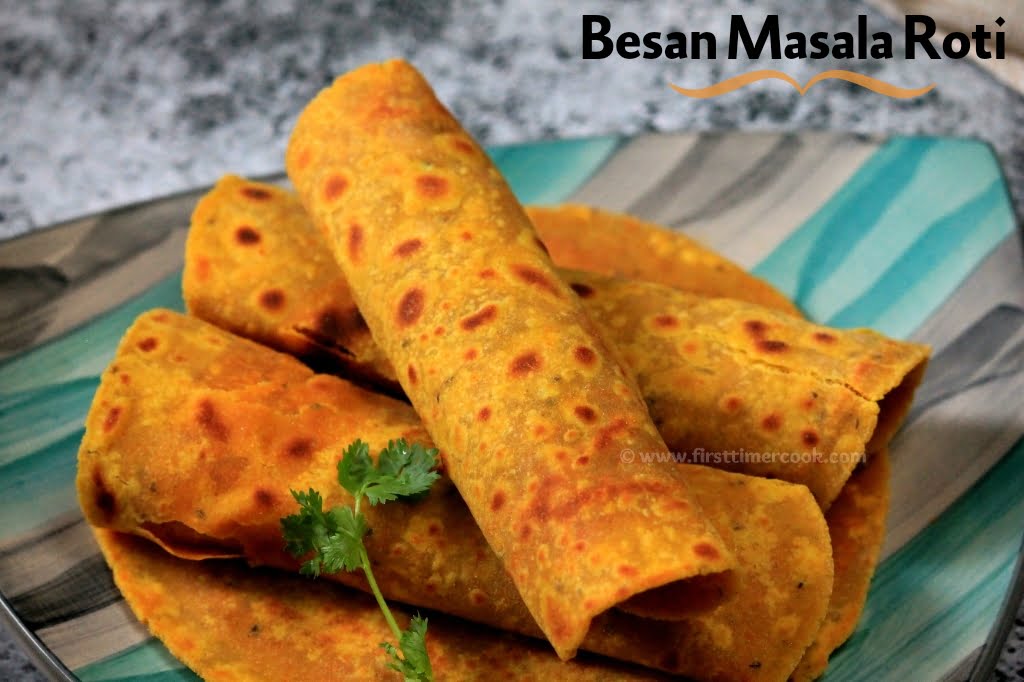 Since April month comes to end, so in Shhhhh Cooking Secretly Challenge group, the theme for March month challenge is 'Haryanvi Cuisine'. For this theme, my partner is Poonam who gave me 2 secret ingredients as Gram flour (besan) and Coriander Powder and I gave her as Green Chili and Bay Leaves. Do check her recipe here using the secret ingredients given by me. Gram flour is one of the secret ingredient for me means definitely I have to prepare the Besan Masala Roti / Spicy Chickpea flour Indian Flatbread 😉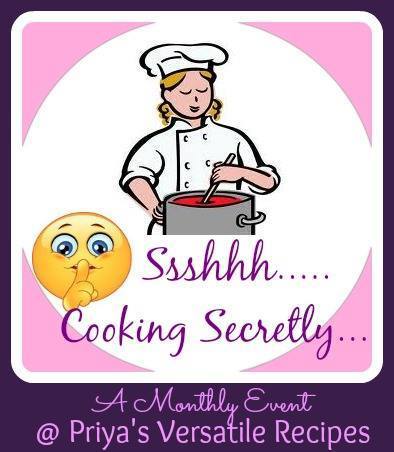 Well, besan or gram flour is the grounded chickpeas. This besan rotis are prepared from this chickpea flour along with some wheat flour. Since the besan or chickpea flour is totally gluten free, so some wheat flour are added to make the dough easily. Some carom seeds I always prefer to add to the dough, but is optional. Here the masala means a mixture of some spice powder is prepared along with melted ghee and that mixture is then stuffed in the roti. Preferably these besan masala roti are served at breakfast time. Accompaniments for these flaky breads are mostly plain yogurt, any pickle or any gravy type dish. The whole process is so simple and easy.
So do try this Besan Masala Roti / Spicy Chickpea flour Indian Flatbread. If you tried my recipe and enjoyed fully, then please share some pictures of your creation with me. Also give your valuable feedback either in the comment box below or tag me as #firsttimercook on Instagram. You may also follow me on Facebook, Pinterest, Twitter, Google+, Instagram and can subscribe for free to get new recipes directly into your inbox 😊. Lets go in details.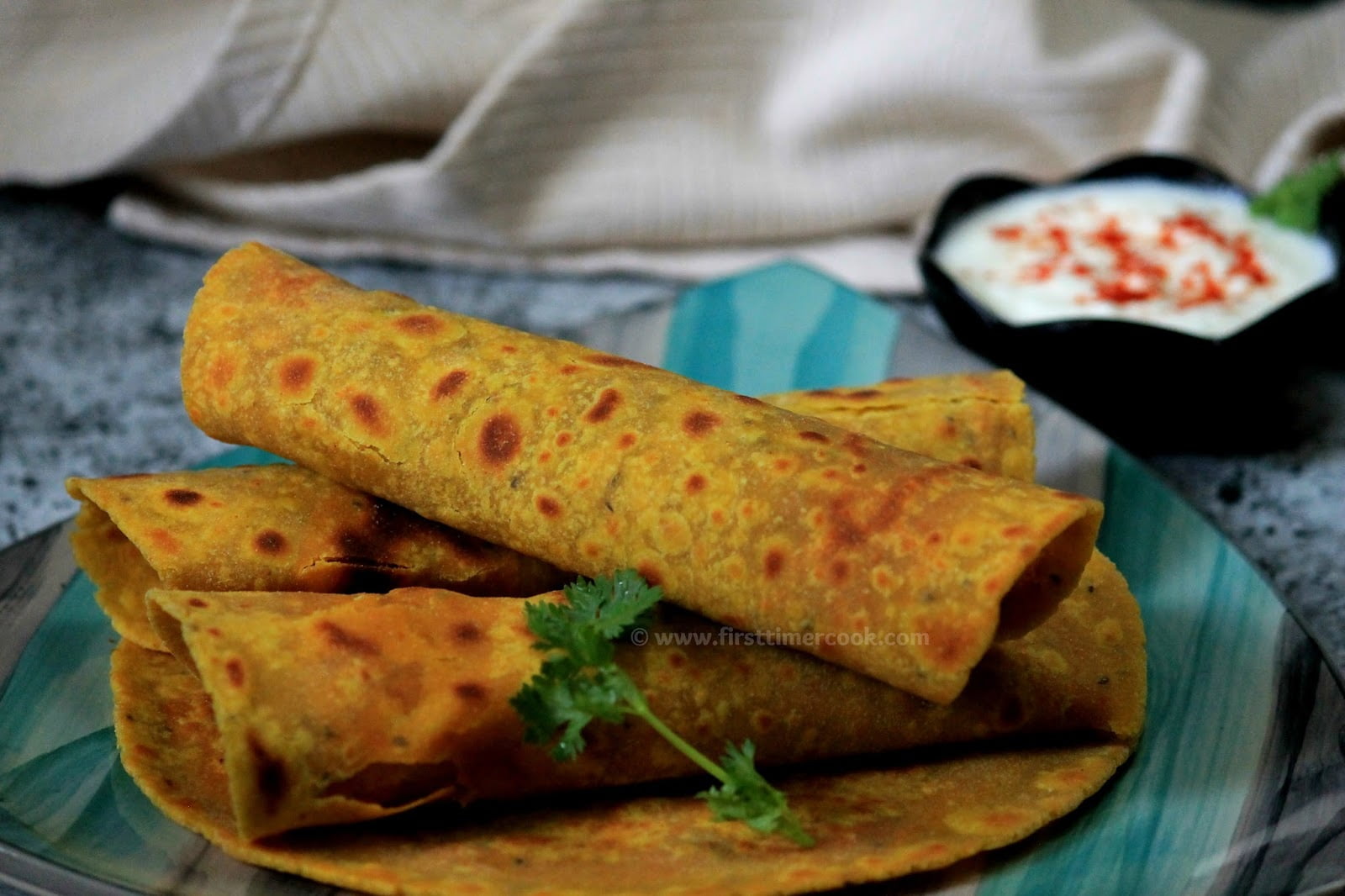 Preparation Time : 10 mins | Cooking Time : 15 mins
Ingredients :
| | |
| --- | --- |
| Ingredients | Measurements |
| Besan (chickpea flour) | 1 cup |
| Wheat flour | 1 cup |
| Ajwain (carom seed) | 1 tsp |
| Turmeric powder | 1 tsp |
| Red chili powder | ½ tsp |
| Cumin powder | ½ tsp |
| Coriander powder | ½ tsp |
| Amchur (dry mango powder) | ½ tsp |
| Ghee (melted) | 2 tbsp + more |
| Salt | As needed |
| Water | As needed |
Method :
In a mixing bowl take gram flour (besan), wheat flour, 1/2 tsp turmeric powder, carom seeds, salt and mix everything well by hand.
Then add water little by little, mix and knead to make a smooth dough.
Cover the bowl and keep aside for some time.
Next in a small bowl take red chilli powder, cumin powder, coriander powder, 1/2 tsp turmeric powder, dry mango powder, melted ghee and mix using a spoon.
Now divide the dough into 2 inch size balls.
Take one dough ball, flatten to 4-5 inch disc by pressing in between palm.
Put 1/2 tsp masala filling in the center of the disc and spread a bit using spoon.
Bring together all the sides in the center and seal completely to cover the masala filling.
Now on a lightly dusted rolling board, roll the stuffed dough ball to make roti / chapati (around 6-7 inch circle).
Heat a tawa over medium heat, place the roti and cook from both side.
Apply some ghee on both side and continue to cook till brown spots appear.
Serve hot immediately with yogurt or any pickle !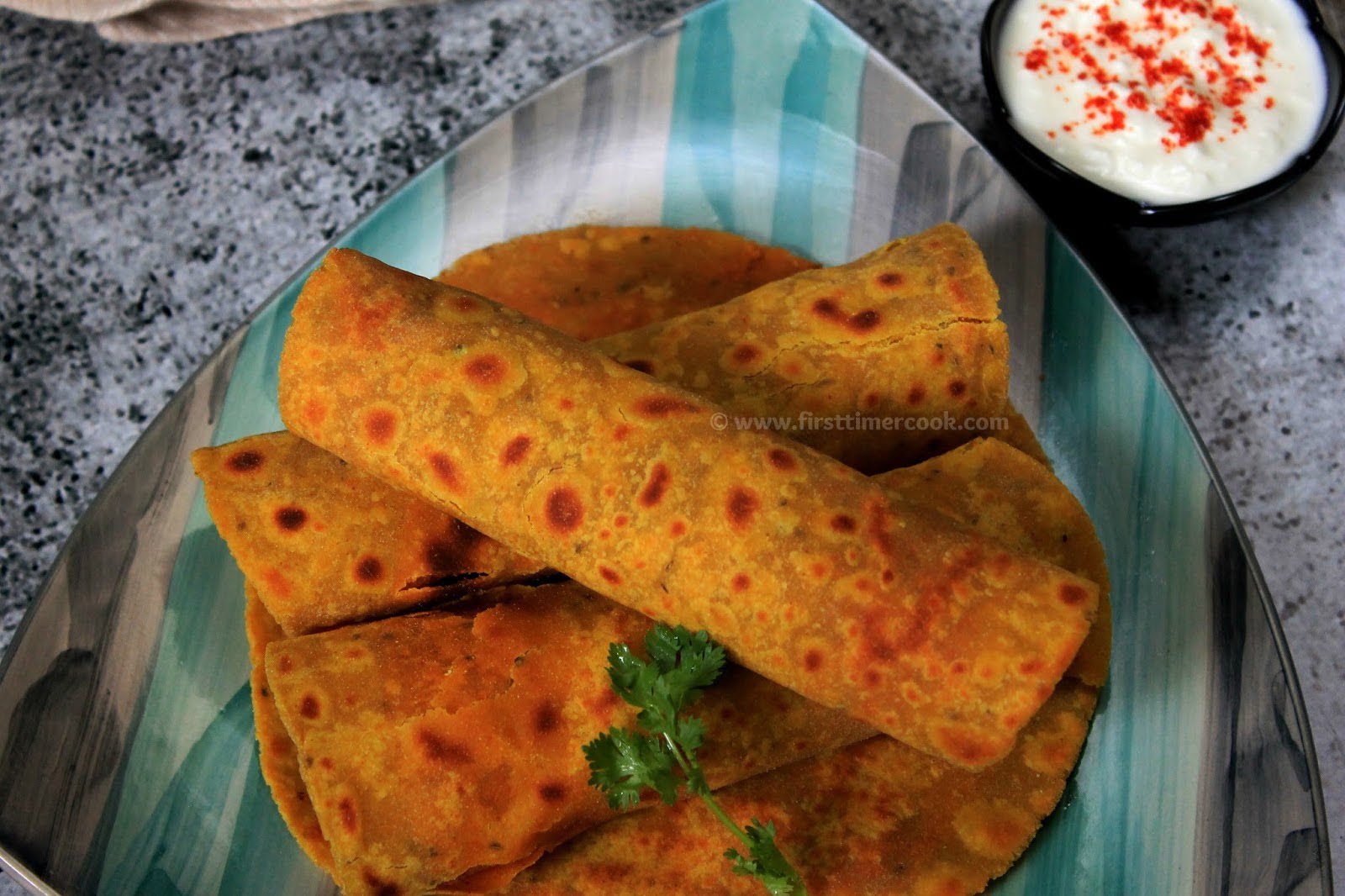 Notes :
Here I have used 1:1 ratio of gram flour and wheat flour. But you may prefer to use 1:1/2 ratio.
PIN for later :