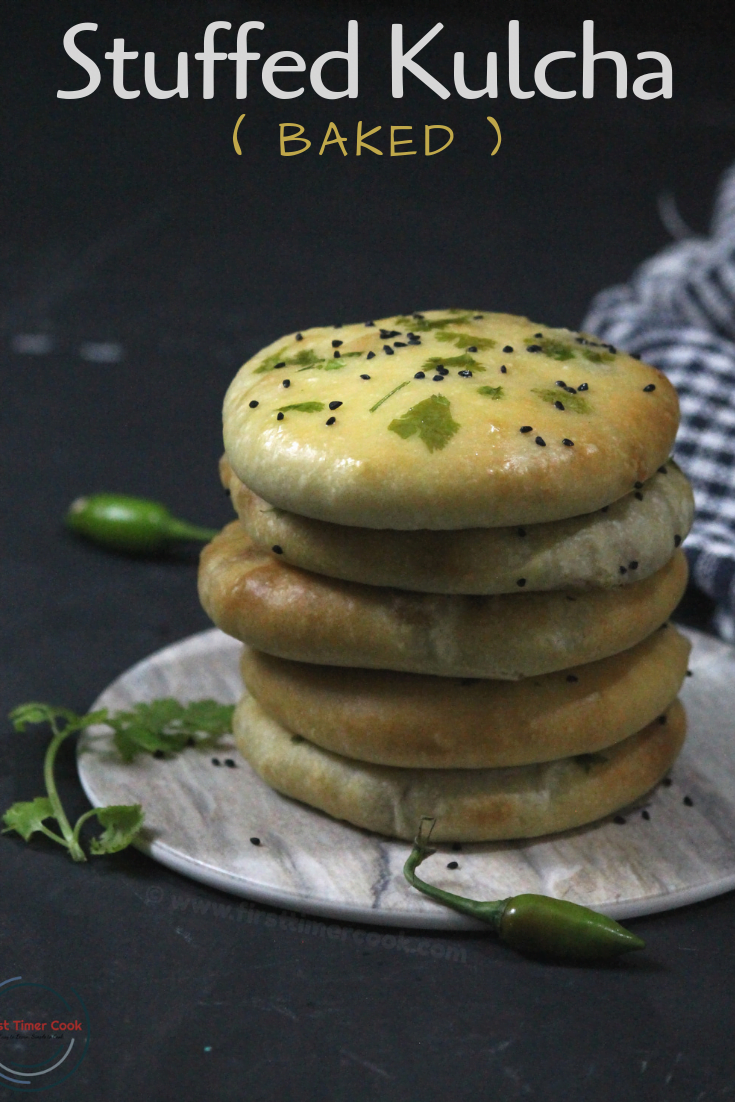 Are you in a mood of having some traditional North-Indian delicacy ? Then kulcha must be in the menu list of your cravings 😉 Kulcha is one of the famous authentic Punjabi flatbread. These are mainly prepared using all purpose flour having a stuffing of some masala potatoes. Particularly the Amritsar stuffed kulcha is baked in an Indian tandoor oven. And after baking, immediately these are smeared with butter and then served with curd and chole.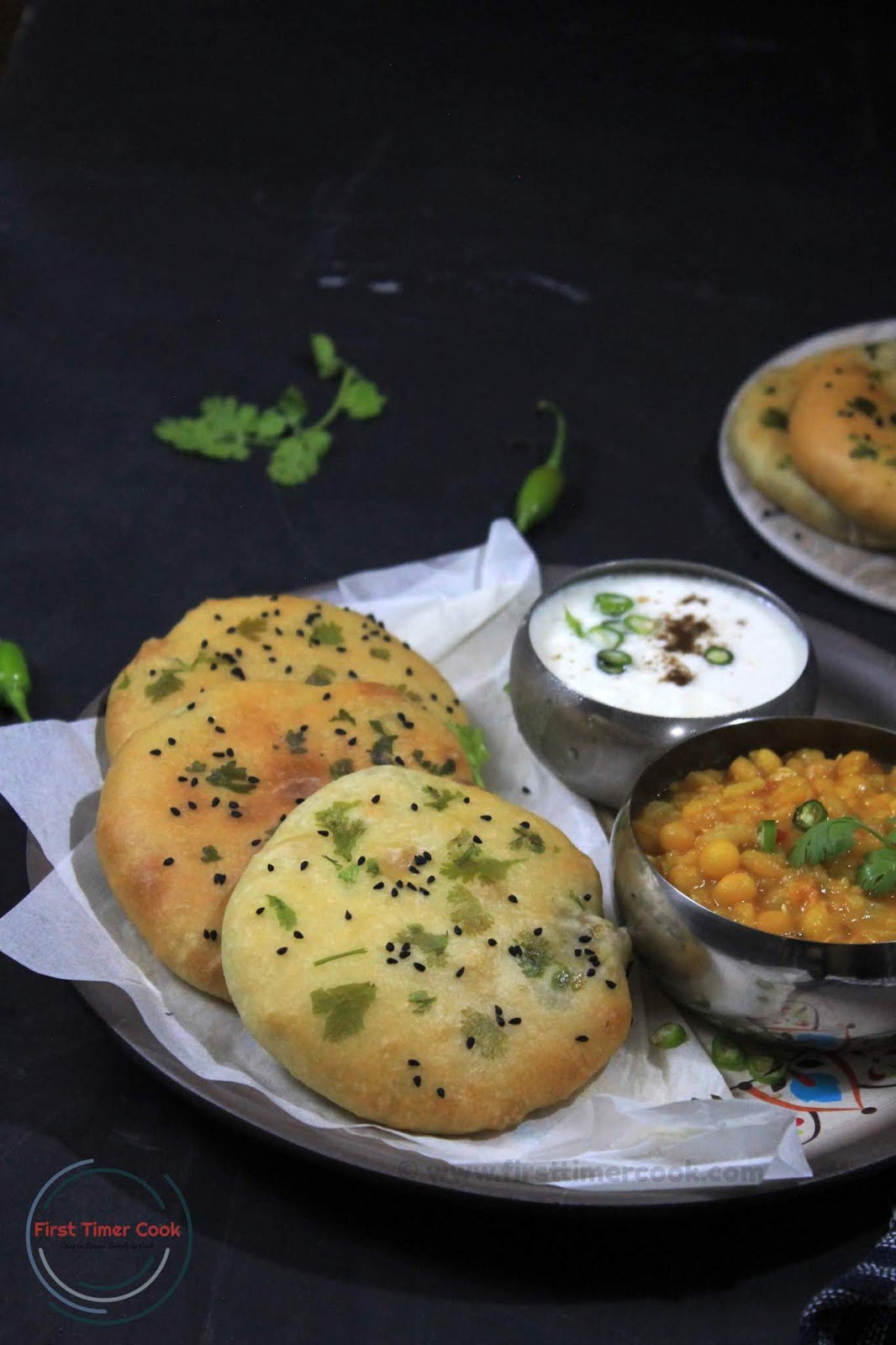 This stuffed Indian bread is almost loved by any age group and also so easy and quick to prepare using some basic ingredients of the pantry. One can surely make different variety of kulcha like paneer kulcha, onion kulcha, masala kulcha etc. Only the stuffing part will change where as the dough will remain same for all.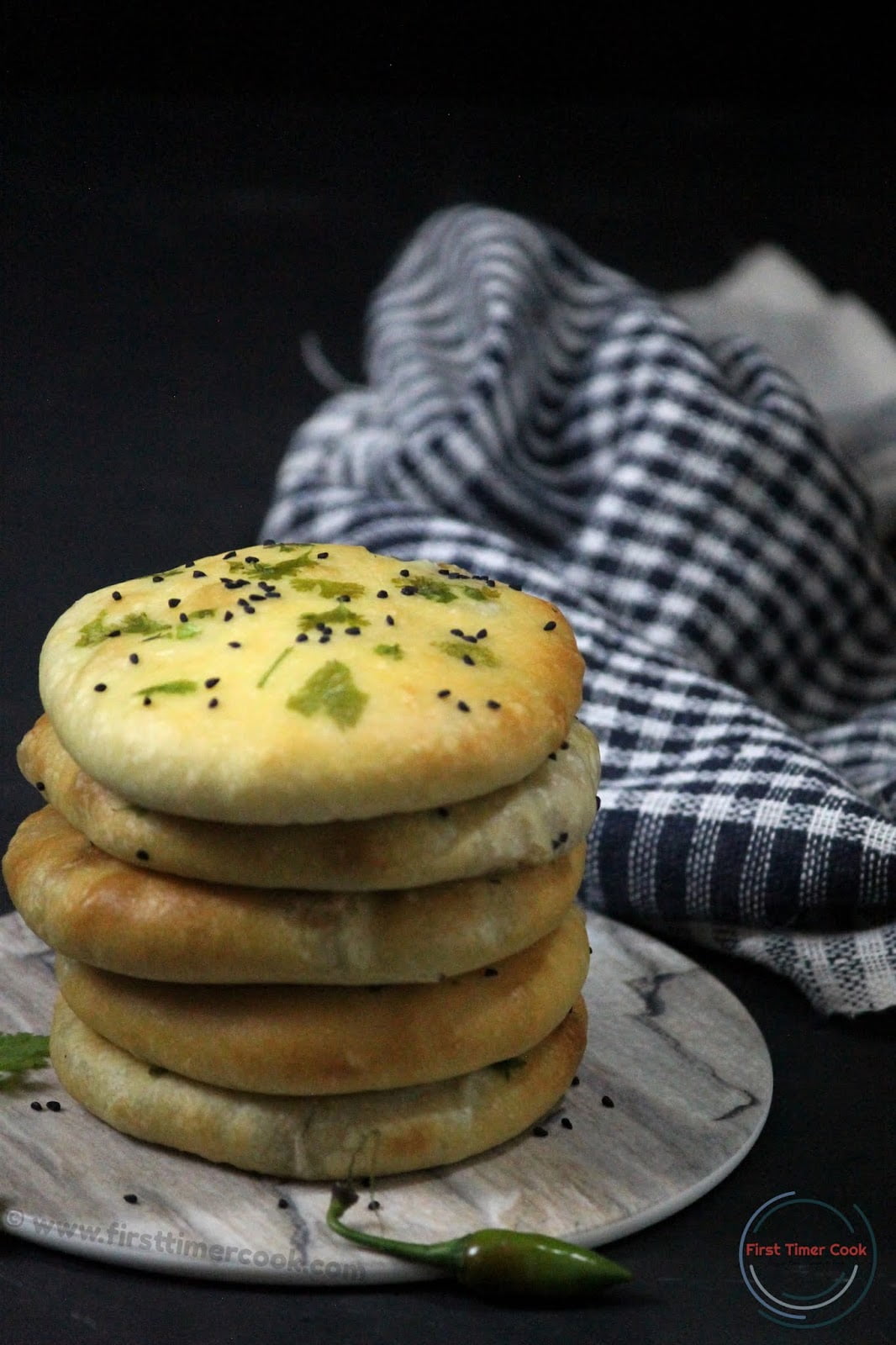 Here I have baked the kulcha in microwave oven. Also this can be prepared on stove top. Some yeast is used as the leavening agent which can be skipped as well. If skipping then use curd along with baking soda and baking powder. This will surely play the same role as of yeast. I will share the curd version of kulcha later in another post. The stuffing is quite simple as a mixture of boiled potato, grated carrot and some spices. Also onion and garlic are not used in this kulcha, so one can surely pick this to have on the no-onion-no-garlic menu list. Along with curd, pickle or even with some curry like chole this will surely make an awesome combo.
Recipe Card for 'Baked Stuffed Kulcha' :
Kulcha, Stuffed Kulcha, Punjabi Cuisine, Vegan,
Baked, Bread, Flatbread, Stuffed bread, Kulcha
North Indian
Author: SasmitaPin it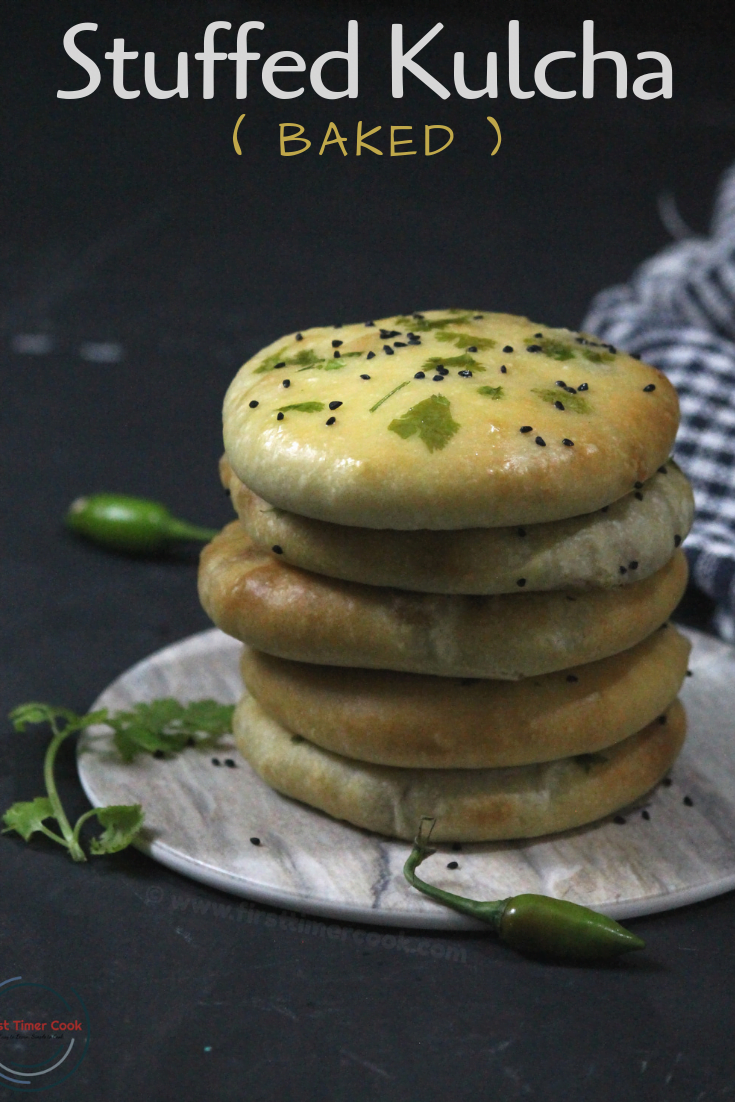 Baked Stuffed Kulcha
a soft and fluffy North-Indian flat bread which is baked and has a stuffing of potato mixture
prep time: 15 minsresting time: 2 hrscook time: 15 minstotal time: 30 mins
ingredients:
For the outer covering
Maida 2 cup
Water 3/4 cup
Dry yeast 1 tbsp
Sugar 1 tbsp
Salt 1 tsp
Oil 3 tbsp
Carom seed for sprinkling
For stuffing
Potato (boiled) 2 no
Carrot (grated) 1/3 cup
Ginger (grated) 1/2 tsp
Green chili 1 no
Turmeric powder 1/4 tsp
Coriander powder 1/2 tsp
Garam Masala 1/4 tsp
Salt as needed
Coriander leaves (chopped) as needed
instructions
In a bowl first take lukewarm water, sugar and yeast.
Mix well and keep aside till the mixture turns frothy and well risen.
Next in a broad mixing bowl take maida, oil, salt and the yeast mixture.
Knead to get a smooth dough.
Covered the dough with a wet cloth and keep aside at a warm place for 1-2 hours or till the dough becomes double in size.
Meanwhile in a mixing bowl take boiled and mashed potato, grated carrot, chopped green chili, grated ginger, few chopped coriander leaves, turmeric powder, coriander powder, garam masala, salt.
Mix everything well and keep aside.
When the dough is risen well, then again knead the dough.
Make 10 equal parts of the dough.
Take 1 part, make a 4 inch circular disc gently pressing by fingertips or using a rolling pin over a rolling board.
Place 1 tbsp of stuffing at the center of the disc and gather all the edges to seal the stuffing well.
Again make a 4-5 inch circular disc gently pressing the stuffed ball by fingertips or using a rolling pin over a rolling board.
Similarly prepare circular discs from rest part of the dough.
Preheat oven at 200 deg C.
Place all the prepared stuffed kulcha over a baking tray lined with parchment paper with 1 inch gap in between.
Sprinkle some grated carrot, carom seeds on top of each prepared kulcha and press gently with fingertips.
Now bake the stuffed kulcha for 15 minutes.
Take out from oven and apple some butter on top.
Serve these stuffed kulchas hot with curd or pickle or with some curry !
NOTES:
Adjust the spiciness of the stuffing as desired by adding more / less green chilies.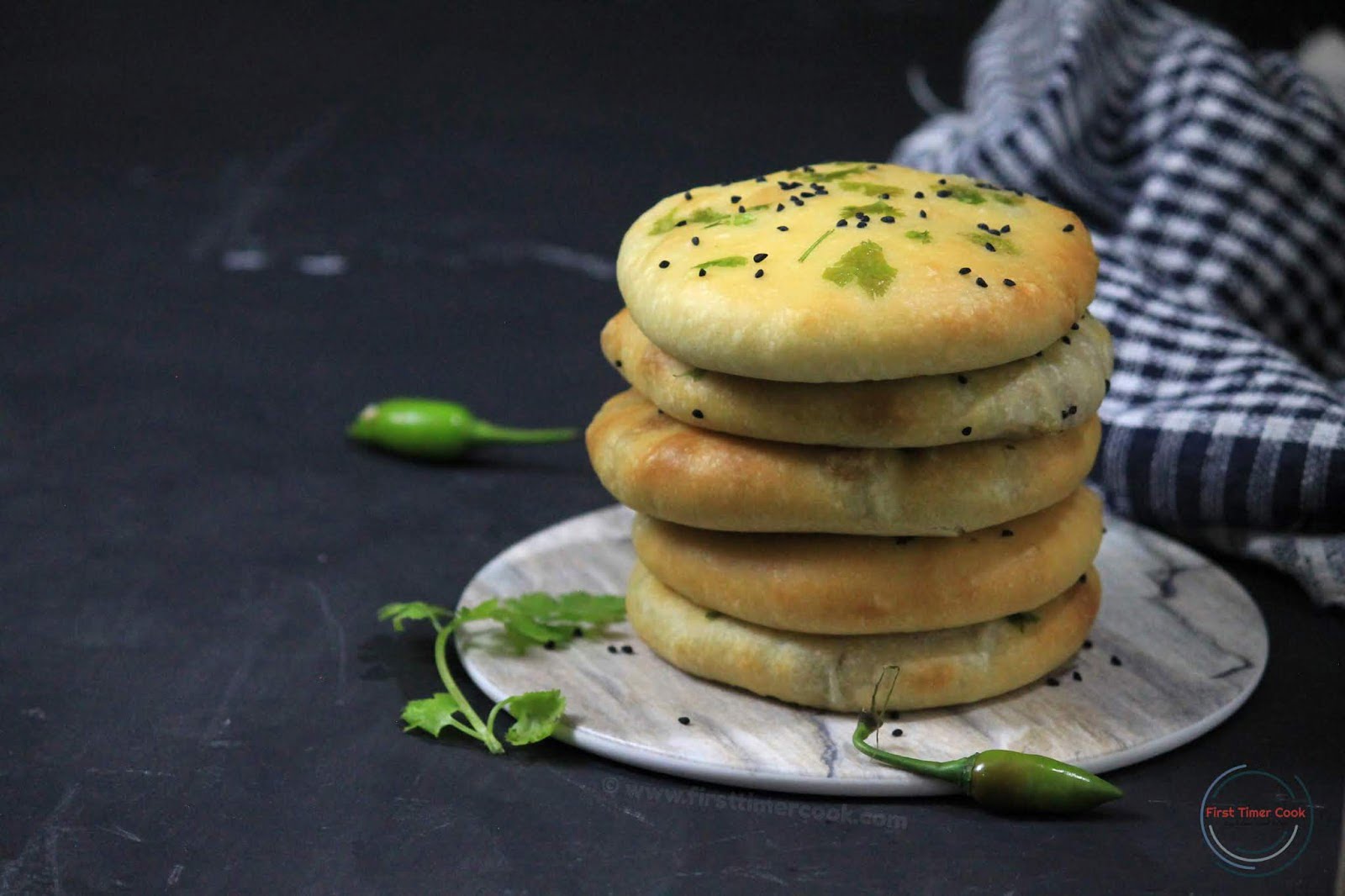 If you tried my recipe and enjoyed fully, then please share some pictures of your creation with me. Also kindly rate the recipe below, give your valuable feedback either in the comment box below or tag me as @firsttimercook on Instagram.
You may also follow me on Facebook, Pinterest, Twitter, Google+, Instagram and can subscribe for free to get new recipes directly into your inbox 😊


PIN for later :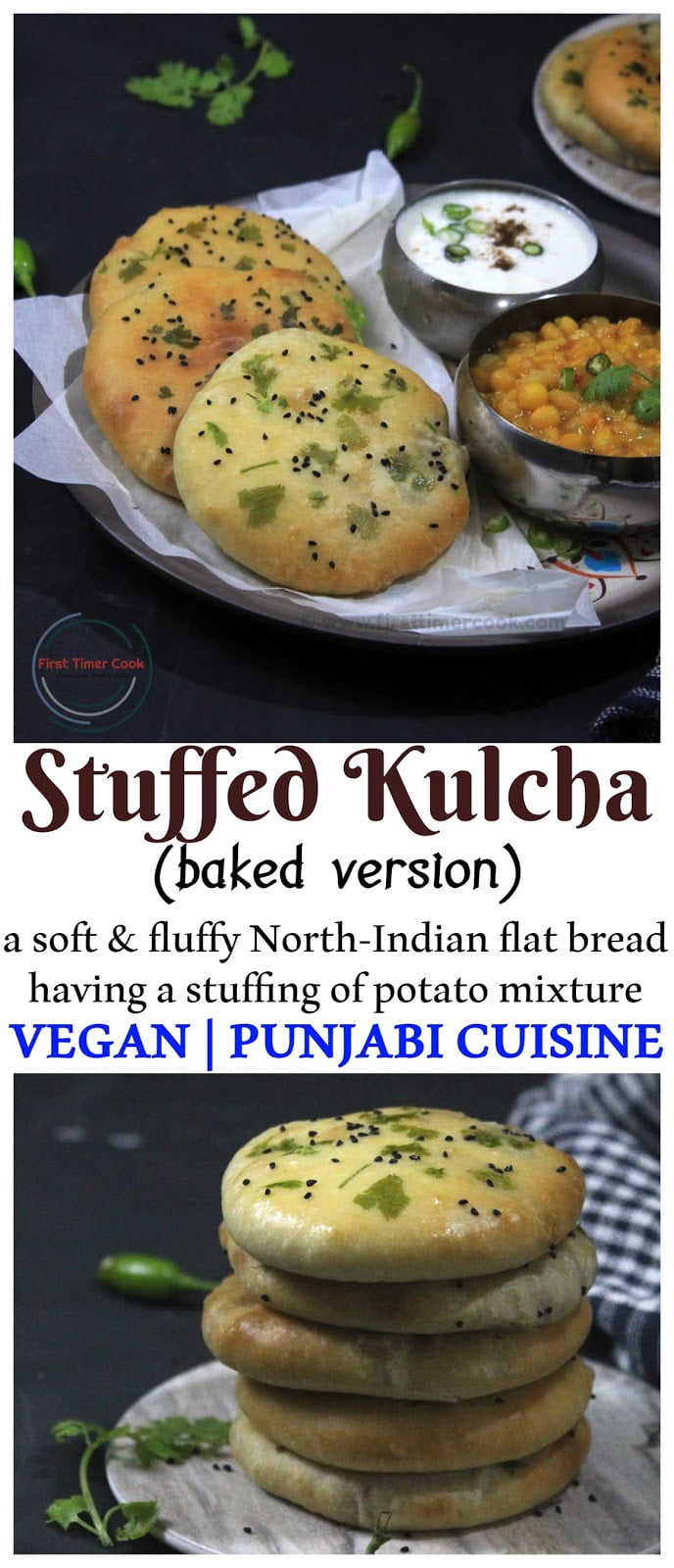 This 'Baked Stuffed Kulcha' is contributed for 63rd Healthy Wellthy Cuisines where the theme is 'Stuffed Bread Mela at HW'. Here are more similar recipes shared by our Healthy Wealthy Group members as Vegetable stuffed buns, Paneer cheese stuffed paratha, Potato stuffed bajra roti, Bhaji stuffed buns, Stuffed curry buns.