Sabudana Kheer / Sago Payasam / Tapioca Pudding is a very traditional Indian sweet dish. This is made across most regions of India specially during fasting. Besides satiating our taste buds in the fasting season, sabudana or tapioca pearl can fulfill the nutritional needs of the body. Sabudana is highly rich in carbohydrates.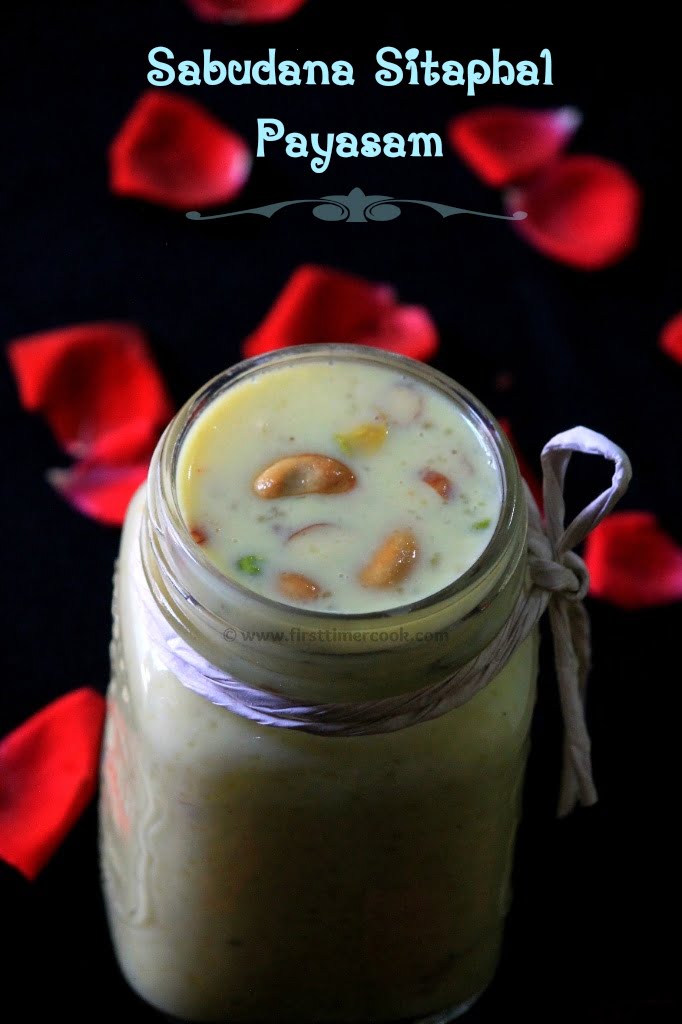 To the simple sabudana kheer, I have added custard apple pulp to give a fruity flavor. This sabudana custard apple kheer can be served chilled as well as warm. There is a bit unique taste in the kheer due to addition of custard apple pulp and also the pulp gives the kheer more thickness. This kheer is so simple and easy to prepare and tastes heavenly. Here the process of condensing the milk will give the kheer a nice creamy texture. The sabudana custard apple kheer can be made for festive, other special occasions or even just as dessert.
Lets go in details.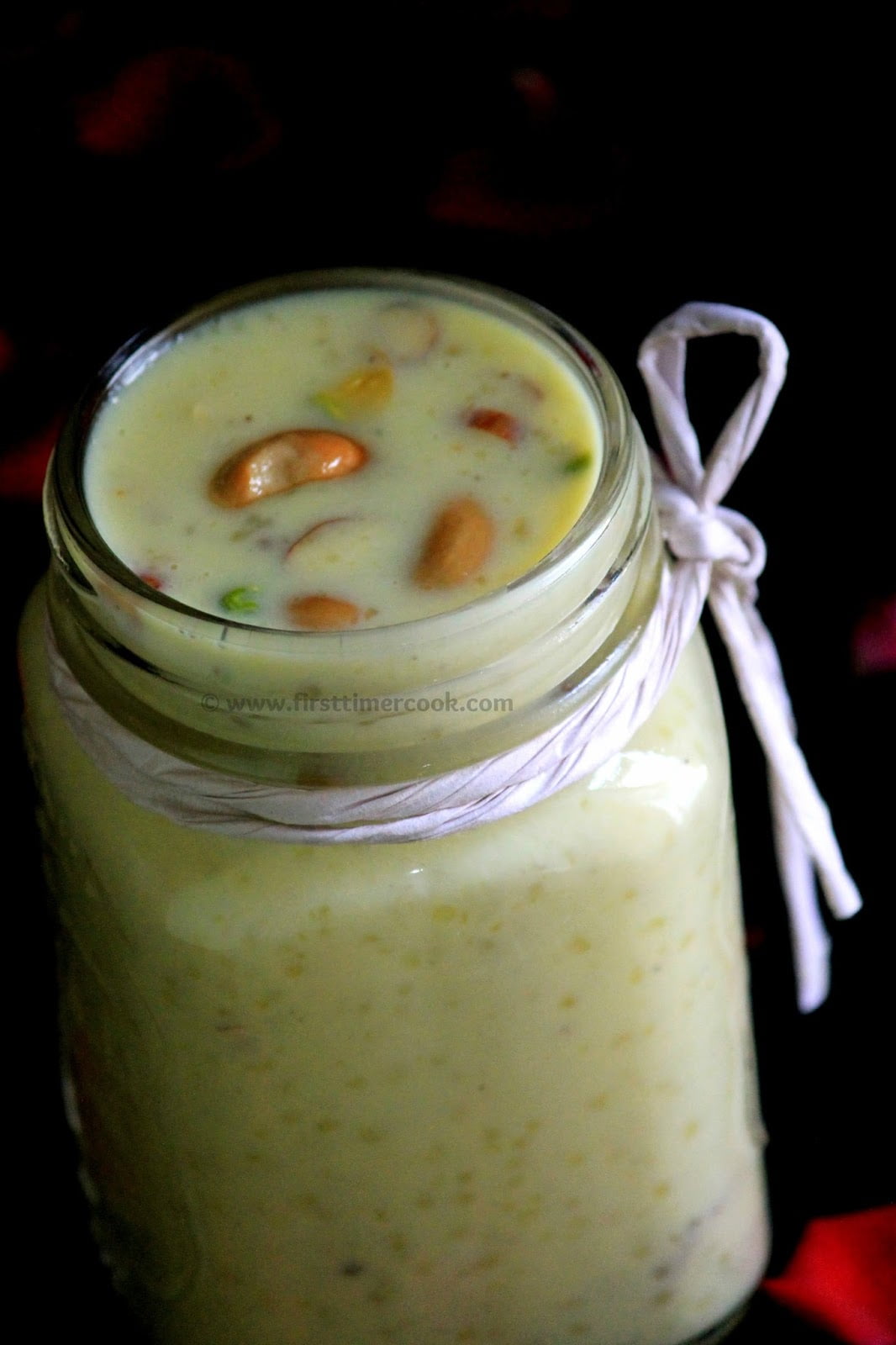 Preparation Time : 10 mins | Soaking Time : 2 hrs | Cooking Time : 30 mins
Ingredients :
| | |
| --- | --- |
| Ingredients | Measurements |
| Sabudana (Tapioca Pearls) | 1 cup |
| Custard apple pulp | ½ cup |
| Sugar | 1 cup |
| Milk | 1 litre |
| Ghee | 1 tsp |
| Cardamom powder | 1 tsp |
| Cashew | ¼ cup |
| Raisin | ¼ cup |

​
Method :
First soak the sabudana in sufficient water for 2 hours or overnight (preferable).
Take milk in a deep non-stick pan and turn on heat.
Add sugar and stir until the sugar dissolves.
Once the milk begins to boil, reduce the heat and allow the milk to reduce to about 3/4th quantity.
Add soaked sabudana and mix well.
Cook till the kheer thickens and the sabudana is completely cooked and gets translucent.
Next add custard apple pulp, cardamom powder.
Stir well and simmer for 5-6 minutes more on low heat.
Turn off the heat.
In a small pan, add ghee and fry cashews and raisins.
Add these fried cashews and raisins to the kheer and stir well.
Let the kheer or payasam to cool at room temperature and then put in refrigerator.
Serve the sabudana custard apple kheer cold !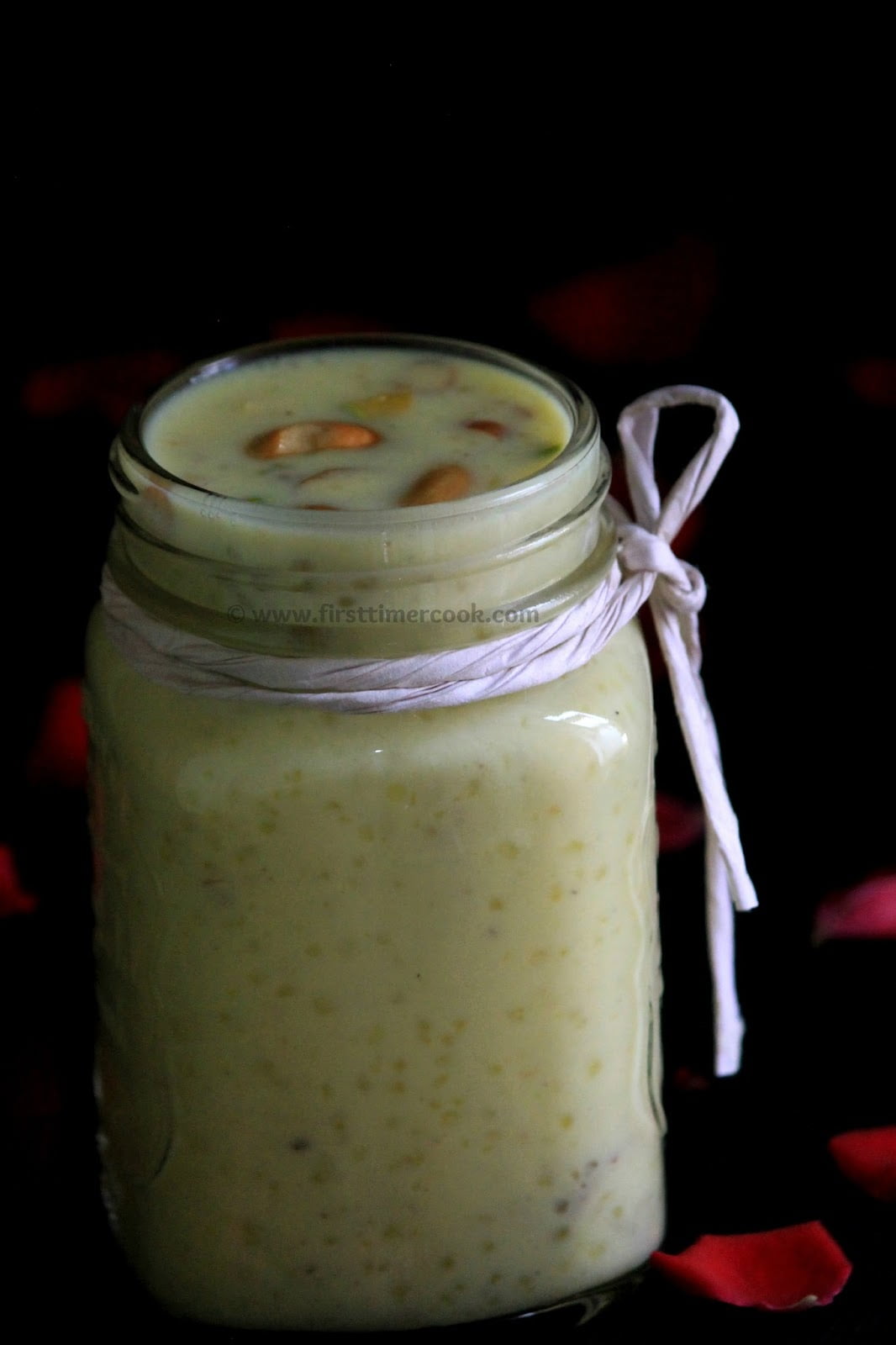 Notes :
This kheer or payasam tastes good both hot as well as cold.
The process of condensing the milk will give the kheer a nice creamy texture.
The kheer thickens as it cools, so always check the perfect consistency of the kheer while cooking.
This sabudana custard apple kheer is contributed for 32 Healthy Wellthy Cuisines where the theme is 'Navratri Fasting Dish'